MLB: 7 Hitters Who Will Go Down in History as Cheaters
In our look at MLB's greatest cheaters, we focus on 7 hitters caught corking or otherwise juicing their bats over the years.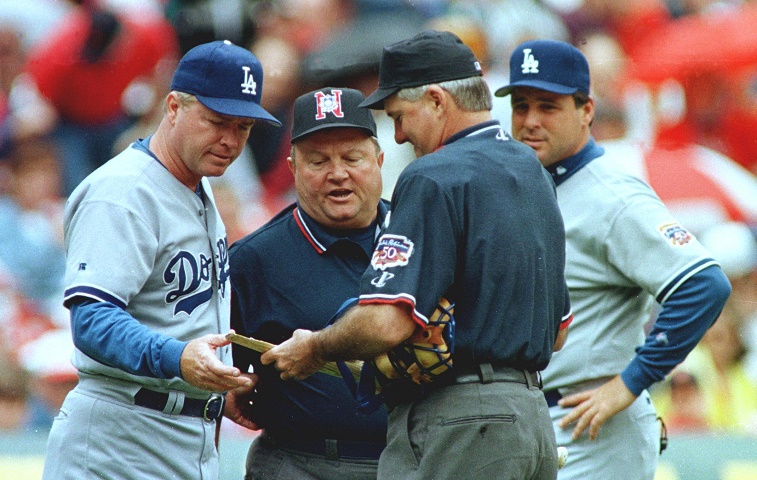 Major League Baseball fans unanimously frown upon those who took steroids and other performance-enhancing drugs (PEDs) to gain a competitive edge. Until further notice, players like Sammy Sosa, Alex Rodriguez, and Barry Bonds will not get inside the MLB Hall of Fame unless they buy a ticket.
On the other hand, visitors visiting the hallowed halls of Cooperstown pass the shrines of notorious cheaters of baseball's past. They may not have stuck themselves with syringes, mind you, but there are some epic figures known for their spitballs and mud pies, their corked bats and sharpened cleats. Then, there are the rest; those who doctored balls and corked bats in semi-obscurity, all the while hoping to simply survive on the big-league level. Living the dream requires sacrifice.
In our series on MLB's greatest cheaters (excluding those who used PEDs), we turn to the hitters who stuffed their bats in outlandish schemes or otherwise played unfair in ways that warranted suspensions, fines, and a firm place in MLB notoriety. Here's a look at seven of the great cheaters who plied their trade at the plate over the years. Regretfully, we can only call out those who got caught.
1. Billy Hatcher
Fans of baseball in the 1980s remember Billy Hatcher for his play on the Astros and Cincinnati teams of the era. In a contest against the Cubs in '87 — a horrible year for cheaters — Hatcher had a curious episode of cork flying out of a bat he broke swinging at a pitch. How did that happen? Hatcher relied on an excuse that will become familiar as we continue with our list of suspects.
"I was out of bats, so I borrowed a pitcher's bat," he told reporters at the time. "I know some of the pitchers use them in batting practice. I don't know whose bat it was." Umpires did not care whose bat it happened to be and, seeing that Hatcher was the one using it, ejected him from the game. League officials eventually handed Hatcher a 10-game suspension for his troubles.
In what may or not be a coincidence, Hatcher posted a .297 batting average — the best of his career — that year for the Astros. We prefer not to speculate.
2. Albert Belle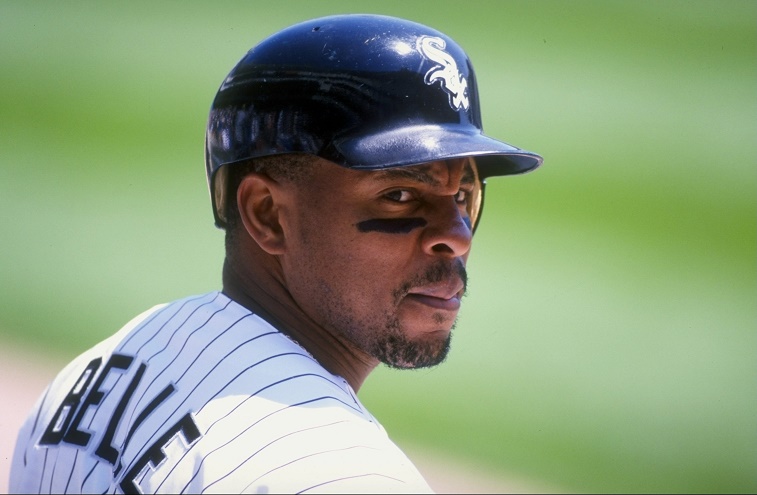 Depending on how you see it, Albert Belle was either one of the truly colorful figures of 1990s baseball or a legitimate menace to society. Reviewing his remarkably lengthy dossier, Belle's antics were not confined to any one type of questionable behavior, including hitting fans with baseballs, the occasional profanity-laced tirade with reporters, and a call to the police in which he threatened to run over Halloween hooligans in his car.
"You better get somebody over here, because if I find one of them, I'll kill them," Belle reportedly told a 911 operator one Halloween after his house was egged. (Trick or treat!) Then, there was the time Belle didn't like the fact that Fernando Vina was standing between him and second base.
Well, maybe the only way to see it is this: Belle was an absolute terror both on and off the field, and at one point the slugger was ordered to undergo counseling by the American League President. But this tale merely involves cheating. To that end, we flash back to 1994, the year before Belle hit a career-high 50 home runs.
During the first inning of a game against the White Sox, umpires confiscated his bat following allegations of corking from the Chicago bench. The umps stored the suspicious lumber in a locker and planned to send it to the league office for examination after the game. The bat never made it. According to wild contemporary reports, one of Belle's Indians teammates crawled 30 feet through stadium ductwork connecting the clubhouse to the umpire's room and replaced the bat with a Paul Sorrento model.
"It was definitely a break-in," umpire Dave Phillips told the Chicago Tribune at the time, while new commish Bud Selig vowed the league would get to the bottom of the matter. Indians pitcher Jason Grimsley later admitted to the foul play, and Cleveland returned the bat in question to the umpires in hopes of avoiding more dire consequences from the league. Belle received a 10-game suspension for the bat, which turned out to most certainly be corked. It was neither the first nor the last time Belle would be disciplined by MLB officials.
3. Amos Otis
Amos Otis did for batters what Preacher Roe and Gaylord Perry did for pitchers, in that he was refreshingly open about his foul play with bats after retiring in 1984. The occasion came when Otis was inducted into the Mobile (Ala.) Sports Hall of Fame in 1992. He told the Mobile Press the induction marked the third such hall he joined to date in his career. What were the other two?
"I'm in the Kansas City Royals Hall of Fame, and I'm also in the hall of shame. That's when you cheat in the big leagues," Otis said at the time. "I did it my whole career in the American League." Rarely was a hitter so forthcoming, and Otis said he got tremendous help from the corked bat, which a friend used to put together for him. He added that corking was common at the time, though only a few players got caught.
Otis never found himself in the commissioner's crosshairs for his experiments with corked bats. For that, we believe he deserves a cheater's good sportsmanship award (if such a thing exists) for coming clean on his own accord.
4. Sammy Sosa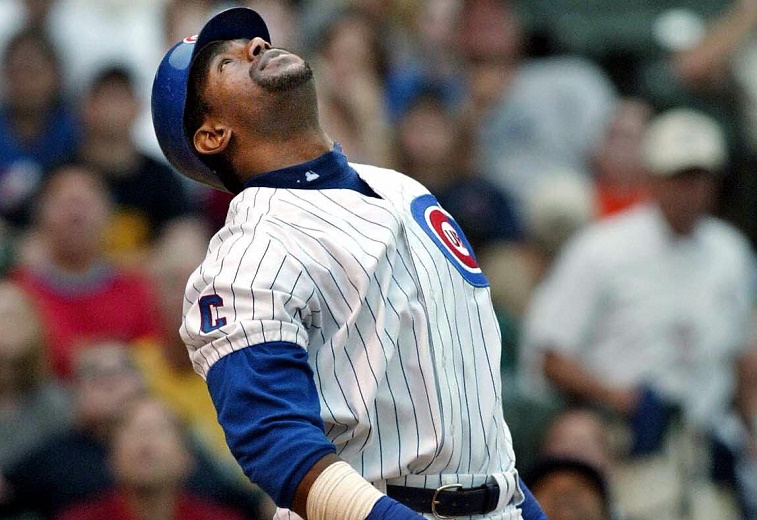 Baseball was good to Sammy Sosa, and the Cubs slugger tried everything he could to deliver results that would please the gods. Since we are leaving PEDs out of this discussion, we focus on Sammy's bat corking incident in 2003, the year his life took a dark turn. By year's end, he was on a list that included David Ortiz and many other players whose names trickled out from the first round of PED "survey" testing.
Before that went down, Sosa was in the middle of an embarrassing incident at Wrigley Field on June 4 against Tampa Bay. He had not gone deep in over a month that included stints on the disabled list and general slumping after connecting for his 500th home run earlier in the season. That day, he shattered a bat that revealed a healthy serving of cork in its hollowed-out center. Umpires confiscated the bat and ejected Sosa, who ended up serving a seven-game suspension.
He did not take the Otis good-guy approach. Instead, Sosa said he "grabbed the wrong bat," according to ESPN, and that the one in question was a highlight-reel bat reserved for wowing the Wrigley faithful before the game. "I use that bat for batting practice," he said. "It's something that I take the blame for. It's a mistake. I feel sorry."
5. Graig Nettles
In one of the more humorous episodes of bat-stuffing over the years, Yankees third baseman Graig Nettles got into a pickle during a 1974 game versus Detroit. Nettles broke a bat hitting a single and six super balls came flying out of the barrel, which the Tigers catcher collected from the field. Though he had already belted a home run in that game, only Nettles's single was stricken from the the record books.
As with many instances of cheaters on this list, Nettles claimed that the bat came to him under strange circumstances — specifically, in Chicago, where it was the gift of a local Yankees fan as the team made its Midwest swing that summer. His excuse, recounted in a vintage ESPN article, is precious in its implausibility.
"Some Yankees fan in Chicago gave it to me and said it would bring me good luck," Nettles told reporters. "There's no brand name on it or anything. Maybe the guy made it himself. It had been in the bat rack, and I picked it up by mistake, because it looked like the bat I had been using the last few days."
6. Wilton Guerrero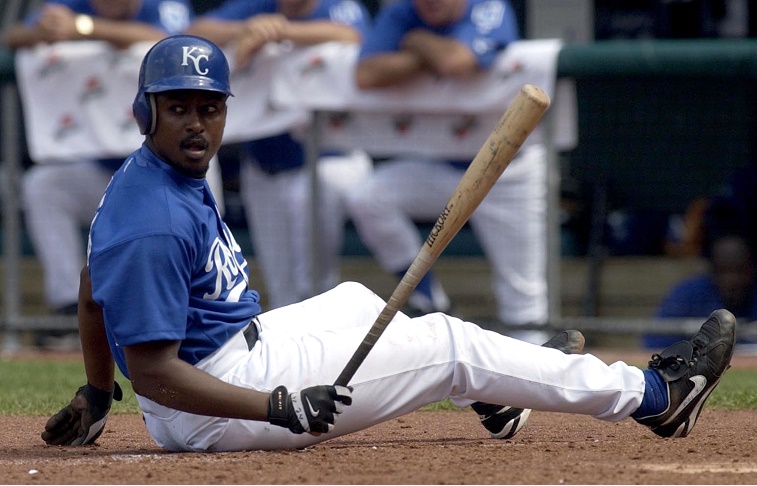 Wilton Guerrero said he had never used a corked bat before he got caught one fateful day in 1997, and by the looks of his amateurish actions, that story passes the scrutiny test. According to reports, Guerrero broke the corked special on an infield grounder. Instead of running down the first base line — where runners go in baseball — Guerrero scrambled after the pieces of bat that went flying in another direction.
That curious behavior made umpires suspicious, and sure enough they found bits of cork bulging from the barrel. To his credit, Guerrero did not rely on fantastical tales and instead offered a straight story about what happened. "I've had it for about two or three months," he said. "I had some doubts about using it before, but I decided to use it today." As some of these stories suggest, the advantage of using a corked bat was negligible for Major League hitters.
7. Chris Sabo
Cincinnati's Chris Sabo had his own run-in with MLB officials in 1996, the last season of his nine-year pro career. Facing Mike Hampton of the Astros, Sabo broke at least one bat before a large chunk of the barrel went flying onto the field at Riverfront Stadium. Umpires saw the foreign substance inside and sent Sabo packing.
The Associated Press account is familiar enough. Umpire Tom Hallion, who was working home plate for the game, went down the third-base line and got the suspicious lumber. When he showed it to crew chief Ed Montague, there was only one thing to do. "It's a no-brainer," Montague said after the game. "The bat broke and cork flew out." Sabo's day was done, and his career followed suit at the end of the season.
Sports Cheat Sheet is bringing back MLB's biggest cheaters on the mound, at the plate, on the bases, and on the sidelines in a series chronicling the game's illustrious history of trickery.
Stats courtesy of Baseball Reference.