10 Most Massive Upsets in Wimbledon History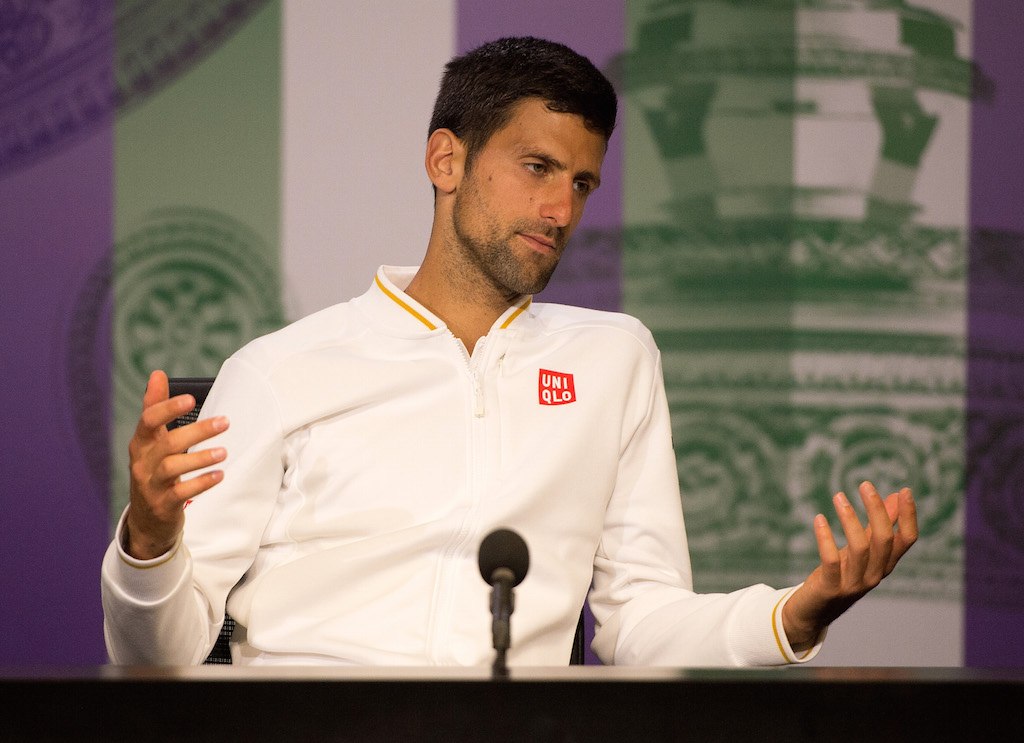 Entering 2016 Wimbledon, it was hardly a surprise when everyone chose World No. 1 Novak Djokovic to hoist the trophy at the end of the Grand Slam tournament. Of course, as we've learned on more than one occasion, expectations don't necessarily equate to results.
In one of the biggest shockers in the history of the All England Club, American Sam Querrey upset the Djoker in the third round 7-6 (6), 6-1, 3-6, 7-6 (5). Despite a result no one saw coming, the best player on the planet was quite humble in defeat. Said Djokovic:
Congratulation to Sam. He played a terrific match.He serves very well, as he usually does. I think that part of his game was brutal today. He made a lot of free points with the first serve. Just well done. He just overpowered me.

I believe in positive things in life, and I managed to win four Grand Slams in a row — two different seasons, though. I want to try to focus on that rather than failure."
While Novak chose to focus on the positives as opposed to the failure, we don't have the same luxury. We can't help but think about all the other monumental upsets at the All England Club. With that in mind, here's a look at the 10 biggest upsets in Wimbledon history.
10. Pete Sampras loses to George Bastl, second round, 2002
There's a reason they call Court No. 2 at the All England Club the "graveyard of champions." And in the second round of the 2002 Wimbledon, Pete Sampras learned this the hard way. Despite rallying from a two-set deficit, Sampras would ultimately fall 6-3, 6-2, 4-6, 3-6, 6-4 to Switzerland's George Bastl. Considering Bastl ranked No. 145 in the world at the time, something tells us Sampras didn't see this upset coming.
9. Roger Federer loses to Sergiy Stakhovsky, second round, 2013
It's highly unusual to see the great Roger Federer get eliminated during the early rounds of a Grand Slam tournament. Yet, during the 2013 Wimbledon, the Swiss superstar suffered a second-round loss — his earliest Grand Slam exit in 10 years — to Sergiy Stakhovsky, the No. 116-ranked player in the world. Poor, Roger. We remember when you were unbeatable. How the mighty have fallen.
8. Ivo Karlovic beats Lleyton Hewitt, first round, 2003
Lleyton Hewiit may have entered the 2003 Wimbledon as the defending champion and No. 1 overall seed. However, he experienced an extremely short-lived run at the All England Club in his first Grand Slam singles match. Ivo Karlovic, who stands at 6-foot-10, used his massive serve to shock the world, upsetting the champ 1-6, 7-6 (5), 6-3, 6-4. No bad for a player ranked No. 203 in the world at the time.
7. Jimmy Connors loses to Arthur Ashe, final, 1975
In 1975, Jimmy Connors was arguably the best men's tennis player on the planet, having won four majors (and only losing four matches) in 1974, and was well on his way to putting up the gaudy numbers that would nab him a perpetual gig as a studio analyst and general "tennis celebrity" for years to come. Even if he could not compete in the French Open.
By contrast, 32-year-old Arthur Ashe creeped closer and closer to the end of his tennis career. While he had had a great run, by the '75 tournament, many considered him to be on his farewell tour. The fact that Connors was 23 at the time didn't help; tennis skews toward the young, and it was more so the case almost 40 years ago. So, naturally, Ashe dismantled Conners, winning 6-1, 6-1, 5-7, 6-4. Go figure.
6. Serena Williams loses to Serena Lisicki, fourth round, 2013


The typical spectrum of Serena Williams' losses range between "she's beaten herself" to "that was an unlucky set." However, the world's most dominant women's tennis player of the modern era found herself completely out of answers, and out of the tournament, during her 2013 loss to Serena Lisicki. While Lisicki can play very high level tennis (obviously), watching the game unfold in real time it looked like Williams, along with the rest of the crowd — live and televised — was waiting for her to shift into another gear. The "Serena Williams is going to destroy everyone in her path" gear that had been in full effect that year; at the time of her loss, Williams had been on a 34 match winning streak, highlighted by her mic drop of a win over Maria Sharapova at Roland Garros. Marion Bartoli would defeat Lisicki in the final and promptly retire, leaving the 2014 field without a defending champion.
5. Rafael Nadal loses to Lukáš Rosol, second round, 2012
A case for including Nadal's 2012 loss, rather than his 2013 departure from The Championships: when Lukáš Rosol beat Nadal in 2012, the Spaniard hadn't been beaten as early as the second round in any Grand Slam since 2005. Furthermore, 2013 became the year that injuries visibly hampered Nadal, who lost in straight sets. In 2012, Rafael simply looked bewildered, a shock underlined by the fact that he was playing well — he just wasn't winning.
4. Boris Becker loses to Peter Doohan, second round, 1987
At the age of 19, Boris Becker entered the 1987 tournament at Wimbledon as the two time defending champion, having won it in 1985 and again in 1987. The fact that he lost so early — not to mention that he had crushed his opponent on the same surface just a week earlier — coalesced into an upset that could have been serious had Becker failed to lighten the mood afterwards.
"I lost a tennis match," Becker said after the match. "It was not a war, nobody died out there."
3. Martina Hingis loses to Jelena Dokic, first round, 1999
When this match took place, Martina Hingis was the world's highest ranked women's tennis player, and her opponent, Jelena Dokic, was a highly touted junior who had a dad that thought she was really good, and a world ranking that wasn't terrible (129th.) So when the final score, 6-2 and 6-0, came out, you could be forgiven for assuming it was Hingis who laid into Dokic, when in fact it was the other way around. This match would foreshadow Hingis' eventual U.S. Open loss to a 17-year-old Serena Williams (although that match would be in the Finals.)
2. Steffi Graf loses to Lori McNeil, first round, 1994
Marking the first time that a defending champion would be bounced in the first round, Steffi Graf, who was coming off of five Wimbledon victories ('88, '89, '91, '92, '93) coming into her 1994 matchup against journeywoman Lori McNeil, the daughter of a San Diego Chargers lineman and eventual '94 Wimbledon Semifinalist. The loss would go down as Graf's first defeat in the first round in just over a decade.
1. Andre Agassi loses to Doug Flach, first round, 1996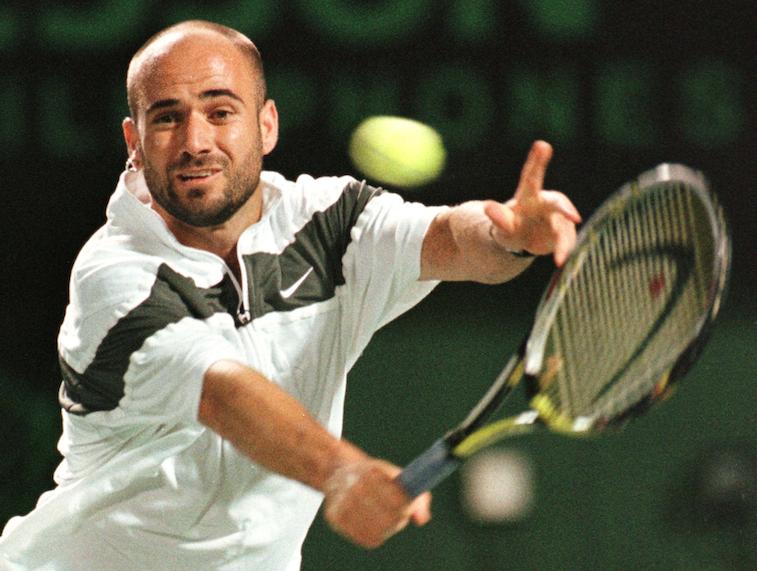 The difference between Andre Agassi and Dough Flach, coming into Wimbledon in 1996, was roughly 278. 278 places — that is, between Agassi, who was the world's No. 3 at the time, and Flach, who was decidedly not in that tier. While this is an easily explained loss given the context of history, it marks the beginning of the decline for Agassi, who would struggle with drugs and disinterest on his way to a ranking in the high 140s by the time 1997 rolled around.
"Doug Flach blanched when an ATP official asked him to reach into a hat Sunday and draw his opening-round Wimbledon opponent," wrote a reporter for The Baltimore Sun at the time. "'I'd never do that," Flach said. 'It's bad karma. If I do that, I'm going to draw [Andre] Agassi.' And then Flach reached into the hat and pulled Agassi's name."