7 Most Memorable Moments of Charles Barkley's Broadcasting Career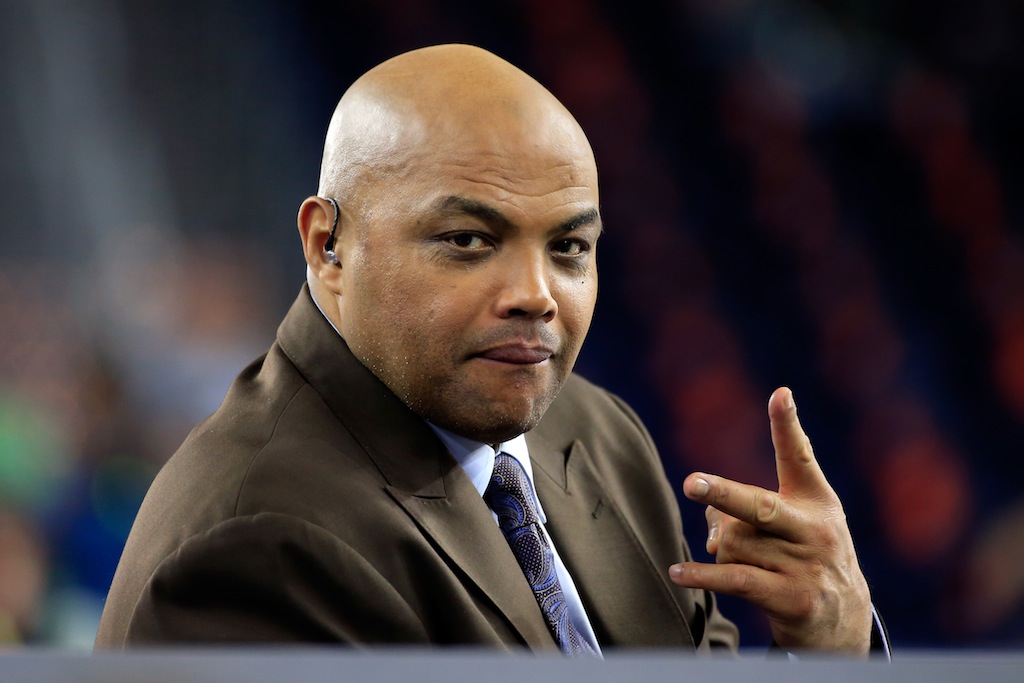 Thrill of victory…

Agony of defeat. #NationalChampionshippic.twitter.com/GuEPbDfpDY

– NBA on TNT (@NBAonTNT) April 5, 2016
When Villanova's Kris Jenkins nailed that buzzer-beating three-pointer at the end of the 2016 national championship game against North Carolina, one of the craziest NCAA tournaments in recent memory ended in historic fashion. And while it'd be foolish to say that anyone was more excited about the outcome than the Wildcats, it wouldn't be wrong to say NBA Hall of Famer Charles Barkley was a close second based off of the way he jumped around like a kid in the candy store.
Despite having no real connection to the university, Barkley raised his arms in jubilation and celebrated as if his own alma mater was about to cut down the nets. It was truly a sight to behold. Then again, when you think about how Barkley's "overzealous" personality resonates every time he's put in front of a camera, maybe this particular reaction shouldn't have been all that surprising. But just in case you haven't had the pleasure of witnessing Sir Charles in all his broadcasting glory, we've got you covered. Enjoy.
7. Barkley can't get enough Ginobili
We've always known that Sir Charles was a big fan of Manu Ginobili. But honestly, we had no idea just how big. This clip pretty much sums it up for us. After all, there is nothing quite like hearing Barkley scream at the top of his lungs, "GINOBILI," over and over again. Seriously, try not to laugh. We dare you.
6. Barkley's public service announcement for Lance Stephenson
Remember back in the 2014 NBA playoffs when Lance Stephenson, then with the Indiana Pacers, believed he was getting under LeBron James' skin? That was hilarious. And on TNT's Inside the NBA, Barkley just couldn't help but break the fourth wall and let him know how ridiculous he was being. Four words: "Shut the hell up." Now that's a Barkley public service announcement.
5. Barkley rips Shaq after failed tweet
While Barkley was doing his thing during halftime coverage of March Madness, Shaquille O'Neal tried to insult him  with the following tweet: "Charles Barkley your belly looks tired, you should rest in on the desk…" We didn't mess up the spelling, but Shaq did. And Barkley let him hear about it with the sort of quick wit that we've come to expect from the NBA Hall of Famer. Said Barkley, "Oh, he's not a college graduate." That's ice cold, Chuck. Ice cold.
4. Barkley with the "Kazaam" burn
Remember when Shaq thought it'd be a good idea to play a genie in the movie Kazaam? Yeah, it wasn't. And Barkley wasn't going to waste an opportunity to rip on him for the box office disaster. Even when O'Neal was trying to be sentimental about a conversation he had with Michael Jordan, there was Chuck, hitting the big fella where it really hurt. And making us all laugh in the process.
3. Barkley recounts his first encounter with Dirk Nowitzki
In a locker room, Barkley recounts a story of the first time he met Dirk Nowitzki. Even at 18, the Dallas Mavericks superstar had some serious game. Enough game to not only take it to Scottie Pippen but to have Barkley willing to pay him to take his talents to Auburn. Because obviously that's not against the rules. Also, wait until you hear why Barkley doesn't think Nowitzki is cut out for the army. It's a doozy.
2. Barkley's just trying to stay awake
Now and again, everyone has a difficult time staying awake while they're at work. Even a guy like Charles Barkley faces this dilemma. The difference, however, is that when it actually happened to Sir Charles, he was on television during Inside the NBA. We have to hand it to Chuck, even when he struggles to keep his eyes open, he never ceases to entertain.
1. Barkley races Bavetta
Charles Barkely, Dick Bavetta, and the race heard 'round the world. It was an absolute doozy. And trust us, it's true what they say: The bigger you are, the harder you fall. Right, Chuck?