7 Players Who Stood out in the NBA Summer League
The summer league is over, and rabid NBA fans got a good glimpse at not only the league's newcomers, but returning players who may not necessarily have made a name for themselves quite yet. It was an exciting year for the NBA summer league, which kicked off with a live on-air earthquake in the middle of the marquee game against the Knicks and the Pelicans, but these players all stood out above the rest.

Jaxson Hayes, New Orleans Pelicans
Top draft pick Zion Williamson was expected to break out for the Pelicans during the summer league, but after Williamson was pulled due to injury concerns after just one half, Jaxson Hayes took over and dominated. The 6-foot-11 big man out of Texas impressed onlookers as he threw the ball down on offense, and showed a knack for defense, as well. Perhaps his naysayers will be proven wrong.

Tacko Fall, Boston Celtics
The 7-7 Tacko Fall will naturally draw attention to himself given his prominent size, even among your average NBA player. However, he also proved that he could play this summer. Nobody expects Fall to be an All-Star, but with his size, he has shown that he has a great skill set which could get him a few minutes a game on an NBA team.

Brandon Clarke, Memphis Grizzlies
Brandon Clarke was not one of the top lottery picks in the draft, but after an impressive showing in the summer league, could he soon prove the teams who didn't pick him to be wrong? Not only did he lead the Grizzlies to the championship, but he also won the MVP of the tournament and put up nearly 15 points, 10 rebounds, and two blocks a game while doing so.

Anfernee Simons, Portland Trail Blazers
Save for an amazing final game in which he dropped 37 on the Sacramento Kings in a comeback victory, Anfernee Simons never stood out during his 2018-19 rookie campaign.
The 2019 summer league, however, was a different story. He put up 22 points along with four rebounds and almost two assists per game, and he had a 35-point outing against the Utah Jazz. With the Trail Blazers mixing up their roster, Simons could find himself in the rotation.

Mitchell Robinson, New York Knicks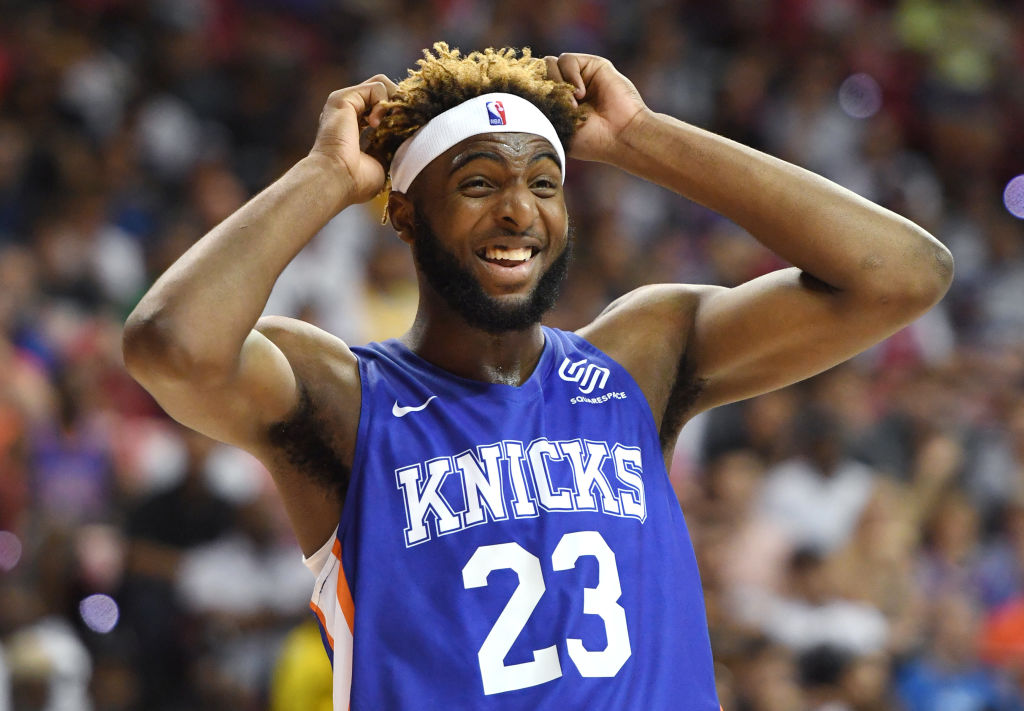 After a disappointing haul in an offseason where some believed that the Knicks might become a new super team, all eyes are on Mitchell Robinson as he enters his second season. Robinson didn't put up monster minutes, but his 14 points, 11 rebounds, and three blocks per game were an impressive showing for a young player on a team who looks for him to succeed. If he can bring those stats to New York's regular season, he could have them forgetting about their disappointing offseason.

Lonnie Walker, San Antonio Spurs
The Spurs have a knack for finding diamonds in the rough despite going more than 20 years without a lottery pick, and Lonnie Walker IV may very well be the latest one. Although he only played in two summer league games, the shooting guard put up 30 points, four rebounds, and more than one steal per game before the Spurs decided to hold him out. It was good enough to get him into the second team.

Wenyen Gabriel, Sacramento Kings
The Sacramento Kings hold their own miniature summer league before Las Vegas, and in this year's California Classic, Wenyen Gabriel, who didn't see the court last year, shined. Gabriel put up 19 points and nearly nine rebounds a game, and he could prove to be a valuable member of the Kings' bench. The team has already signed him to a two-way deal next season.