7 Quarterbacks Who Have Been Starting for Their Teams the Longest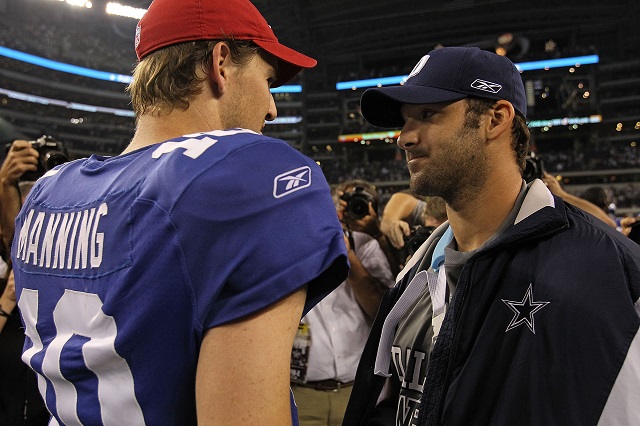 There is no position in the National Football League more hotly contested than the starting quarterback gig. As the pinnacle of the sport's positional importance, the intense competition and sideshow scrutiny that accompany any doubts about the pecking order on an NFL squad (see: Michael Vick and Geno Smith, Mark Sanchez and Tim Tebow, and the garbage fire that is Oakland's recent history in signal calling) have the effect of making those quarterbacks who can hold down the slot for seasons at a time look even more heroic. One slip or one injury and it can all go down the tubes. Just ask Dan Marino.
For the purposes 0f this list, compiled from the always tremendous Football Perspective, a consecutive pair of starting gigs account for who gets the nod in Week 1 – you can't foresee injuries on the football field, but you can see who a team wound up starting in a given year, whether he started the year prior, and whether he started the next year (unless you're talking about this current year, because we can't tell the future; if you can, hook us up). So while we don't know that Matt Stafford is going to be starting for the Detroit Lions, we know that Matt Stafford is going to be starting for the Detroit Lions. Make sense?
Stafford, by the way, doesn't make this list, although he'll be entering his sixth consecutive year as an NFL starting quarterback for the same team. Another Matt, Matt Schuab, would've made it, but his disaster of a season in Houston saw him deposed in favor of Ryan Fitzpatrick. Schaub landed in Oakland, and Fitzpatrick is somehow still a starter. Hopefully things turn around for the Texans and the Raiders.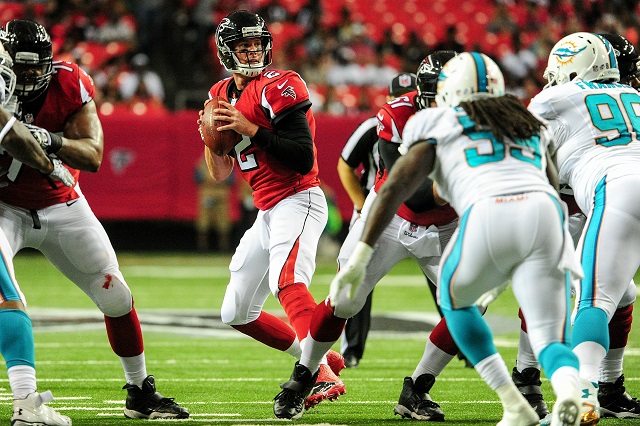 7. Matt Ryan, Atlanta Falcons – 7 seasons
Stepping into the starting spot for the Atlanta Falcons in 2008, Ryan was drafted out of Boston College and immediately assumed the starting role with the Falcons, leading them to an 11-win season and a playoff birth, although they lost that game to an Arizona Cardinals squad that spent the season with a 37-year-old Kurt Warner under center. Ever since entering the league, Ryan has quietly put up gaudy numbers and lead Atlanta to a string of winning seasons, a streak that was snapped by a completely awful stint last year that saw the Falcons only manage 4 wins. Ryan recently signed a contract worth $100 million, so he seems like the likely starter for years to come.
6. Aaron Rodgers, Green Bay Packers – 7 seasons
In contrast to Ryan, Rodgers, who entered the league in 2005, spent his first three seasons in Green Bay holding a clipboard behind Brett Favre as the man who would not stay retired wound down an stint at Lambeau Field (his 15 starts for the Packers would wind up third on the historic version of this list). Rodgers was able to take the reins and lead the team to a Super Bowl victory in his second starting year. Since 2009, the Packers have not missed the postseason, in no small part due to Rodgers's heroics.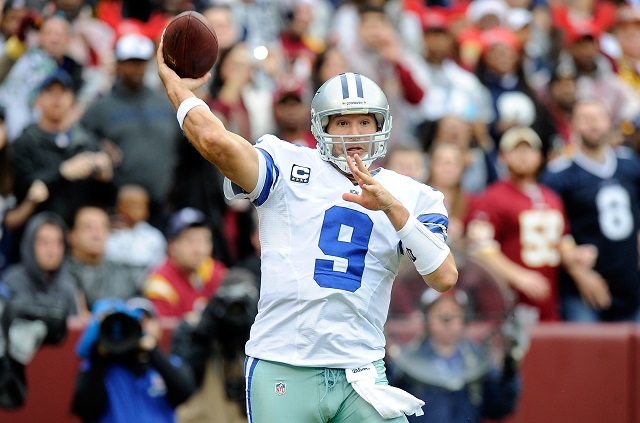 5. Tony Romo, Dallas Cowboys – 8 seasons
This will be the eighth season of the Tony Romo coaster in Dallas, and the punch line answer to "What is the leading cause of heart attacks in Texas?" continues to cruise on unchallenged, since Cowboys owner Jerry Jones passed on drafting Johnny Manziel, much to the lament of anyone who isn't a Cowboys fan. The 'Boys have, remarkably, been extraordinarily average over their last three seasons, compiling 8-win, 8-loss records every year since 2011. They have not been able to manage a playoff appearance since 2009, when they lost to the Minnesota Vikings, managing only 3 points against the Vikings' 34. That was when the Vikes had Brett Favre under center, by the way.
4. Philip Rivers,  San Diego Chargers – 9 seasons
Drafted in 2004 and forced to replace departing quarterback Drew Brees (more on him later), Rivers has been a good quarterback on teams that ranged from great to underwhelming and helmed the NFL-best 2006 San Diego Chargers, who went 14-2 and were promptly bounced by the New England Patriots. The Chargers haven't been better with Rivers since that season, although they showed some promise last year under new coach Mike McCoy.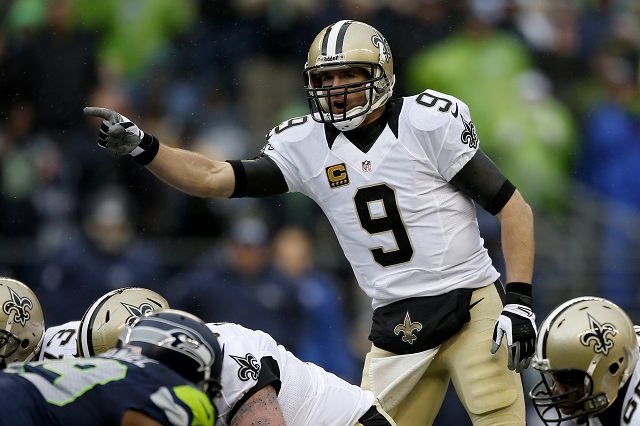 3. Drew Brees, New Orleans Saints – 9 seasons
We're giving Breesus the nod here over Rivers (although their records are identical) because he started in San Diego, too — if we were to make this a consecutive start list, Brees would have been listed with 13 consecutive Week 1 starts. That's not what we're measuring, though the near-decade of Drew has been nothing but kind to New Orleans, save for the Bountygate scandal. The Saints won a Super Bowl in 2009 and have been a consistent threat to do so again every year since — again, making an exception for their Sean Peyton-less season, when they wound up with just 7 wins.
2. Eli Manning, New York Giants – 10 seasons
There's never been any real threat to Eli Manning's throne in New York, even after his absolutely abysmal season last year. Don't lie to yourselves, Giants fans: Last season was bad. Real bad. As bad as Manning's rapping, and with an equally comic upside. Because the sibling comparison is inescapable, Eli's older brother, Peyton, logged 13 seasons with the Colts. Barring a catastrophe, Eli will have logged more consecutive years as a starting quarterback than Peyton and might finish his career with more Super Bowl rings. That's going to be a cherished statistical anomaly for decades to come, if it stands.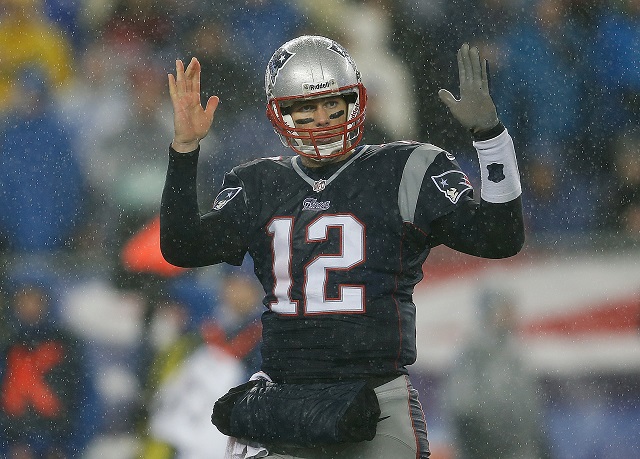 1. Tom Brady, New England Patriots – 13 seasons
Tom "Magic Hands" Brady (not a real nickname) has been as much of a New England fixture as winter, starting under center for the Patriots every year since coming in to replace Drew Bledsoe and cementing his legacy as the biggest draft steal in NFL history. Three Super Bowl wins, one practice taping controversy, one tuck rule controversy, and an incredible amount of yards and roster turnover later, Brady remains the starter for Bill Belichick and company.
Brady's been so successful for so long that it's easy to credit him for the team's success over the past 13 years; his move to starter has coincided with New England's current streak of winning seasons. B.B. — "Before Brady," a measurement of time popular in the New England – is also an easy determination of when regional fans began to care about the Patriots again.