7 Simple Steps to Fix the New York Jets During the 2022 NFL Offseason
We hate to break it to New York Jets fans, but their team isn't good.
Oh, they know that already? Well, did they know there's a chance the Jets can finally turn things around?
Look, if the Cincinnati Bengals can win a playoff game and Tom Brady can opt to retire, the Jets are capable of returning to their winning ways. Although the Super Bowl 3 champions haven't reached the postseason since 2010 or recorded a winning record since 2015, the Jets at least have young quarterback Zach Wilson and other impactful young players in the mix.
So, what's the next step for the only-sometimes-lovable losers? Well, it's steps, to be accurate, and there's seven of them.
1. Start putting legitimate pressure on general manager Joe Douglas and head coach Robert Saleh
With respect to Douglas and Saleh, the Jets need to be beyond the stage of accepting mediocrity. Gang Green hasn't played in a postseason game since before every iPhone had Siri. 
Yes, iPhones without Siri existed.
The bottom line is that Douglas and Saleh need to understand the Jets must improve after a 4-13 season. A five-win campaign isn't enough, not when the team has been so uncompetitive for so long. Although 9-8 might be out of reach right now, let's say the Jets need to win at least seven games (a three-victory increase) next year.
Then again, if the Jets achieve the rest of these steps, maybe a nine-win season won't sound so crazy.
2. Don't overpay to re-sign Braxton Berrios
Once a sixth-round pick of the New England Patriots, Berrios attained fan-favorite status with the Jets as a do-it-all receiver who earned All-Pro honors as a returner last season. Spotrac currently projects the Miami product to sign a four-year, $23.7 million deal in free agency and make roughly $5.9 million per year.
With respect to Berrios, that feels a bit generous. Suppose the Jets offer him a three-year deal worth $15 million and $7 million in guaranteed money. If Berrios is willing to accept a contract in that range, fine. But if he's insistent on, say, four years and $30 million, the Jets need to move on. There will be no shortage of available receivers between free agency and the draft.
If the Jets are going to overpay for a receiver, let them do so for someone like Christian Kirk or Davante Adams. In fact, speaking of receivers…
3. Do whatever it takes to acquire Amari Cooper or Mike Williams
The Dallas Cowboys reportedly intend to trade or release Cooper, and Williams is slated to hit unrestricted free agency. As of publication, it remained unclear whether the Los Angeles Chargers would place the franchise tag on Williams, who exploded for a career-high 76 catches, 1,146 yards, and 10 touchdowns last season.
​​If the Jets are serious about helping Wilson succeed, they'll start bringing in talented receivers who casual football fans can pick out of a lineup. The 6-foot-1, 210-pound Cooper is a four-time Pro Bowl selection with five 1,000-yard seasons to his name and will play the entire 2022 season at 28 years old. Williams, who stands 6-foot-4 and weighs 218 pounds, uses his size to force defensive mismatches.
If the Jets have an opportunity to acquire either receiver, Gang Green must do everything in its power to pair one with Wilson.
4. Find Zach Wilson a proven backup quarterback (but don't entirely dismiss cult hero Mike White)
When looking back at the Jets' 2021 season, it's stunning that perhaps the most memorable highlight was watching backup Mike White upset the Cincinnati Bengals on Halloween. Teammate Ty Montgomery quickly christened him Mike F-ing White, and Jets fans laughed until the Western Kentucky product suffered an injury four days later.
Of course, he did.
White is slated to hit restricted free agency and should return given his familiarity with the system. However, the Jets would be wise to find an older, more proven backup quarterback such as the Miami Dolphins' Jacoby Brissett or the Arizona Cardinals' Colt McCoy.
Also, please move on from Joe Flacco. That would be ideal.
5. Draft one of Charles Cross, Evan Neal, Ikem Ekwonu, or Trevor Penning
The Jets need offensive linemen, and two picks in the first 10 selections should help in that regard. Ideally, Douglas and Saleh want to select one of four offensive tackles — Alabama's Evan Neal, Mississippi State's Charles Cross, NC State's Ikem Ekwonu, or Northern Iowa's Trevor Penning — with one of those two selections.
Neal and Ekwonu are currently contenders to be selected first overall, so one or even both might be off the board at No. 4. If that leaves Cross and Penning, fine. Penning reportedly dominated at the Senior Bowl in front of the Jets' coaching staff and had a stellar showing at the combine. Cross, who turns 22 in November, dominated the combine and ran a 4.95 40-yard dash at 6-foot-5, 307 pounds. Not to be outdone, the 6-foot-7, 305-pound Penning ran a 4.89 40-yard dash.
How much do either of those scores matter in the NFL? They don't, but the Jets should nonetheless still be thrilled if they can get one of those four tackles.
6. Use at least one, and possibly two, early picks on a receiver
As it stands, the Jets currently have nine selections in the 2022 NFL Draft, including five within the first three rounds. Regardless of what happens in free agency, the offensive line and offensive skill players, primarily at receiver, take priority.
Luckily for the Jets, this appears to be a deep receiver class — on paper, at least. Whether or not the team should use a first-round pick on Ohio State's Chris Olave or USC's Drake London is another conversation. Olave, of note, impressed at the combine and brings blazing speed to the NFL. Perhaps a trade down from No. 10 to say, No. 14 to select one of them would make sense.
There should be no shortage of likely options on the draft's second day. Penn State's Jahan Dotson is a reliable receiver who plays extremely competitively despite only standing 5 foot 11 and 178 pounds. North Dakota State's Christian Watson stands 6-foot-4, weighs 210 pounds, and is among the draft's most athletic receivers. Western Michigan's Skyy Moore earned rave reviews for his route running amid a 95-catch, 1,292-yard, 10-touchdown season in 2021.
7. Don't draft a quarterback who has no chance of playing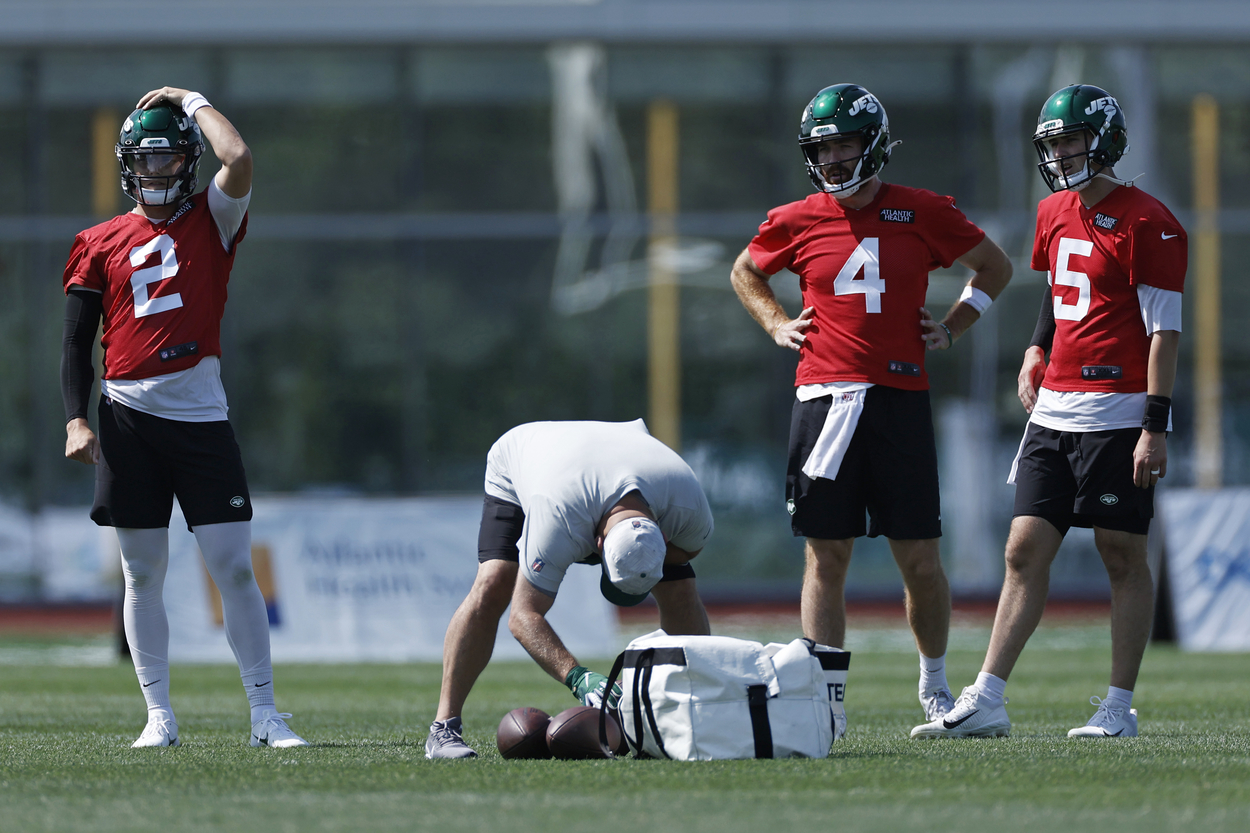 The Jets already have Wilson, and they appear likely to bring White back. Only time will tell if they sign a veteran backup in free agency.
With that said, there is no reason to draft a quarterback even if the Jets acquire a seventh-round pick. The team already has two relatively young quarterbacks on the active roster. If Saleh and offensive coordinator Mike LaFleur want to add a third, that's why organizations sign players who go unselected.
Now, knowing the Jets' luck, they'll accomplish maybe two of these steps, fail miserably at another four, and ignore one. But, hey, at least we tried.
Like Sportscasting on Facebook. Follow us on Twitter @sportscasting19.
RELATED: What the New York Jets' Plan of Attack Must Be for the 2022 NFL Offseason