7 Things You Should Never Take to an NFL Game (and 6 Things You Should)
Going to an NFL game is the ultimate experience for the true football fan. Before game day, you should familiarize yourself with what you can and cannot bring into the stadium with you, and a few comments about fan behavior during the game. Keep reading to learn more about what you should never take to an NFL game — as well as what things you should plan on bringing on game day.
Don't forget the NFL bag policy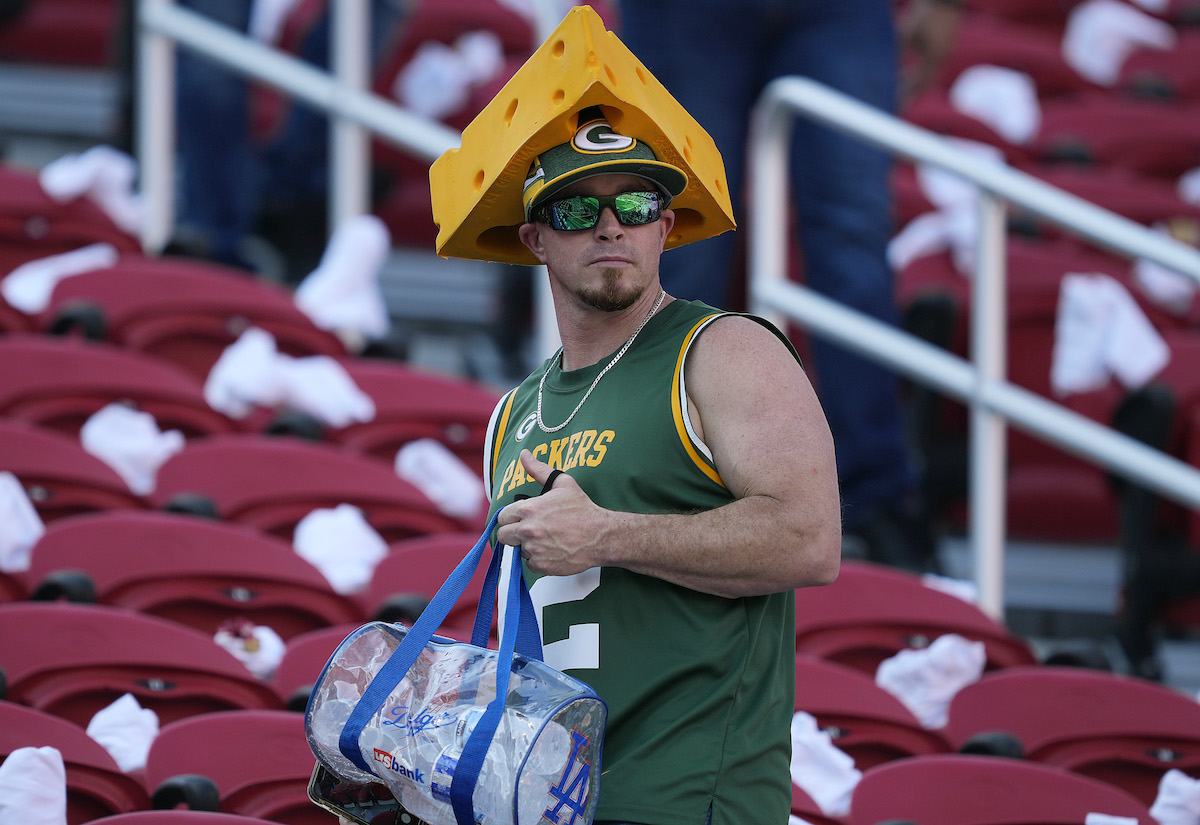 The NFL bag policy is specific, and since there is no getting around it, you should always be prepared. Here is a breakdown of what you are allowed to bring to the game. All bags will be searched upon entry. Before you go to the game, you may want to double-check with the website of the stadium you will be visiting.
The NFL requires that you bring your belongings in a clear bag that measures no more than 12 inches x 6 inches x 12 inches. Your best bet is to buy an official clear bag with an NFL logo on it to ensure that it will be allowed. The alternative is a gallon-sized clear freezer bag (such as a Ziplock of Glad food storage bag). The bag cannot have any buckles or hardware on it, nor decor that conceals any part of the bag. The only exception is those bags with NFL logos on them from any of the merchandise stores at the stadium, through NFLshop.com, or any other store that sells official NFL gear that is licensed by the league. Each person is allowed to carry one clear bag.
 You will be allowed to bring a small purse or clutch that measures no larger than 4.5 inches x 6.5 inches into the game. 
You will also not be allowed to bring in the following items:
Backpacks
Coolers
Briefcases
Fanny packs
Diaper bags
Computer bags
Camera bags
Luggage
Bags that are larger than the size allowed
Seat cushions that are non-approved
Here are some other allowed items
You can feel free to bring a blanket for those cold-weather games in Green Bay or Denver. Simply throw the blanket over your arm and carry it in. You can bring binoculars or a camera as long as they are not in a bag. Phones, wallets, keys, and other small miscellaneous necessities can be carried in your hand or in your pockets.
Note: If you have medically necessary items, there will be someone near the gate who will search and approve them.
Here's what you should never take to an NFL game
Drugs or drug paraphernalia, because you really don't want an arrest to be what you remember about the game.
Alcoholic beverages from outside the stadium.
Laser pointers
Umbrellas
Beach balls
Strollers
Bags or purses larger than those allowed by the NFL bag policy
Definitely bring these things to an NFL game
You will want to make sure to bring the following to the game:
Your wallet and cash for the concessions stands and souvenirs
Unless you are attending a game that is in a dome, make sure you bring your hat and sunscreen. NFL games are long, and you want to protect yourself from the UV rays.
Wear your team colors. You want everyone to know who your team is. Besides, you did not buy that jersey to collect dust at home, right?
Bottled water with the original seal intact
A football and a sharpie for autographs
Your phone charger
What else should you avoid at NFL games?
Do not throw your trash on the football field.
Do not get involved in a physical altercation or behave in a manner that invites one.
Go ahead and cheer for your team, but remember that this is a family event, so keep the cuss words out of it.
Respect the other fans and the players.
Do not get too intoxicated.
Be sure to check the tailgating rules
Tailgating in the stadium parking lot before the game is a time-honored tradition. NFL stadium parking lots open four hours prior to kickoff. Many fans will barbecue or have a picnic in the parking lot before the game. Some established season ticket holders even have elaborate setups for game day. If this is your first time at an NFL game, get there early so that you can walk around and take in the whole experience. But be sure to check your stadium's website for their specific tailgate rules.
Make sure you allow time to explore the stadium before the game. That way, you can pinpoint the concessions you plan to visit and find the bathrooms closest to your seats.
For further details about the NFL bag policy, visit NFL.com.