7-Time Formula 1 Champion Lewis Hamilton Ends Social-Media Blackout: 'I've Been Gone. Now I'm Back!'
He speaks!
Well, at least seven-time Formula 1 champion Lewis Hamilton typed six words on Twitter for the first time in two-plus months.
"I've been gone. Now I'm back!"
Is he?
Lewis Hamilton remains upset about the Abu Dhabi Grand Prix ending
Hamilton disappeared from the public eye following his contested runner-up finish at the season-ending Abu Dhabi Grand Prix on Dec. 12.
In a caution period entering the final lap, FIA Michael Masi instructed the lapped cars between then-leader Hamilton and Max Verstappen to pass the Safety Car and resume racing. On fresher tires, Verstappen overtook Hamilton on Turn 5 and cruised to his first F1 title.
Immediately after the race, Mercedes brass issued a protest, but race officials denied it. In his post-race press conference, Hamilton hinted he was considering retirement. He teased he could pursue a new career in the fashion industry or pull a Jimmie Johnson-type move. Johnson, a seven-time NASCAR premier series champion, retired in 2020 and ventured into other forms of racing. This season, he plans to race on the IndyCar circuit.
The question of Hamilton returning for a rematch against Verstappen remains unanswered.
But at least we know he's trying to show off his fashion sense in the Tweet he posted during a trip from possibly the Grand Canyon, according to NBC Sports.
Hamilton remains under contract for two years at $54 million per season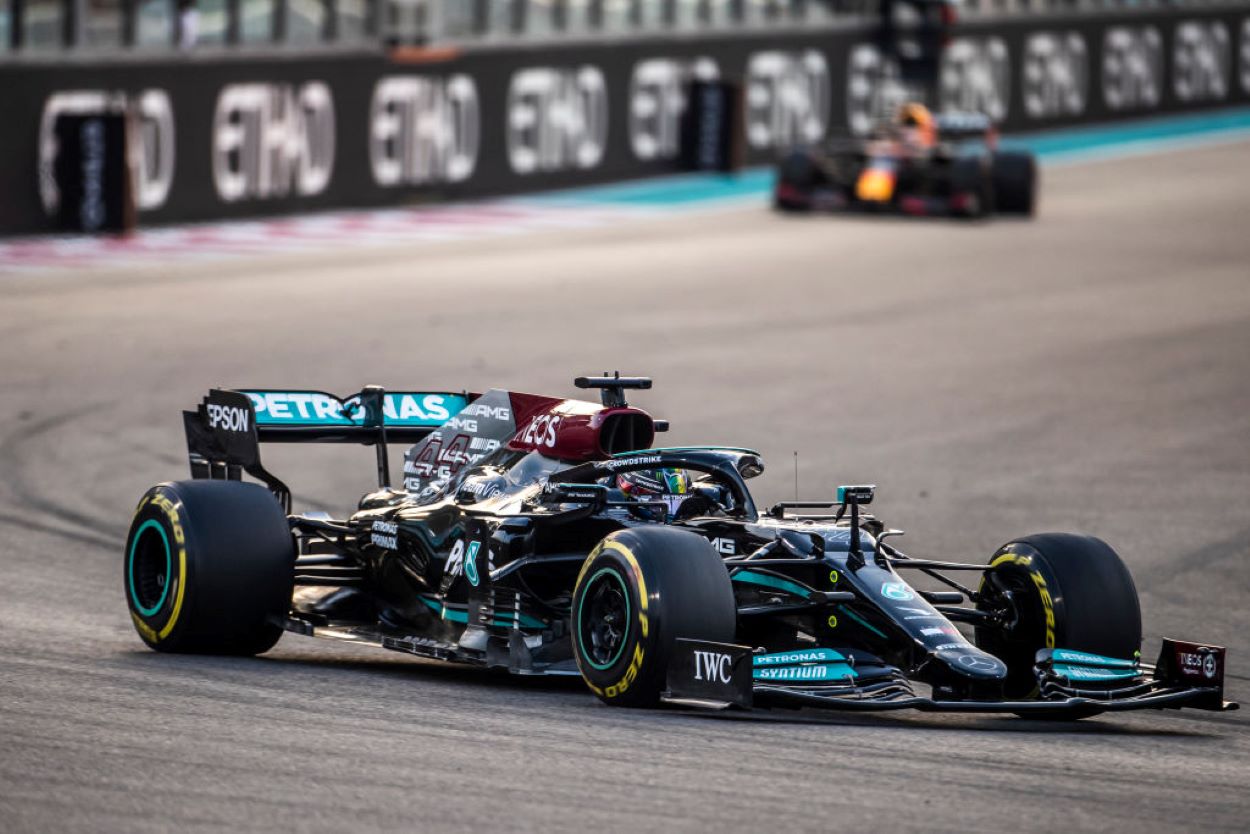 Losing what once was a 12-second lead over Verstappen on the final lap was too much for Hamilton to handle. His boss, Toto Wolff, has openly called for Masi's immediate dismissal.
Hamilton's retreat was sudden. He skipped the scheduled post-race press conference and the post-season gala in Paris a few days later. Surely, he would appear at the mandatory awards ceremony less than a week later?
Nope and the act of defiance remains under investigation. New FIA President Mohammed Ben Sulayem indicated a report could be available this month.
Hamilton did, however, show up for Prince Charles. Knighted at Windsor Castle three days after the race, Sir Lewis Hamilton declined all interview requests at Windsor Castle.
And everywhere else since.
Under contract for two more seasons, the 37-year-old could make $108 million if he doesn't quit Mercedes.
Hamilton talks of leadership and dedication in MasterClass videos
Before going on self-imposed social-media exile, Hamilton recorded 12 video lessons for MasterClass.
The winningest driver in Formula 1 history, Hamilton, who has 103 victories, discusses ways to discover the path to reach one's full potential. He talks of achieving greatness and working harder than your peers to reach established goals.
Hamilton's goal is to win his record eighth drivers' title and break his tie with Michael Schumacher.
Maybe he should watch his videos and take his own advice.
Like Sportscasting on Facebook. Follow us on Twitter @sportscasting19.
RELATED: Bernie Ecclestone: Mercedes Missed Move that Could Have Saved Lewis Hamilton's Record Title Bid