76ers Have Responded to Doc Rivers' Pointed Challenges and have Become Road Warriors
ORLANDO — Doc Rivers has always been considered to be a players' coach, and much of his history of success is rooted in his ability to relate to players and coax them to run through proverbial walls. However, Rivers abandoned his usually good-natured disposition in his first team meeting with the Philadelphia 76ers two years ago and was so real and raw that the players had to wonder what was going on.
Rivers' topic in that first talk before the start of the 2019-20 season: The 76ers putrid road record during the 2019-20 season, and how things had to change if they were to be taken seriously as contenders.
"We addressed that the first day of training camp two years ago on my first practice walking into there," Rivers recalled during a postgame news conference. "I was as frank as you could ever be to a team that you don't know. I basically said, 'We are disgraceful on the road, and there is no excuse for that.'"
Dramatically better on the road, the 76ers now have a toughness that travels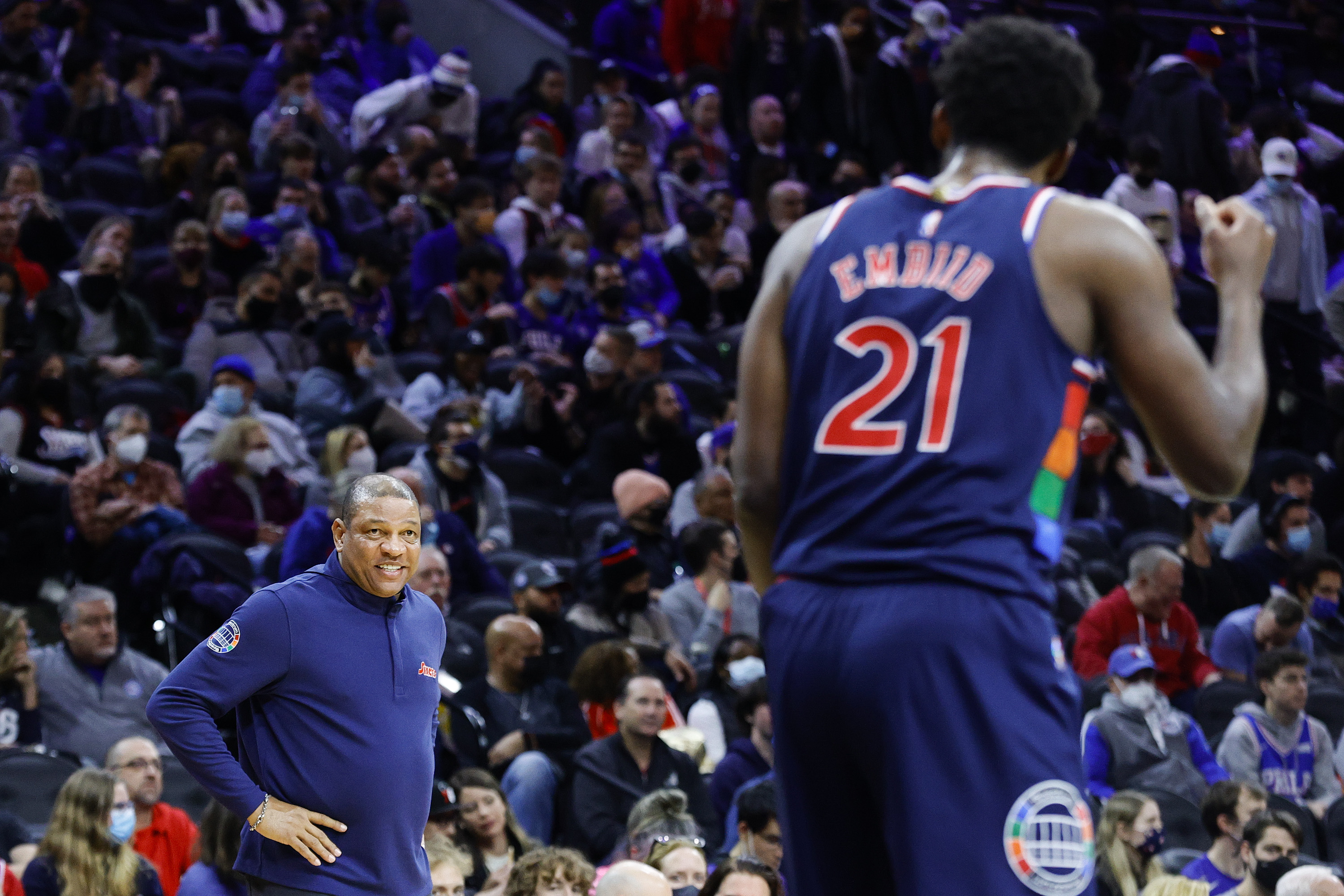 Rivers' blunt assessment of the Sixers' softness on the road got the team's attention. After going 12-26 on the road in 2019-20, Philadelphia responded with a 20-16 mark away from home last season — Rivers' first leading the program. This season, Philadelphia is significantly better on the road than at home, and its road warrior mentality has played a significant role in it ripping off seven straight wins of late.
Philadelphia's 15 road wins are the most in the NBA at the season's midpoint. Five of those road victories have come during the Sixers season-best seven-game winning spree, allowing it to scale the East standings.
Already, the Sixers have won road games at Chicago, Denver, Atlanta, Charlotte (twice), Toronto, and Brooklyn. The 76ers kept their winning streak alive by winning games on the road in Orlando and Houston — the kinds of games they used to fritter away regularly — and they haven't lost away from home since Dec. 16. Superstar center Joel Embiid has hinted the success has come about because of improved team chemistry — the result of mercurial star Ben Simmons sitting out the season.
"In the past, you look at the home record and wonder, 'How are we this bad on the road," Rivers said. "We talked about it, and guys gave their opinions — and I didn't buy any of them. I told them, 'When you go on the road, that's your job.' Guys understand that now, and the No. 1 priority is getting ready for the game. Our guys understand that better now."
Joel Embiid's rise has made the 76ers difficult to beat — home or away
With Joel Embiid playing like a serious MVP candidate, the 76ers have been almost impossible to beat — whether in Philadelphia or faraway locales. Embiid had 31 points in the romp in Houston — the seventh straight game he has scored at least 31 points. If he can push that streak to eight against Charlotte, he will tie the franchise record for consecutive 30-point games set previously by Wilt Chamberlain and Allen Iverson.
During this seven-game winning streak — with five of those victories coming on the road — Embiid has smashed foes to the tune of 32.8 points a night. As was the case again in Houston on Monday, Embiid came out in attack mode and broke the spirit of his foe early in the night.
As happy as he is about the Sixers' growth on the road, Embiid seemed slightly embarrassed when discussing the team being better away from home than at Philly's Wells Fargo Center. In years past, Embiid always seemed to feed off the "M-V-P!" chants and the home crowd's roar and helped Philadelphia dominate the City of Brotherly Love. After going 31-4 at home in 2019-20 and 29-7 at home last season, the Sixers are a puzzling 8-8 there this season. That has to change, Embiid said.
"(The better road record) means we haven't been very good at home, which is very surprising because it's always been the opposite for us," Embiid said recently after dominating the Magic. "I'd rather be really good at home, but we just haven't been that good there this year. It's great we've gotten a lot better on the road, but we must do a better job at home."
The 76ers have put aside the distractions created by Ben Simmons and have thrived
Taking into account all of the distractions that the Sixers have had to deal with all season makes their road run even more impressive.
Maybe, just maybe, it has helped the Sixers to get away from the talk-radio chatter and endless speculation surrounding Simmons' status in Philadelphia and bond on the road. Teams often tend to take an "us against the world" mentality on the road. In some ways, that's probably been the case with the Sixers at home because of the discontent over Simmons' puzzling defection.
Frustrated by boos from home fans, 76ers standout forward Tobias Harris recently waved his arms as if to egg the jeering fans on. Harris, who admitted his frustration boiling over following a slump, cited the togetherness of Philadelphia's roster and coaching staff as one of the reasons why the team has been able to brush aside distractions and criticism and thrive.
"This season, with all the distractions and variables we've dealt with, the group has done a great job of being prepared," Harris said in a recent postgame interview in Orlando. "We've just been hooping and picking each other up when we've needed it. Being able to keep our focus the way we have, that's been a huge key for us."
All quotes in this story were attained firsthand.
Statistics courtesy of ESPN.com
RELATED: On the Best Run of his Career, Philadelphia 76ers Center Joel Embiid is Playing Like an NBA MVP