The 76ers' Quiet $15 Million Investment Is Helping to Numb the Pain of Their $177 Million Blunder
It was hard to focus on any aspect of the Philadelphia 76ers' offseason that didn't involve Ben Simmons. Seemingly every conversation about the Sixers over the last few months revolved around whether or not they would trade their disgruntled point guard.
Lost in all the shuffle was a quiet $15 investment in little-known bench player Furkan Korkmaz, but it's already looking like the smartest move of the offseason and helping fans forget about the $177 million nightmare that is Simmons's holdout.
76ers re-signed Furkan Korkmaz for three years and $15 million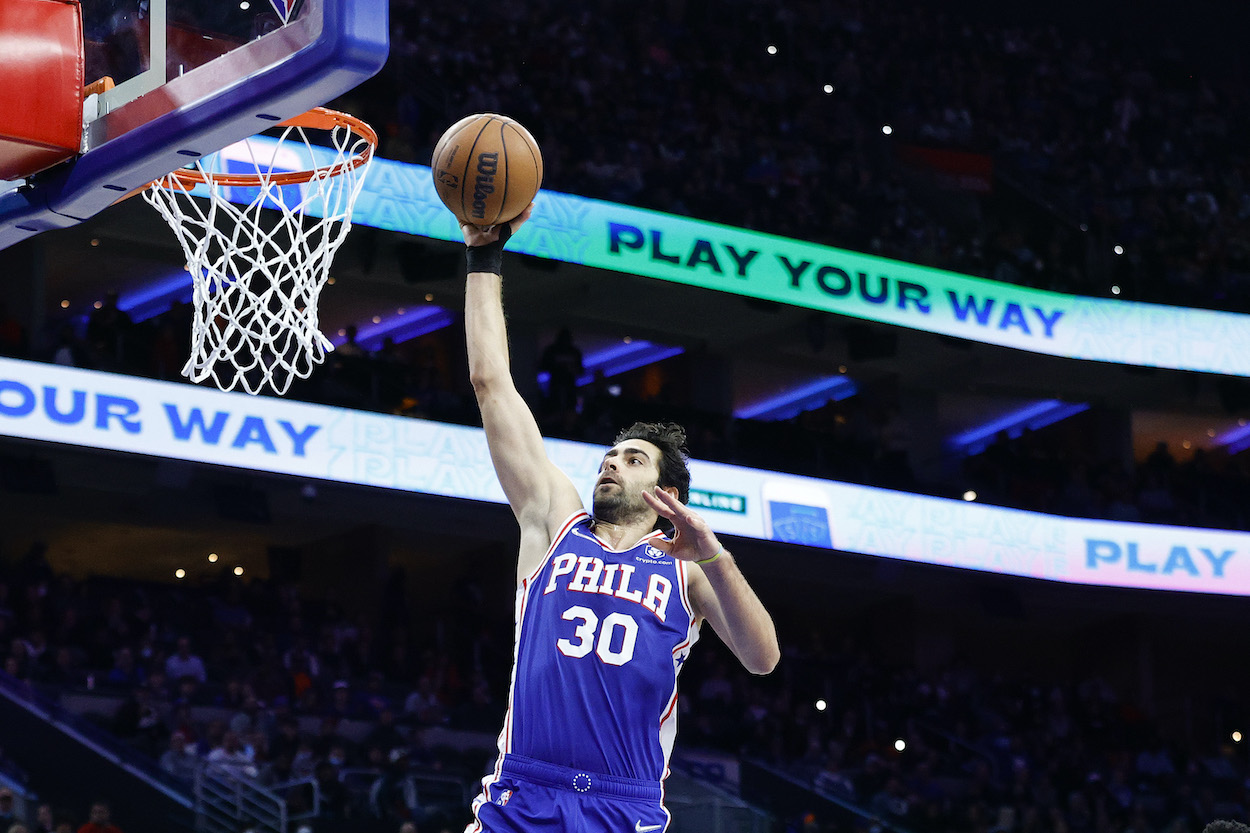 Korkmaz's future in the NBA didn't look too promising after his first few seasons in Philadelphia. After being drafted by the 76ers in the first round in 2016, the Turkey native appeared in just 14 games as a rookie and scored 1.6 points per game. In his second year, he played in 48 games and upped his scoring average to only 5.8 ppg.
Following Korkmaz's second season in Philly, the Sixers declined to pick up his third-year option. His NBA career could've ended that day, and he started thinking about going overseas to continue his playing career. But later that offseason, the 76ers re-signed Korkmaz to a two-year deal worth just over $3 million.
Korkmaz made the most of that second chance, as he put up career-best numbers in points per game (9.8), field goal percentage (43%), and 3-point field goal percentage (40.2%) in 2019-20. After a similar statistical season a year later, Korkmaz became a free agent again.
Now that he had established himself as a quality bench scorer, other teams started to show interest in the sharpshooter. But the 76ers weren't going to let him get away. Over the offseason, Philadelphia inked Korkmaz to a three-year, $15 million contract to keep him in town through 2023-24.
The 76ers' smartest move of the offseason
There wasn't much talk about Korkmaz's signing when it was first announced, but the move is turning out to be the smartest move of the offseason by president of basketball operations Daryl Morey.
Through 11 games this season, Korkmaz is scoring a career-high 13.1 points per game and shooting 42.4% from deep. He recently poured in 25 points and made seven threes off the bench in a short-handed win against the Chicago Bulls.
With Simmons out of the lineup and the 76ers dealing with COVID-19 issues all over the roster, Korkmaz has filled in admirably. He's played the fifth-most minutes on the team thus far, and his scoring has been a major reason for the Sixers' 8-3 start.
And he's doing it all while making just $4.6 million in 2021-22.
Helping the 76ers forget about their $177 million blunder
By playing the best basketball of his career and helping the 76ers to the best record in the Eastern Conference through 11 games, Korkmaz is somehow making Philadelphia fans forget about Simmons' prolonged absence.
Simmons, who signed a five-year, $177 million contract extension just two seasons ago, has given no indication of when he'll return to the floor for the 76ers. That massive extension will go down as a major blunder if Simmons never suits up for Philly again.
Without Simmons in the lineup, the Sixers have been forced to give their bench players more minutes to start the season. And Korkmaz is filling in better than the front office could've ever expected when they signed him to a $15 million deal in the offseason.
Based on Korkmaz's stellar play to start the year, what a bargain that contract is turning out to be already.
All stats courtesy of Basketball Reference.
Like Sportscasting on Facebook. Follow us on Twitter @sportscasting19.