The 76ers' Reported Desire to Include Tobias Harris in Ben Simmons Trade Talks Proves Daryl Morey Has No Sense of Direction
At this rate, Philadelphia 76ers fans might as well hope Ben Simmons rejoins the team, because president Daryl Morey and the front office do not appear to have any sense of direction in trade talks.
Morey and the 76ers have consistently insisted on selling high for Simmons. More recently, though, reports suggested the team hopes to pair Tobias Harris' big contract with Simmons in something of a salary dump. These are, in many ways, conflicting ideologies. They illustrate a noncommital attitude that could ultimately result in the Sixers wasting another year of Joel Embiid's prime.
Including Tobis Harris in a Ben Simmons trade package makes it harder for the 76ers to get the desired return
Tobias Harris is a quality NBA player. But is he worth the additional two seasons and nearly $77 million remaining on his current contract? No, probably not.
Harris' 45.5% field-goal percentage is his lowest since his sophomore season. He is shooting a woeful 29.5% from beyond the arc. Moreover, although the 76ers forward is a dependable rebounder and decent playmaking option, the Sixers have more defensive success without him on the floor.
When accounting for contract and performance, including Harris in a Ben Simmons trade package would appear to reflect a pivot in mindset from Daryl Morey and the 76ers. Any team taking on that much money is likely to be reticent of what they give up and thus might not part with as much value or merely offer the Sixers undesirable salary fillers to make a deal work.
The Atlanta Hawks could have the contracts and talent to make a deal work. Atlanta is reportedly interested in Simmons. But do the Hawks care much for Harris?
Philly's potential insistence on including Harris in a Simmons package might change the tenor of negotiations with a number of teams. That's difficult, because the 76ers still appear hesitant to lessen the asking price.
Morey and the 76ers remain insistent on getting premium assets for Simmons
The 76ers remain determined to get elite-level talent back in a Ben Simmons trade, whether or not they include Harris in said deal.
Chris Mannix of Sports Illustrated reported that Philly remains hopeful Simmons will return to the rotation. If he does not, Mannix added, the Sixers maintain their desire for an "established All-Star."
Now, Mannix's report does not come as a surprise. As previously mentioned, the 76ers have maintained this approach for months. Morey himself said the process could take years. The issue is that you cannot sell high when you pair two monster salaries together. These are conflicting management strategies.
At least one common thread exists amid all this: Morey is 100% comfortable playing the long game. But he might want to show more urgency.
One way or another, the 76ers need to commit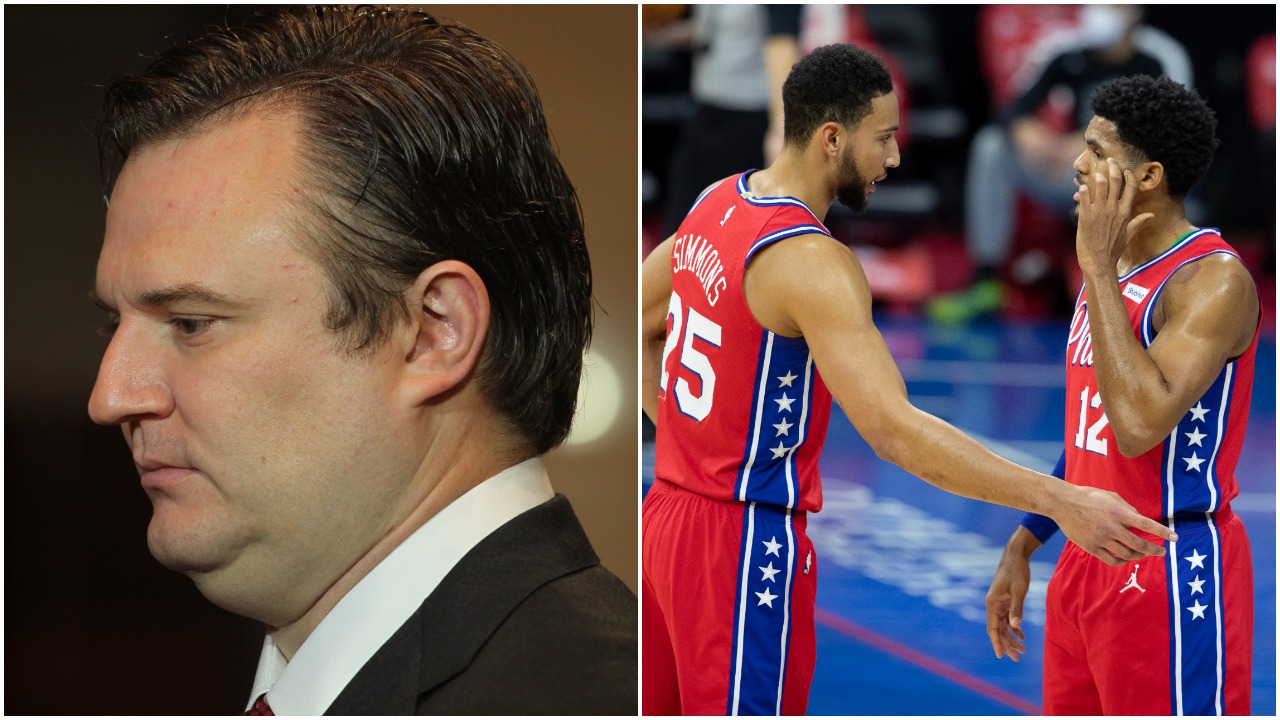 The 76ers are rapidly approaching a stage where they need to commit to a specific path. Either the front office gets the best deal it can for Simmons, or it operates with an eye on another superstar, knowing full well the risk that kind of strategy would entail.
It's possible that Morey still hopes to pry Damian Lillard away from the Portland Trail Blazers. On The Hoop Collective podcast, Brian Windhorst of ESPN said that some executives believe Philly's reported desire to include Harris in the framework of a Simmons deal is related to a potential pursuit of James Harden in free agency.
However, the Sixers take on a lot of risk in both scenarios. Lillard's future has been a topic of discussion for some time now, yet he hasn't shown a concrete desire to leave Portland. Meanwhile, there's no telling Harden wants to sign with a team other than the Brooklyn Nets, and Brooklyn might not allow him to get away, depending on how things play out with Kyrie Irving.
The 76ers could just as easily trade Simmons and get quality assets to help the team win now. But Morey's noncommital attitude indicates an absence of clarity in this situation, and it could threaten Philly's competitive window.
Stats courtesy of Basketball Reference.