8 of the Most Extravagant Championship Rings We've Ever Seen
The New England Patriots, to the surprise of very few football fans, found themselves on top of the football world again with their Super Bowl victory over the Rams this past February. To go along with their outsized accomplishments, they recently unveiled their new Super Bowl ring, which is the largest one in history. With the Toronto Raptors and St. Louis Blues both raising championship trophies recently, it's time for a look back at some of the most extravagant championship rings we've ever seen.
Get ready for lots and lots of diamonds.

1. 2005 New England Patriots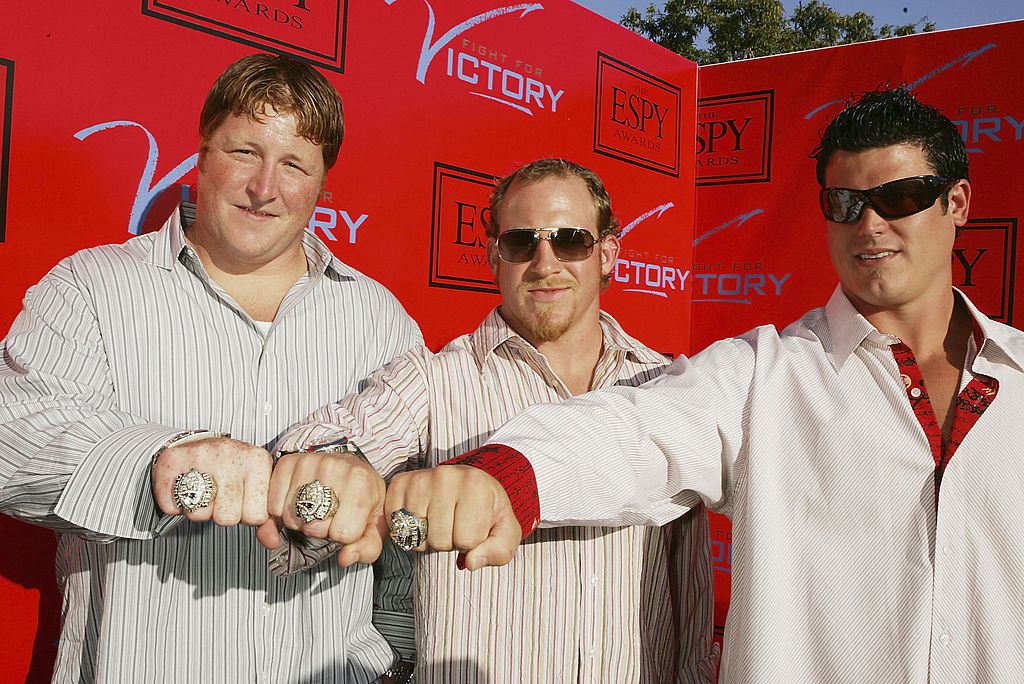 The Patriots' championship rings for their 2005 title featured three Lombardi trophies representing each of the Pats' Super Bowl wins (at the time), a massive Patriots logo, and of course, plenty of diamonds. But this ring was notable not as much for its design — though it sure was remarkable. This ring was infamous for being stolen (or accepted as a gift, depending on who you ask) by Russian president Vladimir Putin from Patriots owner Bob Kraft.

2. 2008 Detroit Red Wings
The front of the Red Wings' 2008 championship ring features a diamond-studded Red Wings logo. What makes this keepsake so cool, however, is the side: it has each of Detroit's 11 Stanley Cups (with the corresponding year on it) built into the design.
3. 2013 Miami Heat
LeBron James, Dwyane Wade, and Chris Bosh came together in 2010 to form the NBA's first super team of this era. So it would make sense that their eventual championship rings were designed to be as outlandish as the trio.

The Heat's 2013 ring design included their two NBA Finals' trophies along with a sleek black and white design the team had embraced on their uniforms in that era.

4. 2009 New York Yankees
No professional sports team has as many titles as the New York Yankees. It was understandable that they'd go all out for their 27th set of championship rings. They did just that in 2009.

The Yankees ring features the classic interlocking NY logo in the middle of a baseball diamond — with the whole image covered in real diamonds.

5. 2009 Los Angeles Lakers
Winning an NBA title is an incredibly hard feat to accomplish. Just look at some of the great teams that weren't able to do it. Before his 2009 championship with the Lakers, Kobe Bryant was regarded as one of the all-time greats. But he'd never won a title without Shaquille O'Neal by his side, which was why 2009 was special. It was Bryant's first title win "on his own" (though Lamar Odom, Ron Artest, and Pau Gasol certainly had something to do with it).
Bryant was individually honored — as was every Laker — with his name emblazoned on his own personal championship ring. It's a cool feature that had never been included on any team's championship rings before.

6. 2012 New York Giants
Beating the juggernaut that is the New England Patriots once in the Super Bowl is difficult enough, but twice? It's unthinkable. In 2012 the Giants did just that, as Eli and company bested Brady and Belichick yet again.
Their Super Bowl ring was quite flashy. It features diamonds and blue sapphires surrounding tiny replicas of all four of the Giants' Lombardi trophies.
7. 2003 Florida Marlins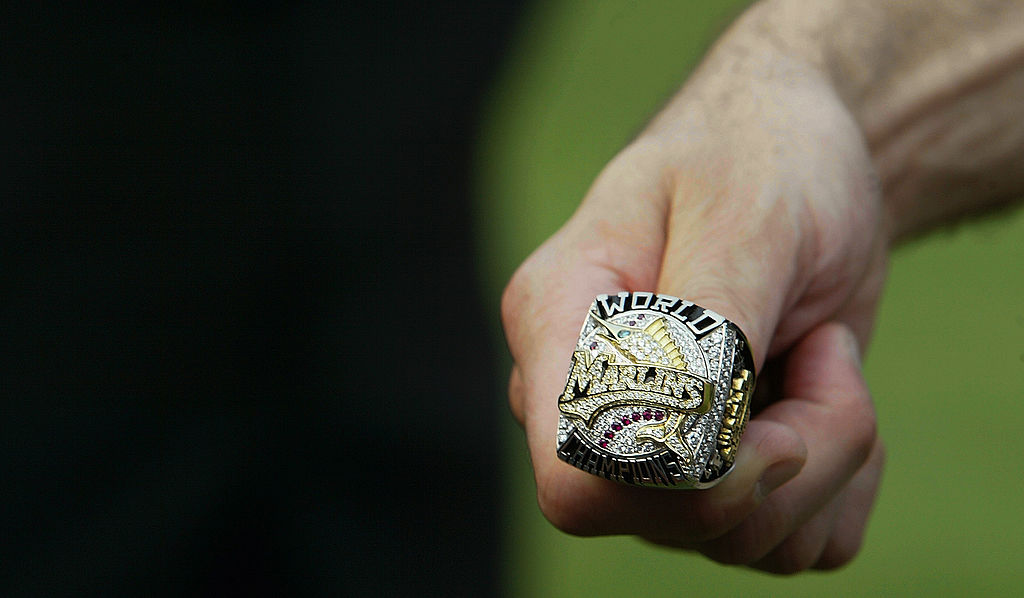 In 2003, the baseball world expected the Yankees or Red Sox to emerge as champions after a hard-fought ALCS. Neither did, however, as the upstart Florida Marlins beat the Yankees in six games. To commemorate the franchise's second World Series win, the team known for its frugality went against convention to design the most expensive championship rings in MLB history (costing $20,000 each) featuring a diamond-studded Marlins logo.

8. 2009 Pittsburgh Steelers
When the Steelers defeated Aaron Rodgers and the Green Bay Packers, they entered rarified air as the first NFL team with six Super Bowls. At the time, they were the only team to do so.

To reflect that historic achievement, the Steelers went all out with six big diamonds on their rings to show the significance of the historic championship.