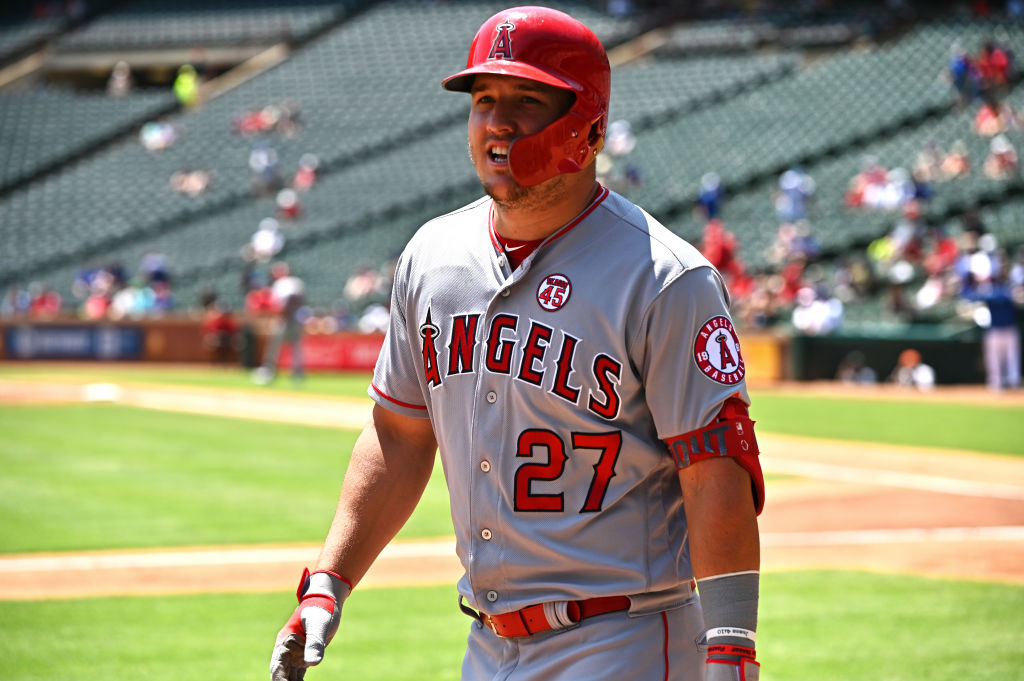 8 Interesting Facts About Angels Star Outfielder Mike Trout
Mike Trout is one of the best baseball players ever, and some little-known facts about the Angels outfielder are interesting.
If you ask a baseball fan who the best player in Major League Baseball is right now, there's a good chance they'll respond with Angels outfielder Mike Trout — and for good reason. He has finished in the top two in American League MVP voting six times in his first eight seasons in the league — winning twice, and he's making a case to win his third MVP this year. In 2019, he has already set a career-high in home runs and could reach 50 by the end of September. Trout is a household name by now, and many people know that he's a Jersey boy who grew up a Phillies fan. Here are some interesting facts about the 28-year-old outfielder that you might not have known.

1. Mike Trout owns a $9 million mansion
After signing his record-breaking $426.5 million contract with the Angels earlier this year, Trout bought a $9.15 million mansion in Newport Beach. Among the features and amenities of the 9,000-square-foot estate are an elevator that services all three levels, a built-in dog bath in the backyard, four guest suites, and a formal dining room with views toward the Pacific Ocean.

2. He got banned from a carnival game
Mike Trout and his brother Tyler used to attend the Cumberland County Fair as kids. The fair, of course, had carnival games, one of which was the classic game where you throw a baseball at a stack of bottles to knock them down. Naturally, Mike played the game so often and was so good at it that fair officials banned him from playing the game because he kept winning all of the prizes.

3. Trout seeks Derek Jeter's autograph
Trout idolized Yankee shortstop Derek Jeter when he was young, and he always wanted to get Jeter's autograph. Trout finally got the opportunity to get Jeter's signature in 2011 — during a game against the Yankees. On Dan Patrick's radio show, Trout recalled being on second base and the then-rookie asking Jeter if he would sign a ball if Trout sent it over to him. Jeter obliged, and signed the ball after the game.

4. Mike Trout honored his late brother-in-law with a home run
Trout hit his 37th home run of the 2019 season on August 5, which would have been the 25th birthday of late brother-in-law Aaron Cox, who died last summer. After hitting the home run, he pointed to the sky, which — he explained on Instagram — was his way of telling Aaron that one was for him.

5. He is a golf fanatic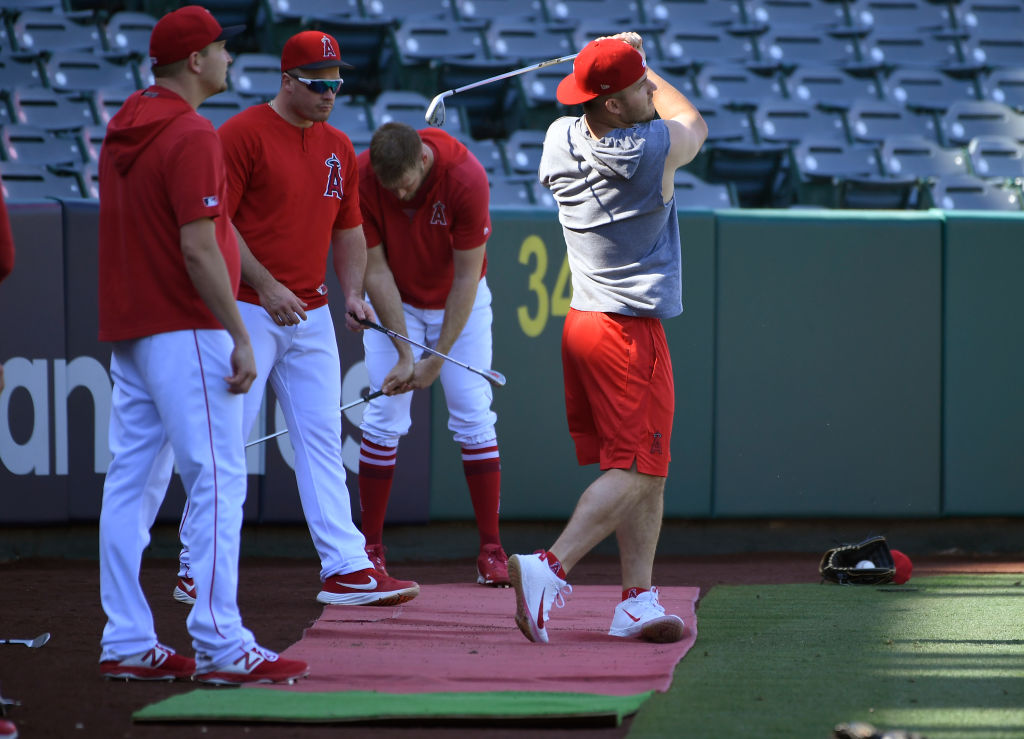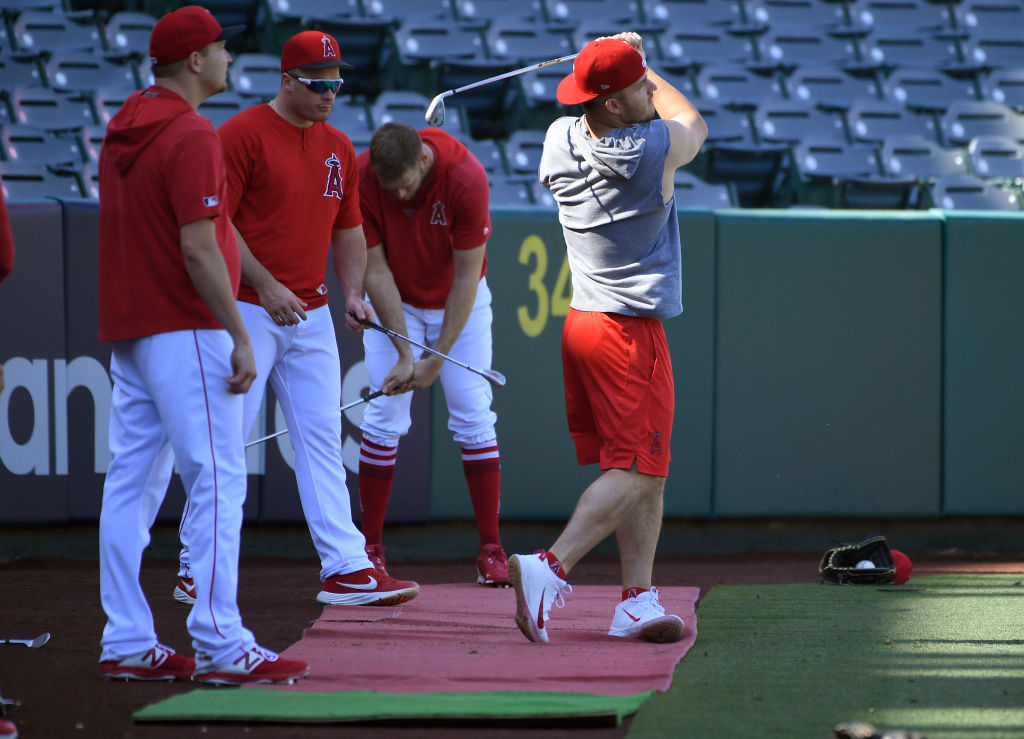 Trout plays golf whenever he gets a chance, including nearly daily during the offseason. He told Fox Sports West back in 2013 that if he was a professional athlete in a sport other than baseball, it would be golf.

6. An out-of-this-world proposal
Trout proposed to his high school sweetheart, Jessica, in the summer of 2016 in a unique way. He had a skywriter write, "will you marry me Jess?" in the sky. She said yes, as Trout excitedly revealed on Instagram. As an amateur meteorologist, Trout likely picked a day when he knew there would be mostly clear skies to pop the question.

7. A wedding day to celebrate for multiple reasons
Trout and Jessica got married in December 2017. The day of their wedding was the same day the Angels announced that they had signed Japanese star Shohei Ohtani, a major addition to the club.

8. A good fisherman
Mike Trout may share his last name with a popular type of fish, but that's not his only connection to the underwater creatures. He is also a good fisherman, as evidenced by the 500-pound grouper his group caught in Key West in 2013.