8 NBA Scoring Maniacs Who Were Always a Threat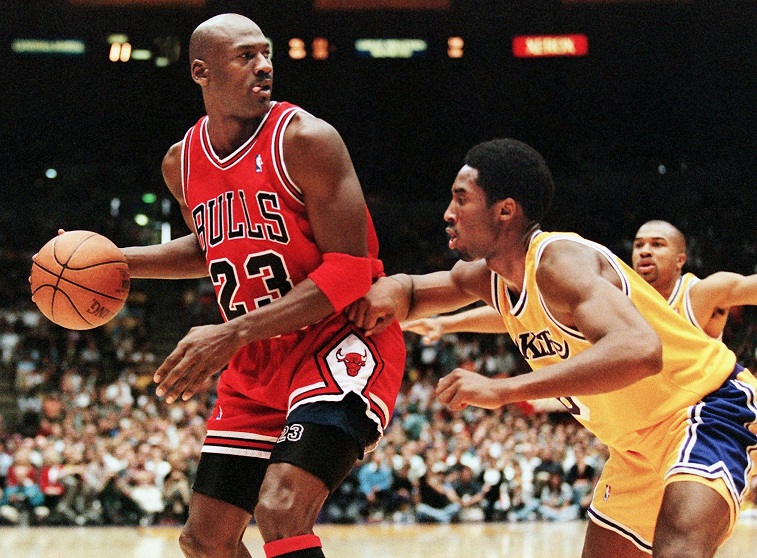 Forty points. That's the threshold when fans start to sit up a little straighter. That's when text messages start flying and people coin hashtags. When a whatever-Wednesday League Pass Game becomes must-watch TV. When "Amazing Happens." Looking at any given list of 40+ scorers is like checking out a coded list of the probable All-Stars in a given year: 2013-14?s list had last names like Anthony (five times), Durant (ten times), and Love (four times).
It's far from perfect, no criterion is, but if you were looking to find the who's who in the game of basketball, you could do much worse than examining those players who are able to drop 40 on any given night. Of course, there are always the one-offs: guys such as Toronto Raptors guard Terrence Ross, who became the first player in NBA history to score 50 while averaging less than 10 points a game. Or the career heat-check gunners.
A hot shooting night can happen to anyone. That's not what we're going for here. No, what follows are the eight seasons that saw an individual NBA player break the 40-point plane most often. Models of consistency. Almost all of them are in the Hall of Fame. The only exception will be, once he hangs up his sneakers.
8. Kareem Abdul-Jabbar, 1971-1972, 19 games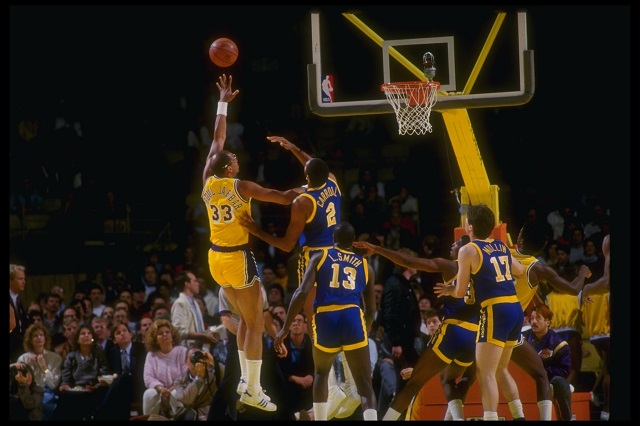 The first year after he had changed his name from Lew Alcindor, the newly christened Kareem Abdul-Jabbar decided to celebrate his Milwaukee Bucks' NBA championship from the season prior by going on a tear. He blistered through nineteen different oppositions on way to a 40-point plateau and helping his team go 15-4 in those games, heavily contributing to their eventual 63-19 record.
Kareem, who averaged nearly 35-17 that season, eventually won the 1972 MVP award. But Wilt Chamberlain and the Los Angeles Lakers — who won the NBA title after a record-setting 69-13 season — defeated him, Oscar Robertson, and the rest of the Bucks. If you want to witness Kareem and Wilt go head-to-head, a kind soul put up an entire Lakers/Bucks game from January 1972. More than 42 years ago, two of the greatest big men to ever play in the NBA faced off. You can check the first part out right here:
7. Bob McAdoo, 1974-1975, 21 games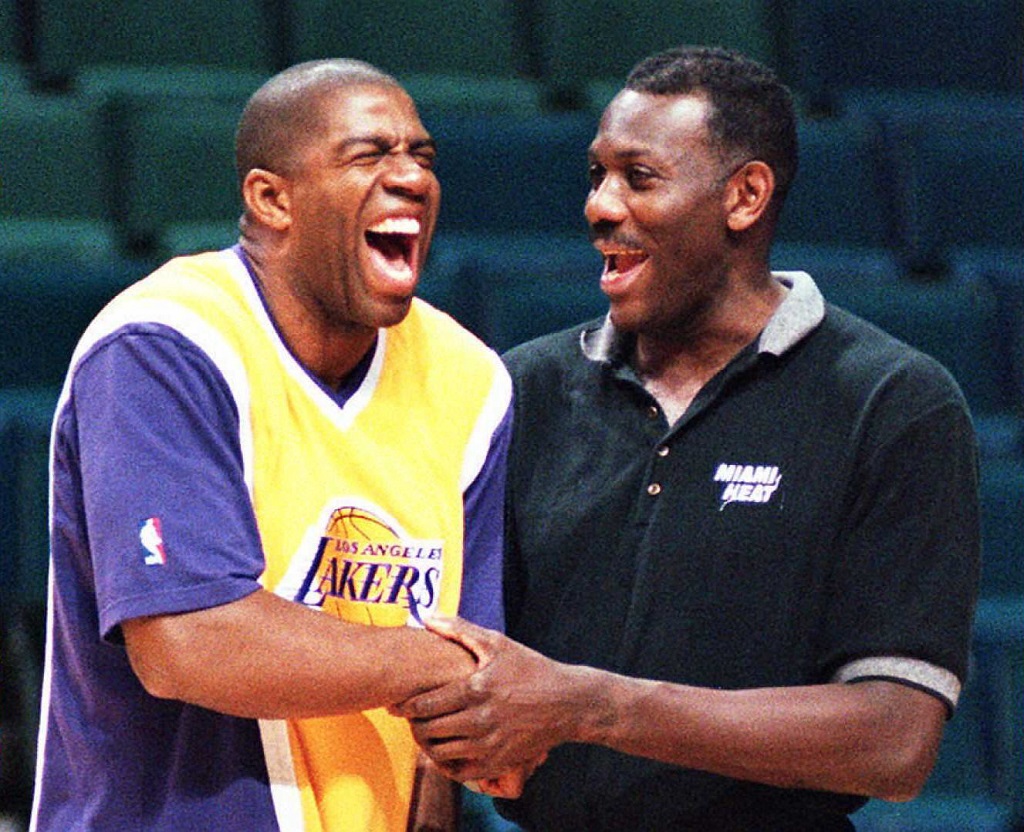 Bob McAdoo, to the right of a laughing Magic Johnson, perhaps was most famous for his tenure with the Buffalo Braves. What are the Buffalo Braves? These days, you know them as the Los Angeles Clippers (by way of San Diego). Before then, though, they were the toast of upstate New York, spending eight seasons struggling to sell tickets, despite three straight playoff appearances between '73 and '76 on the back of, you guessed it, Bob McAdoo.
The Mac lead the team in the '74 season with averages of 34 points and 14 rebounds (and, inconceivably, didn't have a nickname like 'The Mac' at the time) to a 49-33 record. McAdoo, who won the MVP for his 1974-75 season a la Kareem, was a talented 23-year-old with a sweet jump shot and great moves around the basket. The Braves, unfortunately, couldn't help their MVP out, and would fall 4-3 to another forgotten franchise, the Washington Bullets.
And because vintage basketball is awesome, here's The Mac dropping 50 against that Bullets squad in the 1975 NBA Playoffs:
6. Michael Jordan, 1989-1990, 22 games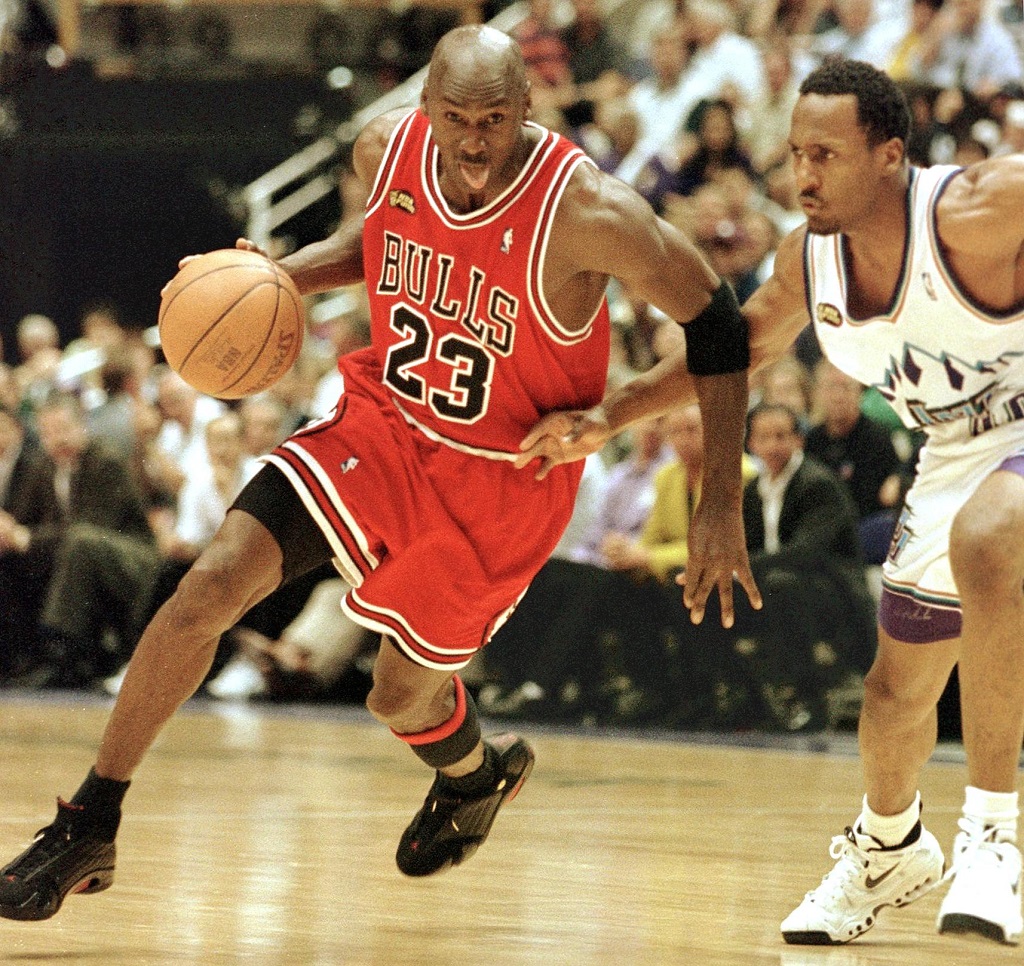 This was back when Jordan was still getting beaten up on by the Bad Boy Pistons. Jordan, along with third-year Small Forward Scottie Pippen and newly instated head coach Phil Jackson, an assistant who had replaced the recently deposed Doug Collins, carried the team to fifty-five wins. Eventually that turned into an extended playoff run that would end at the rough hands of the Isiah Thomas-lead Detroit squad. Jordan, whose twenty-two 40-point games that season helped him average 33.6 points per game and capture his fourth-straight scoring title, would also wind up in the top ten for assists with 8.3 and, together with Pippen, make his first All-Star appearance.
This was also the season Michael Jordan decided to completely eviscerate everyone and posted his career high in points against a hapless Cleveland Cavaliers squad (because of course it would happen to the Cavs, who had been the victims of Jordan's "The Shot" a season prior). The end result was a 69-point outburst that still stands in the top-five single-game scoring efforts ever:
5. Wilt Chamberlain, 1964-1965, 25 games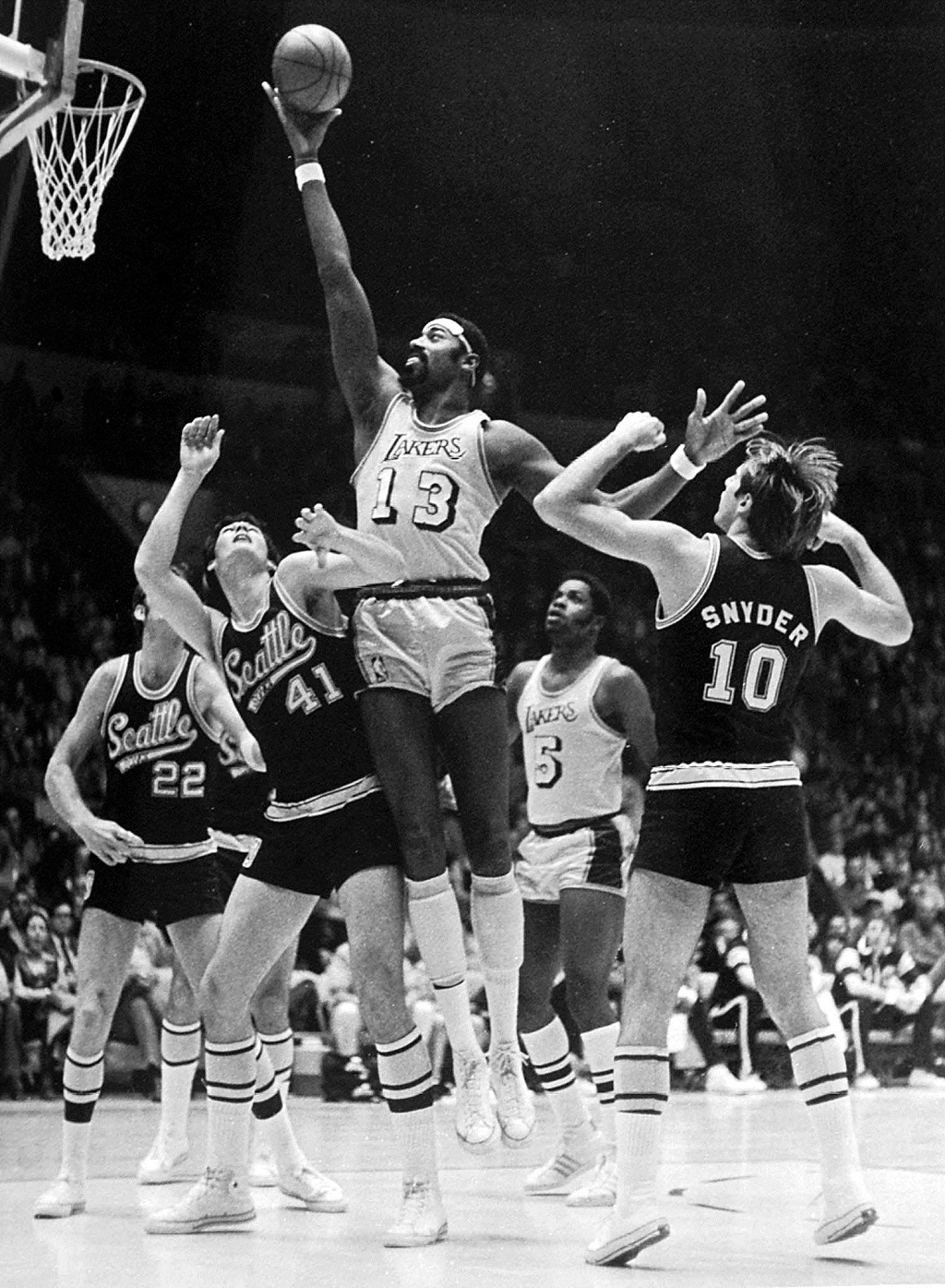 The man responsible for the sole triple-digit box score in NBA history, Wilt Chamberlain famously played parts of the 1964-65 season with a protective mask to protect his broken nose and teeth. More famously, he laid down his resume for his eventual part in Conan The Destroyer, notching twenty-five 40-plus games as he split his time between the San Francisco Warriors and the Philadelphia 76ers.
Interestingly, all but four of Chamberlain's dominant scoring performances that year came as a member of the Warriors, even though they finished the season a dismal 17-63. Interestingly, the Sixers, Chamberlain's new team and second stint in Philadelphia (the Warriors originally hailed from Philly), ended the season exactly at .500.
Did we mention the mask? Check out some highlights of a masked Wilt battling his rival and friend Bill Russell during his mega-scoring '65 season:
4. Kobe Bryant, 2005-2006, 27 games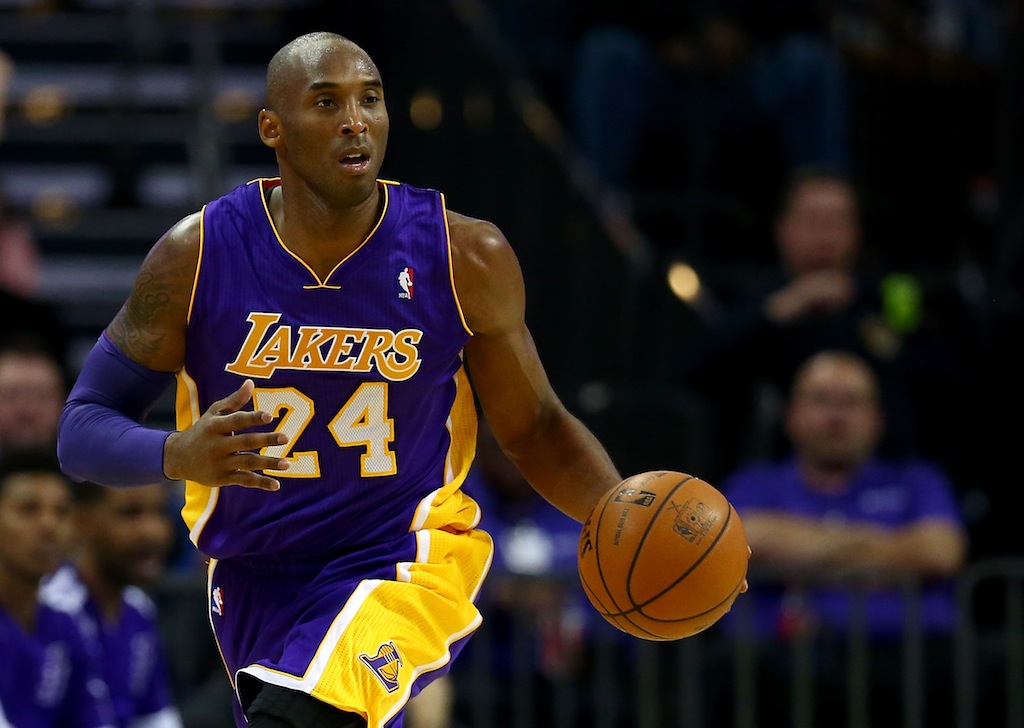 There have been many flavors of Kobe Bean Bryant. There's the afro'd sidekick, helping Shaq to the first three-peat since Jordan. There's the bald-headed elder statesman who shows up on Twitter with a ton of mamba-themed hashtags and reminds everyone how great he is. And, a few years ago, there was the Kobe Bryant who hated his teammates and decided he's just going to ignore them.
First of all, can you blame him? Look at this roster. It's not good. Aside from Lamar Odom — when Lamar Odom was one of the most underrated NBA players in the league, — and an extremely raw Andrew Bynum, there's not a lot of NBA-level talent. Which is why Kobe decided to do it all by himself. That culminated against the Toronto Raptors, when Kobe unleashed the second-highest personal score ever seen in the NBA. Eighty-one points. Live-Tweeting a rebroadcast, Kobe had this to say on the matter:
After the 3rd quarter, @RealLamarOdom tells me "you can't get 60?, then half way through he said "you can't get 70? #countonkobe — Kobe Bryant (@kobebryant) January 22, 2013
3. Rick Barry, 1966-1967, 28 games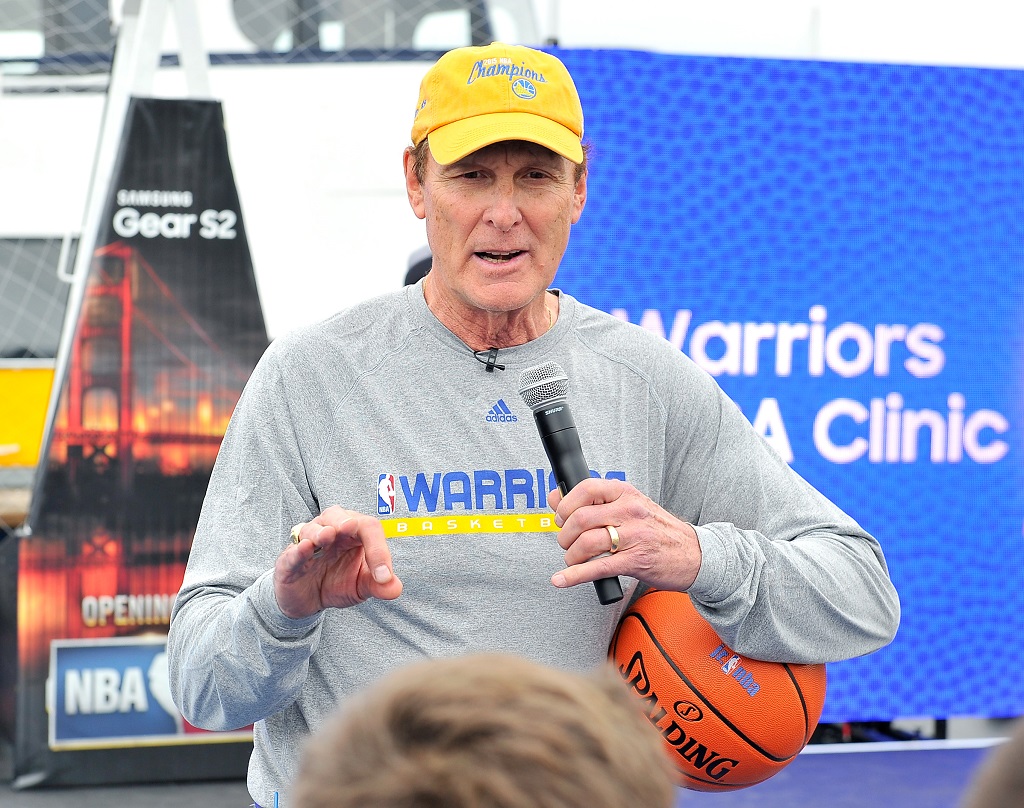 Small forward Rick Barry liked to make baskets. He's also known for being something of a jerk and for wearing a toupee. He was the prototype for Michael Jordan, a supernaturally talented scorer with a photographic memory, and little patience for common courtesy toward his teammates.
Barry was so good at getting buckets that he's the only player in league history to win scoring titles in the NCAA, the NBA, and the ABA. He also shot his free throws with the playground-infamous granny shot. During his sophomore year, Barry went nuts, winning the scoring title with 35.6 points per game and laying down twenty-eight games of 40+ points, capped off with a 57-point outing against the Cincinnati Royals. He would help the Warriors capture their only NBA championship in 1975.
2. Wilt Chamberlain, 1963-1964 32 games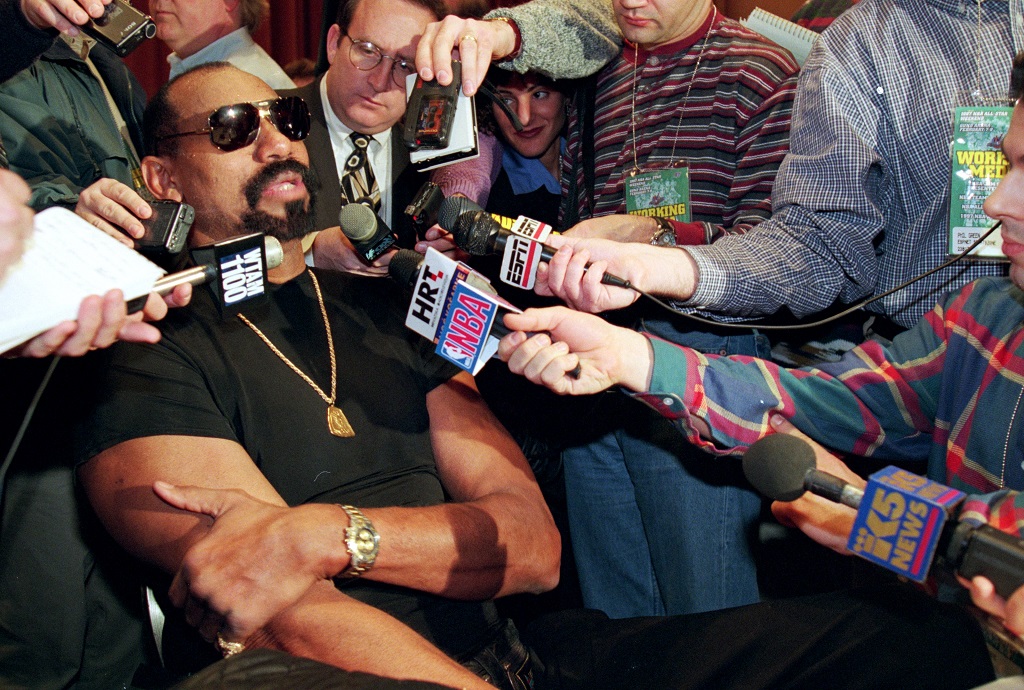 Chamberlain makes another appearance on this list, putting up even better numbers than the last time. Chamberlain's thirty-eight games with 40 or more points mean that almost every other game The Stilt was putting on a must-see performance. Back in the '60s the NBA schedule was eighty-games long, and Wilt's San Francisco Warriors would end up first in the West with a 48-32 record. They would eventually lose to the Boston Celtics, the fifth time Chamberlain would be defeated by Bill Russell.
Despite losing the championship series, Chamberlain would capture his fourth-straight scoring title and continue to lead the Association in minutes played, grabbing that record for the fifth time. He would also catch this lob from Elgin Baylor in the 1963 All-Star game. It's pretty sweet.
1. Michael Jordan, 1986-1987, 37 games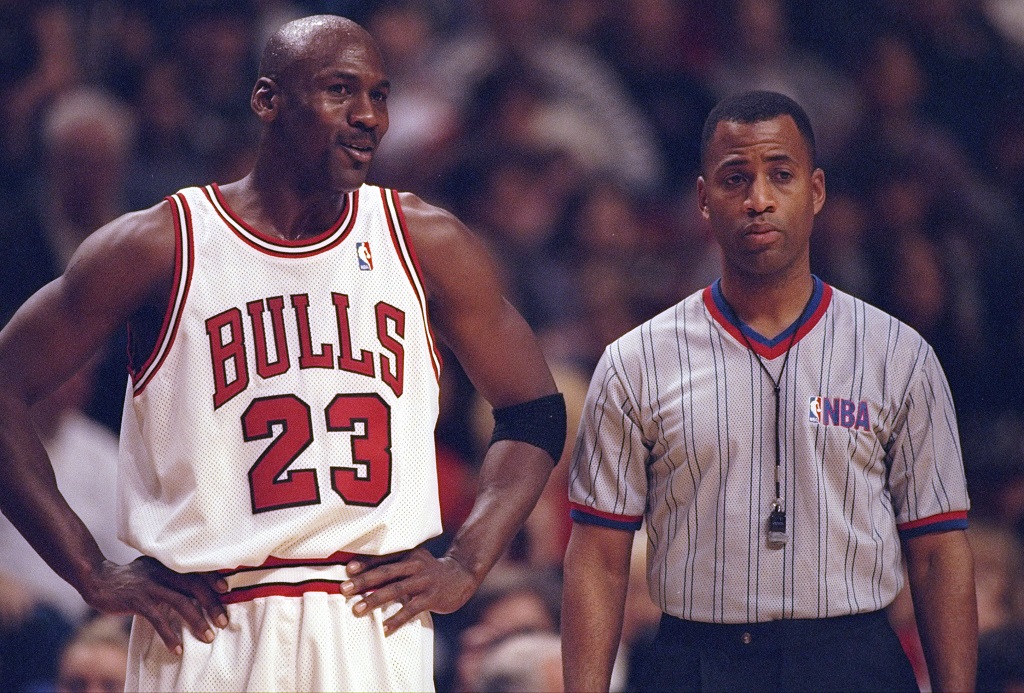 Again? Yes. Again. In 1987 the Chicago Bulls, still under the stewardship of Doug Collins, would go on to finish 40-42 and get swept by the Boston Celtics in three games. But that belies the fact that Michael Jordan was going absolutely nuts. On a team that had yet to acquire Scottie Pippen — but was held down defensively by the inimitable Charles Oakley — MJ had the green light in the express lane, and he responded by putting up an astonishing 37 points per game on almost 28 shots.
Jordan would go on to great team success later in his career, obviously, but never was he more on top of his individual game than the 1986-87 season. Look at these highlights from a "routine" 45-point game against the Utah Jazz — they're helpless to stop him. And so was everyone else.
Information courtesy of Basketball Reference.