8 Winter Sports Movies to Watch This Holiday Season
It's thrilling to watch real athletes play their sport well on the screen, but it can also be thrilling to watch athletes do the same in movies. The beauty of cinema: It can take the excitement of a sports saga or competition and present it in an entertaining two hours. Here's a look at eight winter sports movies you can watch this holiday season.
1. 'Cool Runnings' (1993)
This family-friendly comedy is based on the true story of the Jamaican bobsleigh team during the 1988 Winter Olympics. As IMDb reports, it stars John Candy, Leon Robinson, Doug E. Doug, Rawle. D. Lewis, and Malik Yoba. Cool Runnings experienced massive success at the box office. It made over $150 million from the film's $17 million budget. It's currently streaming on Disney+.
2. 'The Mighty Ducks' (1992)
This family-friendly 1992 movie about a kids' hockey team was so popular it spawned a whole media franchise and an actual NHL team called the Anaheim Ducks. The Mighty Ducks stars Emilio Estevez as Gordon Bombay, a man who has to coach the hockey team for community service.
A total of three movies were made, and a sequel TV series called The Mighty Ducks: Game Changers is currently streaming. The movies and show are all available on Disney+. 
3. 'I, Tonya' (2017)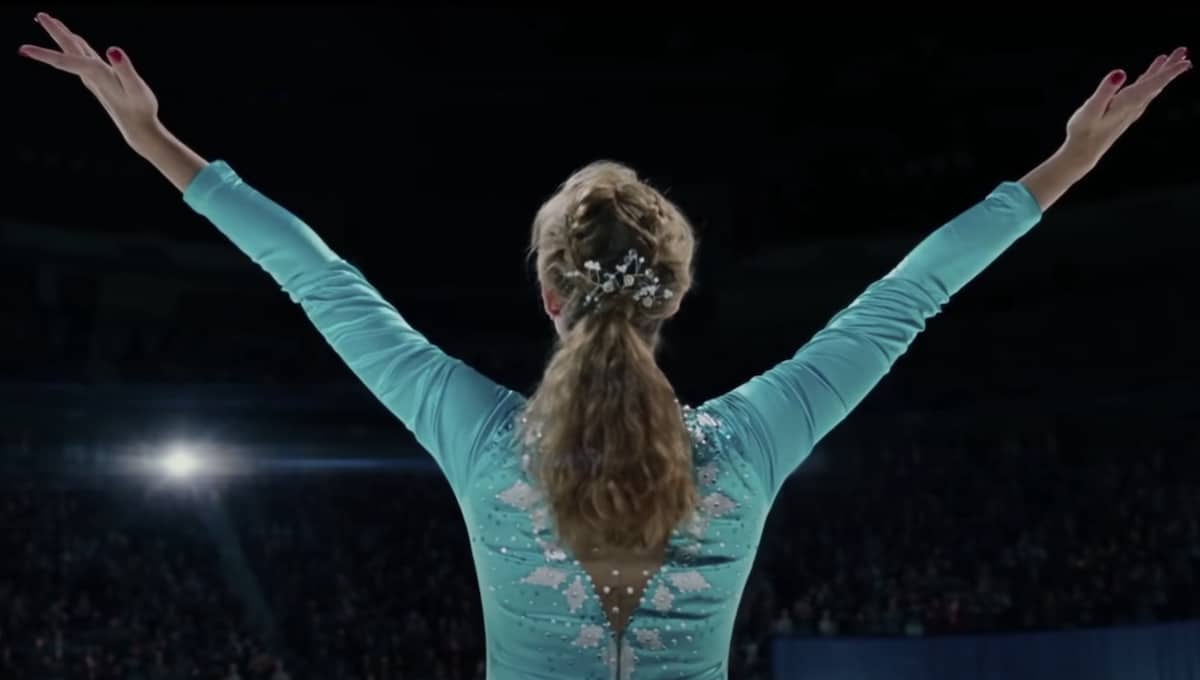 This R-rated Oscar-winning movie is based on the true story of Tonya Harding, a figure skater who was infamously involved in an attack on her competitor, Nancy Kerrigan, before the 1994 Winter Olympics. Currently streaming on Hulu, I, Tonya stars Margot Robbie in the lead role, supported by Sebastian Stan and Allison Janney, among others.
4. 'Miracle' (2004)
Miracle is a family-friendly sports drama based on the true story of the 1980 U.S. Olympic ice hockey team's battle against the Soviet ice hockey team. It stars Kurt Russell, Patricia Clarkson, and Noah Emmerich. Miracle won the Best Sports Movie ESPY Award in 2004 and is available to stream on Disney+. 
5. 'Blades of Glory' (2006)
This 2006 comedy movie tells a fictional story about two professional figure skaters who are rivals but must learn to work together. Rated PG-13, Blades of Glory stars comedy titans Will Ferrell, Jon Heder, Will Arnett, and Amy Poehler. It did well at the box office, grossing over $140 million. Blades of Glory is currently streaming on Hulu.
6. 'Iron Will' (1994)
This family-friendly 1994 movie is based on a true story from over a hundred years ago. Iron Will is about a boy from South Dakota who decides to compete in a dog-sled race to win the money he needs to save his family's farm. It stars Mackenzie Astin in the lead role and is currently streaming on Disney+. 
7. 'Eddie the Eagle' (2015)
This PG-13 movie is about the true story of Michael Edwards' goal to compete as a ski jumper at the 1988 Winter Olympics. It stars Taron Egerton in the lead role, and he's supported by Hugh Jackman and Christopher Walken. Eddie the Eagle is available to rent or purchase from Apple TV, YouTube, Google Play Movies, and more. 
8. 'Slap Shot' (1977)
This R-rated movie is about a fictional minor league hockey team that resorts to playing violently to gain notoriety and fans. It stars Paul Newman, Strother Martin, Michael Ontkean, and others. Slap Shot won no awards, but it became a cult classic. It's currently available for rent or purchase from Apple TV, YouTube, and other video-on-demand stores.