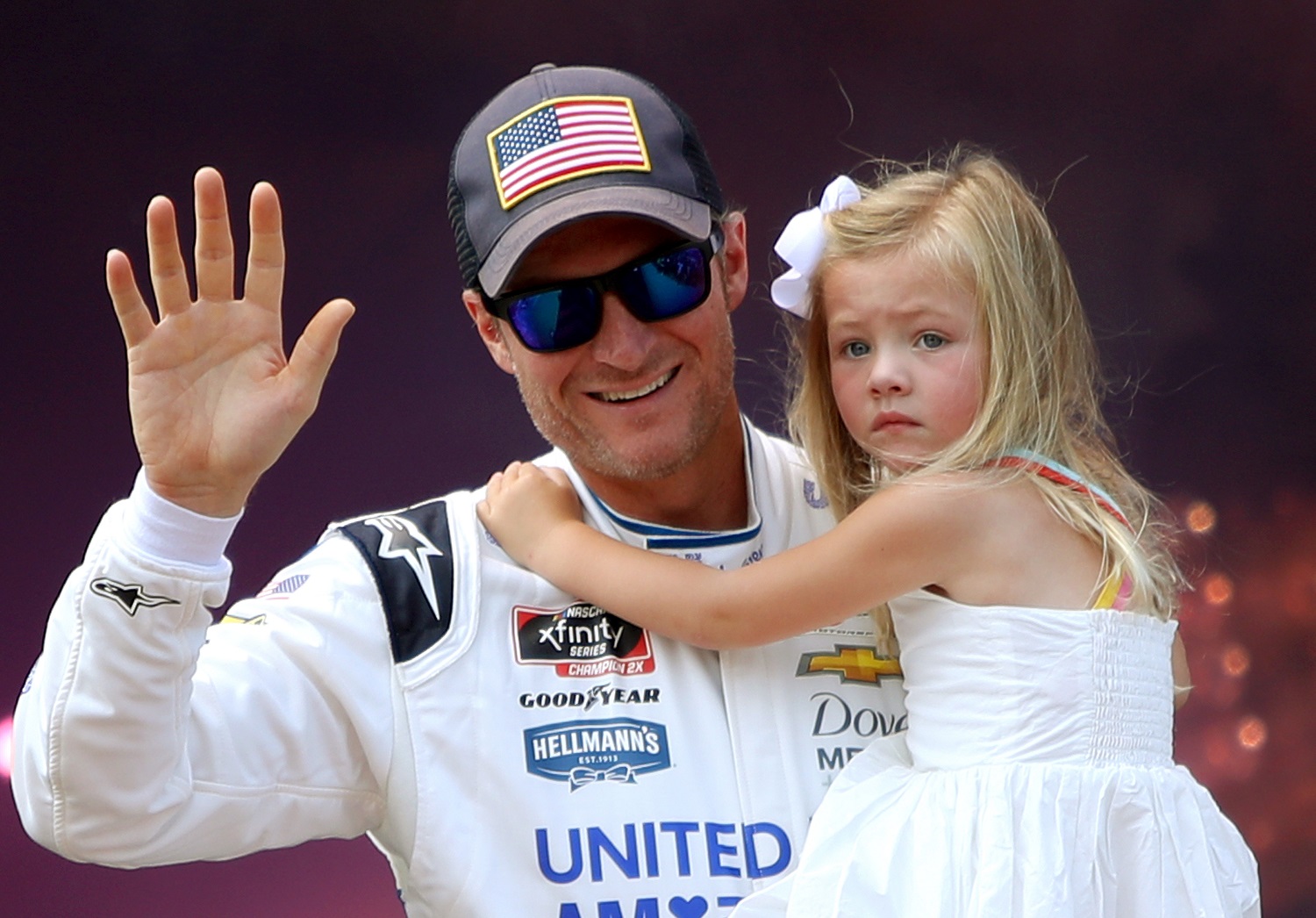 The '88' That Dale Earnhardt Jr. Is Bringing to Daytona Is the Human Equivalent of Rocket Fuel for Cars
Dale Earnhardt Jr. and wife Amy have announced the launch of their brand of 88-proof vodka, which will roll out at the Daytona 500 and expand their business empire.
You don't spend nearly your entire adult life in NASCAR and not learn a thing or two about product marketing. Dale Earnhardt Jr. and his car were billboards for Budweiser, the National Guard, AMP Energy, Nationwide Insurance, and Mountain Dew during a 19-year Cup Series career.
Now, he's hawking hard liquor, and Earnhardt has found a natural, uh, vehicle for doing so.
Alcohol has been at the very heart of NASCAR's existence
Stereotypes can be a delicate matter, but NASCAR tackles one head-on: Drinking and racing are inextricably linked. The key is just to not be doing both at once.
That's why even the sport's Hall of Fame makes the connection. Inductee Junior Johnson was one of the first great drivers in the sport and went on to be a successful team owner. Before that, he ran moonshine around North Carolina, tacitly acknowledged by the presence of a whiskey still displayed in the NASCAR Hall of Fame's Heritage Speedway.
"Moonshiners put more time, energy, thought and love into their cars than any racer ever will. Lose on the track and you go home. Lose with a load of whiskey and you go to jail."

Junior Johnson
Wendell Scott and Tim Flock other notable names connected with transporting liquor surreptitiously back in the day.
Time changes, of course. Prohibition came and went, and alcohol of all sorts is available just about everywhere, though taxed and regulated. The stigma has long since disappeared, and now sponsorships abound within NASCAR. Kevin Harvick has driven the No. 4 Busch Ford and Cole Custer the No. 41 Dixie Vodka Ford. Busch Light sponsors the season's kickoff event, and regular-season races also carry the name of breweries or distillers.
Now, Dale Earnhardt Jr. is heading to Daytona next month to launch High Rock Vodka.
Dale Earnhardt Jr. has a catchy marketing hook for his new vodka
With his induction into the NASCAR Hall of Fame slated for Friday, retired NASCAR star Dale Earnhardt Jr. and his wife, Amy, have partnered with Sugarlands Distilling Co. on the launch of High Rock vodka, Sports Business Journal reported this week.
Earnhardt and the product's backers will debut the vodka next month at the Daytona 500, a race he won twice during his NASCAR Cup Series career, and Sugarlands will then begin national distribution afterward. The vodka, carrying a suggested $17.99 retail price, is 88 proof.
That's a nod to the No. 88 Chevy that Earnhardt drove for Hendrick Motorsports from 2008 until his retirement in 2017. It's also a higher alcohol by volume (ABV) than the typical 80-proof brands that dominate store shelves.
Dozens of celebrities have entered the distilled spirits business in recent years, frequently hawking tequila. Like tequila, the vodka niche is very competitive. Sugarlands Distilling is banking on Earnhardt's popularity to carve out a market.
"Our thought was, let's make sure we make the best juice in the jar, talk authentically, have an awesome master distiller and really sleek bottle, authentic content with Dale," Sugarlands chief sales officer Patrick Sullivan told SBJ. "So, we feel like we've done all our homework to talk authentically, and that will translate to people pulling it off the shelves."
This isn't entirely new to Dale Earnhardt Jr. and his wife
Dale and Amy Earnhardt co-own the new High Rock vodka brand, but it's not their first foray into liquor. They dipped a toe into the business late last summer by partnering with Sugarlands Distilling on Dale and Amy's Electric Orange Sippin' Cream, a 40-proof concoction. Having established a comfort level with that initial offering, they were eager to expand onto vodka with the High Rock brand.
"Seeing the way Sugarlands operates and getting to know (founder Ned Vickers) and the team behind the brand made partnering with them a natural fit," Dale Earnhardt Jr. said in the announcement about the vodka launch.
Selling liquor is plenty different than drinking it. But if the Earnhardts can sell vodka like Dale Jr. can consume beer, then they stand to make big money based upon the story he tells about himself about being Budweiser's No. 1 buyer in North Carolina.
Like Sportscasting on Facebook. Follow us on Twitter @sportscasting19.