A 17-Year-Old Kobe Bryant Had 'Swagger on a Trillion' When He Dominated Top Stars at a Legendary Program
Long before Kobe Bryant established himself as one of the greatest players in NBA history, he garnered skepticism as a somewhat rare preps-to-pros talent in whom the Los Angeles Lakers placed their faith.
People weren't totally sure what to make of the kid coming out of Lower Merion High School in Philadelphia. Not too many players made the jump straight to the Association, and the optics of a 17-year-old kid growing up in a massive market in LA seemed questionable, especially following Kobe's showy draft announcement.
However, Kobe had already shown immense upside to a slew of NBA and NCAA stars during a series of secret scrimmages at UCLA. Actually, to hear others tell it, the teenager downright humiliated everyone in his path.
Kobe Bryant showed out during a series of secret scrimmages at UCLA
Kobe Bryant always looked for the first gym he could find when he made summer trips. It just so happened that said gym played home to one of the most prestigious college basketball programs in the country.
The UCLA Bruins had just won a national championship in 1995 and attracted all kinds of star power across the nation, including NBA talents. But Kobe's star shone brightest.
After Family Matters actor Jaleel White — who played Steve Urkel — said in 2017 that the Black Mamba used to dominate secret scrimmages at UCLA, former Bruins center Jelani McCoy confirmed as much to TMZ Sports.
McCoy said a teenage Bryant had "swagger on a trillion" during the scrimmages and mirrored moves (something he also did later as a pro) from opponents mid-game to add to his arsenal. He said Kobe's ceiling was evident during those runs, which featured All-American collegiate players and a host of other elite players.
Perhaps the Lakers' knowledge of these scrimmages played a role in their move to acquire Bryant in 1996.
The Lakers acquired Bryant from the Charlotte Hornets in exchange for Vlade Divac in 1996
Kobe Bryant only ever wore the Purple and Gold as a member of the Lakers. But LA did not draft him.
The Charlotte Hornets selected Bryant with the No. 13 overall pick in the 1996 NBA Draft. However, their non-committal attitude to making Kobe part of their future allowed former Lakers general manager Jerry West to make his move.
West sent veteran center Vlade Divac in exchange for the right to Bryant, who suddenly became a huge story for one of basketball's most storied franchises. The Logo saw something special in Kobe and also offered him as a selling point during free-agent negotiations with Shaquille O'Neal. He almost had to, considering trade Divac really served as a salary-cap dump so as to give the Lakers the chance to sign Shaq.
Still, the fact remained that Bean was just a teenager. While he might have dominated in high school, he'd soon have to adapt to the advanced speed and physicality of the NBA. Indeed, the youngster struggled early, but it wasn't long before the talent he showed at UCLA rose to the forefront.
Bryant overcame rookie struggles and rapidly became one of the best players in the NBA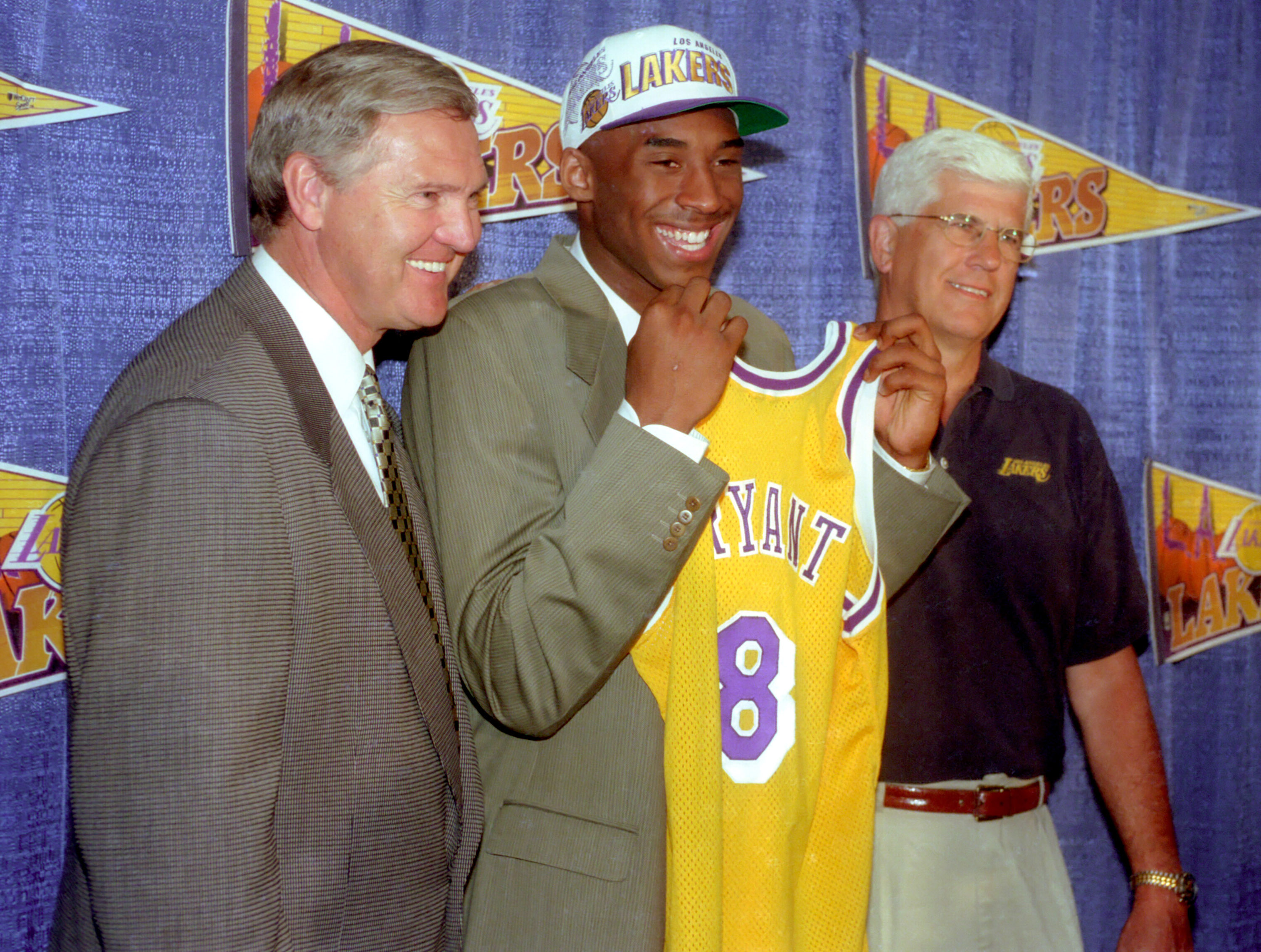 Unlike some past and present players, Kobe Bryant did not immediately establish himself as a star in the NBA. Quite the opposite, actually.
Former Lakers head coach Del Harris often buried Bryant on the bench in his rookie season. Bean averaged just over 15 minutes and later embarrassed himself by hoisting four airballs in a playoff game against the Utah Jazz. But early failures led to eventual triumphs.
Kobe became the youngest player to start an All-Star game in 1998. Two seasons later, he made his second All-Star team and helped lead LA to a championship. It was all uphill from there.
Bryant went on to win four more championships in addition to an MVP and a pair of scoring titles. He earned 15 All-NBA selections and etched himself into the history books as one of the best to ever grace the hardwood.
Those who witnessed a 17-year-old Bryant balling out at UCLA might have predicted as much.
Stats and accolades courtesy of Basketball Reference.