A 22-Player Record Will Likely Cause the Dallas Cowboys to Lose Offensive Coordinator Kellen Moore
Heading into Week 18, the Dallas Cowboys needed to make a statement. Not only were they angling to boost their playoff seeding by a spot or two, but they were also looking to stack up some momentum heading into the postseason.
Their Week 17 home loss to Kyler Murray and the Arizona Cardinals was a frustrating one — not the type of game the Cowboys wanted on their mind entering the postseason.
The Cowboys offense took care of business in the Philly
It's important to note the Eagles were trotting out a slew of second- and third-stringers by the time the fourth quarter rolled around. However, that doesn't negate that Dallas' offense looked incredibly impressive during its Week 18 win.
The Cowboys put up 51 total points, and pretty much everyone found a way to get involved. Dak Prescott passed for a career-high five touchdowns. Ezekiel Elliot ran for 87 yards. Cedrick Wilson racked up 119 receiving yards and two touchdowns. Amari Cooper and CeeDee Lamb both made several big catches.
Yes, they were playing against backups. However, the Cowboys' 52-point explosion is a good sign heading into the postseason. This is an offense that's running smoothly at the perfect time.
22 players have scored a TD for Dallas this season
Another big takeaway that emerged after the Cowboys' win was how well they've spread the ball around this season. Pro Football Talk reported that 22 players have scored at least one touchdown for Dallas this year — an NFL record.
That allowed the Cowboys to set an NFL record for most players to score a touchdown in a single season. The Cowboys have had 22 players score for them this season.

The 1987 Rams, 2000 Broncos and the 2007 Patriots all had 21 players score at least one touchdown.

Charean Williams, Pro Football Talk
If there's anyone to credit for such an achievement, it's offensive coordinator (and top offseason head coaching candidate) Kellen Moore.
The Cowboys could lose Kellen Moore due to his historic success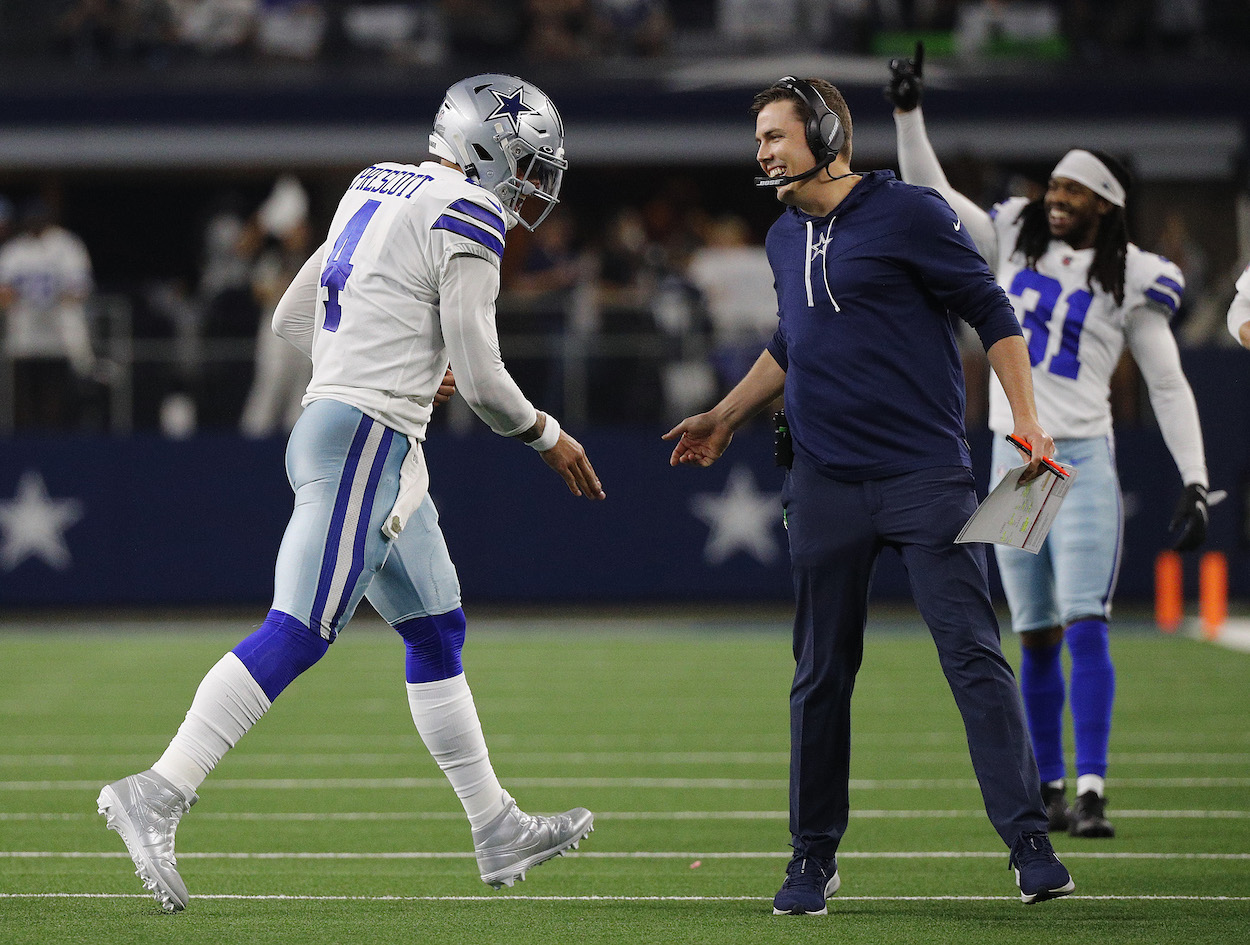 A few teams poked around the idea of hiring Kellen Moore to be their head coach last offseason. Now, the cat is completely out of the bag. Moore is an elite play-caller and play-designer. It's only a matter of time before a franchise hires him away from Dallas to be its head coach.
The Jacksonville Jaguars, for example, have already interviewed Moore. Pairing Trevor Lawrence alongside Moore makes a plethora of sense.
It's entirely possible Moore is happy calling plays in Dallas. After all, it's a pretty sweet gig. The Cowboys have a solid offensive line, an elite quarterback, an excellent running back room, and more wide receivers than an offensive coordinator could ever dream of. However, common sense suggests Moore is looking to run his own team at some point down the line. His quick success as Dallas' OC only further hammers home the point that he's built to coach in the NFL.
If and when Dallas does lose Moore, it will be a significant blow. He's a big reason the offense has been so good this past season. However, such is life in the NFL. Good coordinators get poached away every summer.
All stats courtesy of Pro Football Reference.