A 3-Step Plan for the Brooklyn Nets to Fix Ben Simmons
One of the newest members of the Brooklyn Nets, Ben Simmons, reportedly joined the team in Miami for its Feb. 12 game against the East-leading Heat. That spawned speculation that the mental-health issues cited by the three-time All-Star during his final months with the Philadelphia 76ers were a ruse to avoid fines. Never mind the fact the 76ers continued to fine him for games missed.
After all, narratives gonna narrative.
The 25-year-old is reportedly thrilled to be in Brooklyn. Whether that's because of the team he's going to or because it's not Philadelphia is unclear. There is a path forward for Simmons and the Nets. The player has some image reconstruction ahead of him. There are also parts of his game that Brooklyn can fix.
Here are three steps to getting Simmons where he needs to be.
1. Don't ignore the mental-health aspect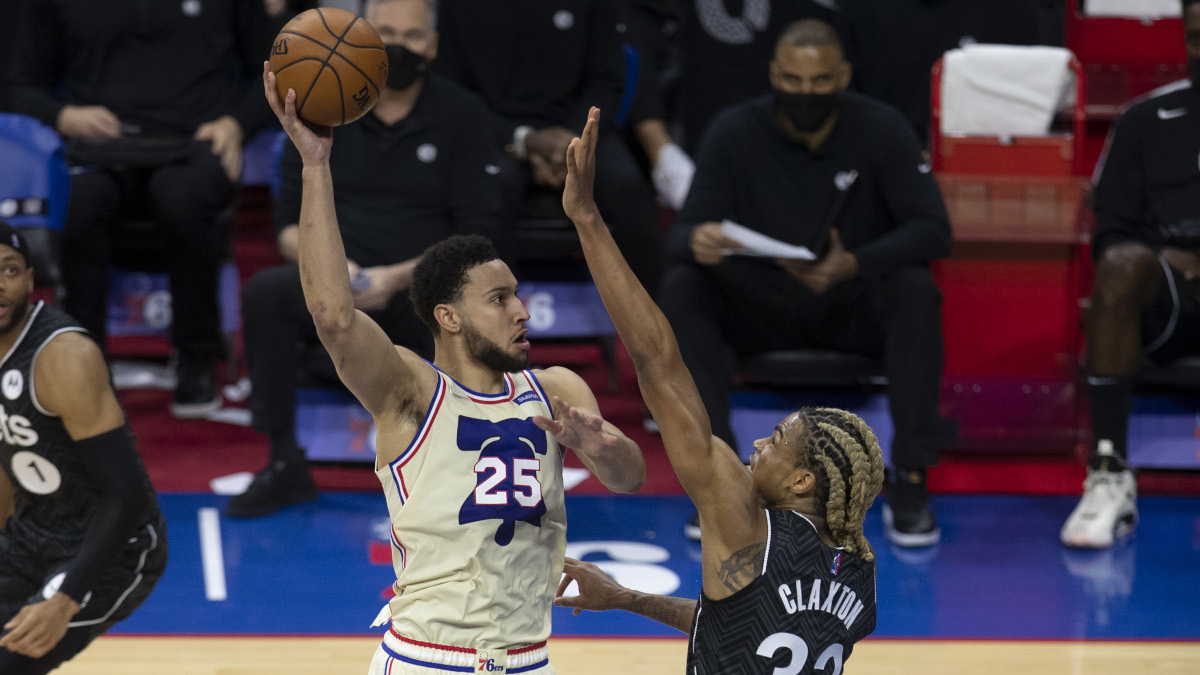 Justified or not, Ben Simmons felt he was cast as the villain by the 76ers. Coach Doc Rivers and superstar Joel Embiid didn't offer full-throated voices of support after Philadelphia's unceremonious exit in the second round of the playoffs by the Atlanta Hawks.
Neither was obligated to do so. It's one of those areas where nuance is essential, as is the understanding that two things can be true simultaneously.
It's also important to note that Simmons joining the Brooklyn Nets in Miami doesn't mean he will be in uniform. Agent Rich Paul told Adrian Wojnarowski of ESPN there is work to do for the Australian to play.
Much of that work is physical. Simmons hasn't played since June 20. Even as a young player, that's a significant amount of rust.
If you choose to believe that a work environment you deem to be toxic can harm your mental health, then the two-time All-Defensive selection likely feels relief at being free of that situation.
But it's also vital for the Nets to support Simmons in his preparation to play by not ignoring his mental state. A player's health is essential, and it's past time we recognize that mental health is a critical component of that.
2. Get Ben Simmons with Kyle Korver, STAT!
Kyle Korver is one of the top shooters in NBA history. He's also a player development coach for the Brooklyn Nets.
After 17 NBA seasons, the former Creighton star ranks ninth all-time in three-point shooting, hitting 42.9%. That's nice but not necessarily relevant to Ben Simmons.
But Korver is also 21st all-time as a free-throw shooter, hitting 87.7% of his attempts. That percentage increased to 89.5% in the crucible that is the playoffs.
The foul line holds the key to salvaging Simmons' career. He is a 59.7% shooter from the stripe over his four NBA seasons. In last year's playoffs, his yips rendered him nearly unplayable in close, late situations.
Simmons shot 70.7% in 10 games in the 2018 playoffs. The following year, that figure dropped to 57.5%.
After a knee injury kept him out of the 2020 postseason, the youngster morphed into the worst free-throw shooting hybrid of DeAndre Jordan and Andre Drummond one could imagine. He hit 34.2% on 6.1 attempts per game, including 33.3% against the Hawks (15-of-45).
Of course, Atlanta fouled him whenever possible. Simmons went to the free-throw line with the comfort of a man getting a root canal by the end of the series.
The jump shot is secondary to getting Simmons' form at the foul line repaired. If the Nets can't do that, nothing else matters.
3. Let Ben Simmons be what he is, not what the critics want him to be
Full disclosure: This writer has piled on Ben Simmons for his lack of jump-shooting prowess as much as anyone. But in looking at the Brooklyn Nets since the blockbuster trade deadline deal, the team doesn't need him to be a 6-foot-10 Stephen Curry.
Shooting isn't the issue with Kevin Durant, Kyrie Irving, Seth Curry, Patty Mills, and (eventually) Joe Harris.
But a team having someone who can screen, roll, and go to the rim aggressively while simultaneously getting the ball to open shooters and taking on some playmaking responsibilities? That's another proposition entirely.
And, as coincidence would have it, the above list combined with Simmons' offensive strengths produces a Venn diagram that is nearly a perfect circle.
There is more to spacing than shooting. Ball movement and player movement are huge parts of keeping an offense humming. A player with the build of a power forward and point-guard skills contributes to that. It doesn't matter whether he takes a shot from outside of 10 feet of the rim or not.
Defensively, Simmons can match up with anyone and is supremely switchable.
If you think he sounds like Draymond Green, only four inches taller, you're right.
And a defense tasked with tracking four deadly shooters doesn't have the flexibility to collapse to the middle and dare the other guy to beat them off the dribble.
No, surrounding Ben Simmons with capable shooters allows him to be the best version of himself. The Brooklyn Nets have the personnel to do so. Let's see if they have the organizational savvy to make it happen.
Statistics courtesy of Basketball Reference.
RELATED: James Harden Trade: Daryl Morey's Desperate Overpay Just Handed the Brooklyn Nets the Ammunition to Beat the Sixers En Route to Winning the East