A 3-Year-Old Racist Video Just Cost Oregon State's Rocco Carley His Reputation and His Career
If Rocco Carley needed another reminder the internet is forever, he certainly received it in recent days.
Oregon State dismissed Carley, a walk-on tight end, after a video of him making racist comments leaked on the internet. After never playing a college football game, it is entirely possible that Carley's career is over.
Rocco Carley was a walk-on tight end at Oregon State
An in-state player born in Mount Angel, Ore., Rocco Carley redshirted last year as a walk-on.
He could have competed for playing time this year, although junior Teagan Quitoriano is expected to see significant playing time at tight end.
Carley also played basketball and baseball in high school. He helped lead Kennedy High School's football team to a 12-2 record and state title win in 2018.
According to his now-deleted school bio, Carley chose Oregon State "because of great academics and I've been a Beaver fan my whole life."
Rocco Carley may remain a Beavers fan for the rest of his life, but he may need to find a new school with great academics.
Oregon State dismissed Carley after the video leaked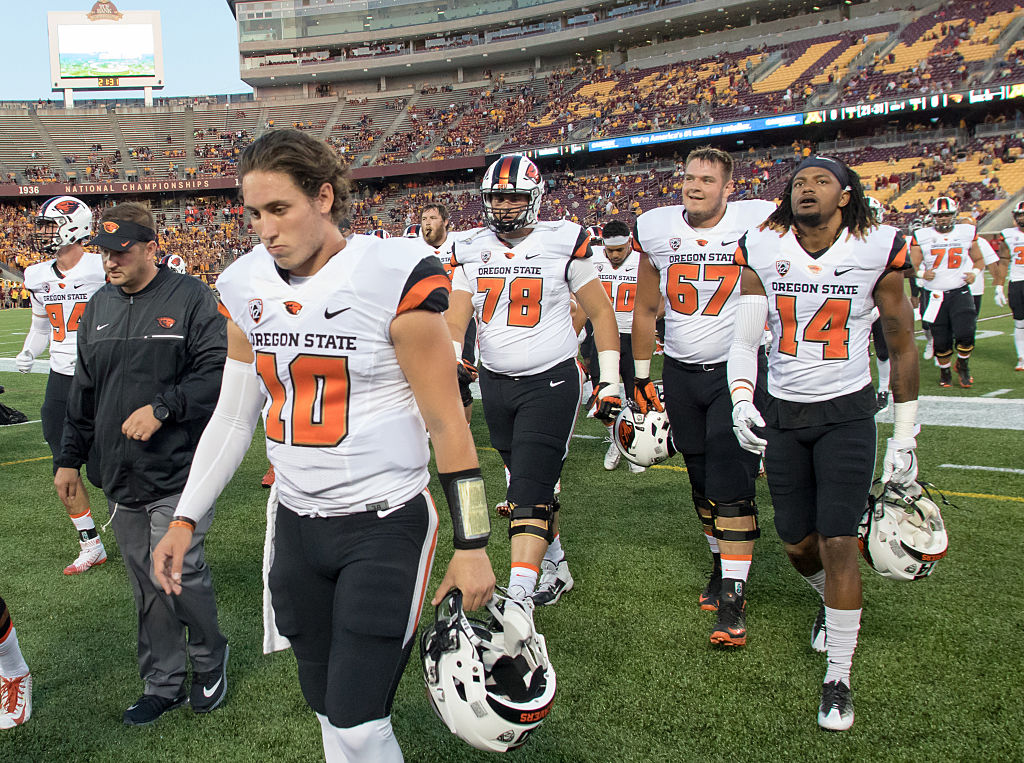 A video recently leaked on Twitter which showed Rocco Carley using racist language to describe African Americans, members of the LGBTQ+ community, and people of the Muslim faith.
The video leaked in a time where there have been mass protests after the death of George Floyd, a Minnesota man, in police custody.
Oregon State student-athletes have prominently spoken out on social media about rallies and protests.
Oregon State head football coach Jonathan Smith said he dismissed Carley over the "hate speech."
Rocco Carley tweeted a statement where he said he was "truthfully sorry" to those he offended.
"This video was taken about 3 years ago in a groupchat where me and my friends were saying stupid things. This does not condone anything of what I have said, but I promise to you all that this video does not represent me.

"I was doing an accent of a southern man and giving a very satire example of what we all thought would be funny. This is no way shape or form makes what I said right."
It is not yet known if Carley will remain a student at the school.
Rocco Carley's college football career could be over
Even if Rocco Carley's apology is truly genuine, it is not unrealistic to think he has played his last down of college football.
The problem isn't just Carley's comments, ones he alleges he made three years ago. His apology, which reads off like a justification, won't resonate with everyone.
By explaining the context behind his remarks, Carley opened himself up to more criticism and showcased his own immaturity. There was no reason to provide an explanation why Carley, a white man, used the slurs and offensive language in the video.
Rocco Carley can play immediately if he transfers to a lower-division school or a community college.
Carley may also obtain immediate eligibility at another FBS program because he wasn't on scholarship at Oregon State.
College programs will need to ask if they truly want Carley and the risks he brings to their roster. Will locker rooms accept Carley after his leaked comments?
Rocco Carley has a lot of work to do if he wants to play college football again. Working on his apologies and maturity should be another goal for the former Beavers walk-on.