A Buttocks Injury Helped Carl Pavano Make $40 Million Over 26 Starts With the Yankees
The New York Yankees thought they laded their next star pitcher when Carl Pavano agreed to terms on a four-year, $40 million contract after the 2004 season. Rather than become a mainstay in the pitching rotation, Pavano spent the majority of his four years in a Yankees uniform on the disabled list.
Among Carl Pavano's more notable incidents in a Yankees uniform were a bruised buttocks and a car accident he never told the Yankees about. Here is a look back at Pavano's stint with the Yankees.
Carl Pavano is one of the biggest free agent busts in baseball history
By the end of Carl Pavano's tenure in New York, the media nicknamed him the "American Idle." That title had nothing to do with Pavano's singing voice. Pavano was repeatedly injured and booed throughout his four years with the Yankees. The 6-foot-5, 265-pound Pavano went 9-8 with a 5.00 ERA in a Yankees uniform.
For the rare highlights, which mainly consisted of a complete-game shutout of the Seattle Mariners in 2005 and an Opening Day start in 2007, Pavano was far more prone to mediocre outings. The one positive from Pavano's Yankees career was his control. Pavano only walked 18 hitters across 100 innings in 2005 and 10 walks in 34 1/3 innings three years later.
Carl Pavano's time with the Yankees isn't remembered for a shutout or impressive control during the 2005 season, though. Pavano missed the final three months of the 2005 regular season with a right shoulder injury. The 17 starts he made that year represented 65% of his appearances with the Yankees.
Pavano's Yankees tenure included a buttocks injury and controversial car crash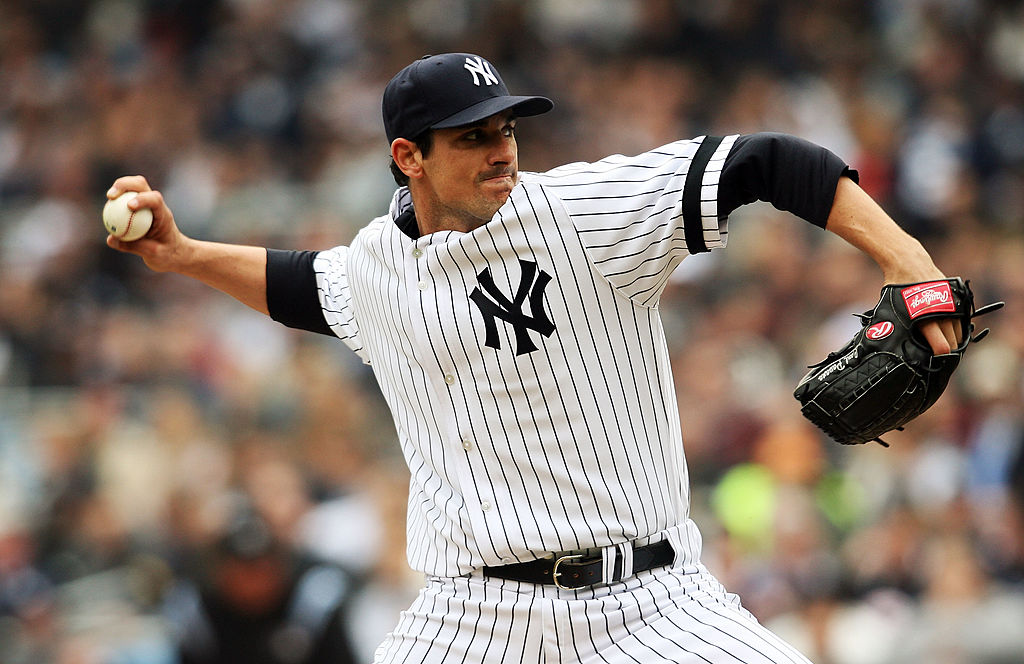 Carl Pavano's poor performances were one thing. It is also hard to blame Carl Pavano for undergoing Tommy John surgery in 2007. By that point, it was common across the league for starting pitchers of all ages to have elbow surgery. To Pavano's credit, he returned in the summer of 2008 and made seven starts with the Yankees.
The rest of Carl Pavano's time in New York lent itself to back-page headlines and angry crowds. Pavano bruised his buttocks in a 2006 spring training game, which kept him out until he had a minor elbow surgery that March. Those weren't the only injuries Pavano suffered that year.
It wasn't until the Yankees intended to activate Pavano off the disabled list in late-August that they learned he was in a car accident weeks prior and suffered a pair of broken ribs. Yankees general manager Brian Cashman ripped Pavano when he was asked about Pavano withholding the interview.
"Of course I'm angry … I've got an army of people here that we provide to put our players in the best position possible to succeed, and I don't want anybody to sabotage that by holding back. And clearly here, for a period of time that took place."
Where is Carl Pavano now?
Carl Pavano signed with the Cleveland Indians after the 2008 season and spent half a year there. Pavano reinvented his career with the Minnesota Twins and went 17-11 with a 3.75 ERA in 32 starts during the 2010 season. Pavano pitched seven complete games and his 3.75 ERA was his lowest since 2004. The veteran went 33-33 with a 4.32 ERA in 88 starts for the Twins from 2009-12.
Pavano's career ended prematurely after a spleen injury before the 2013 season. A year later, Pavano transitioned to television and took a broadcasting job with Fox Sports Florida. Pavano appeared on the Miami Marlins' pre and postgame shows from 2014-16.