A Childhood Move Helped Devin Booker Learn Some Important Lessons
Phoenix Suns shooting guard Devin Booker is one of the best players in the NBA, capable of taking over and dominating any game. The former Kentucky Wildcat knows his pedigree — especially in his early days in the league, when his Suns struggled to win games — and he turns in great performances no matter what adversity might face him.
Booker's dedication to grinding against the odds is no joke. He's the kind of player to drop 70 points in a loss. How did he develop this mindset? It all starts with his father, and a series of stuffy gyms with unbelievable competition.
A journeyman basketball player raised Devin Booker
Booker was raised in Grand Rapids, Michigan. It was a nice place to develop his basketball skills, but he had traveled out of town frequently to find more competition. He attended events like the Nike Elite 100 Camp in St. Louis, Missouri. There, he befriended future NBA players in their middle school years. D'Angelo Russell and Tyler Ulis are still Booker's close friends to this day, according to Bleacher Report.
His strongest development came in the time he spent with his father, a professional basketball player, The Undefeated reports. Those summers in Mississippi came with crucial lessons in the game, that Booker was able to bring home to Grand Rapids with him. Playing with older players in the local basketball-obsessed gyms taught a crucial lesson: Basketball IQ is just as important as natural athleticism.
Booker truly learned to ball in Mississippi
Grand Rapids had plenty of resources for an aspiring NBA player to develop their craft. But it took a permanent move for Booker to truly grew up in the game of basketball, as ESPN reports. When Booker's father retired from the game, Moss Point, Mississippi became the permanent home base for the pair. This is where Booker truly developed into the first round NBA draft pick he has since become.
The shift of scenery caused Booker to make a clean break in life, pivoting to living the game full time with a renewed dedication. His father continued to be his main training partner, passing along wisdom to bolster Booker's rapidly developing physical skills. It earned him a spot with no less than the Kentucky Wildcats, who were in the midst of a strong run.
At Kentucky, Booker emerged as the third leading scorer on an absolutely stacked Wildcats roster according to Sports Reference. Teammates Andrew Harrison, Aaron Harrison, Dakari Johnson, Willie Cauley-Stein, Trey Lyles and Karl-Anthony Towns all found their way from the Wildcats to the NBA draft. If you can't be number one at something, being towards the top of that roster isn't quite so bad.
Devin Booker went from a tight Kentucky squad to a flailing NBA team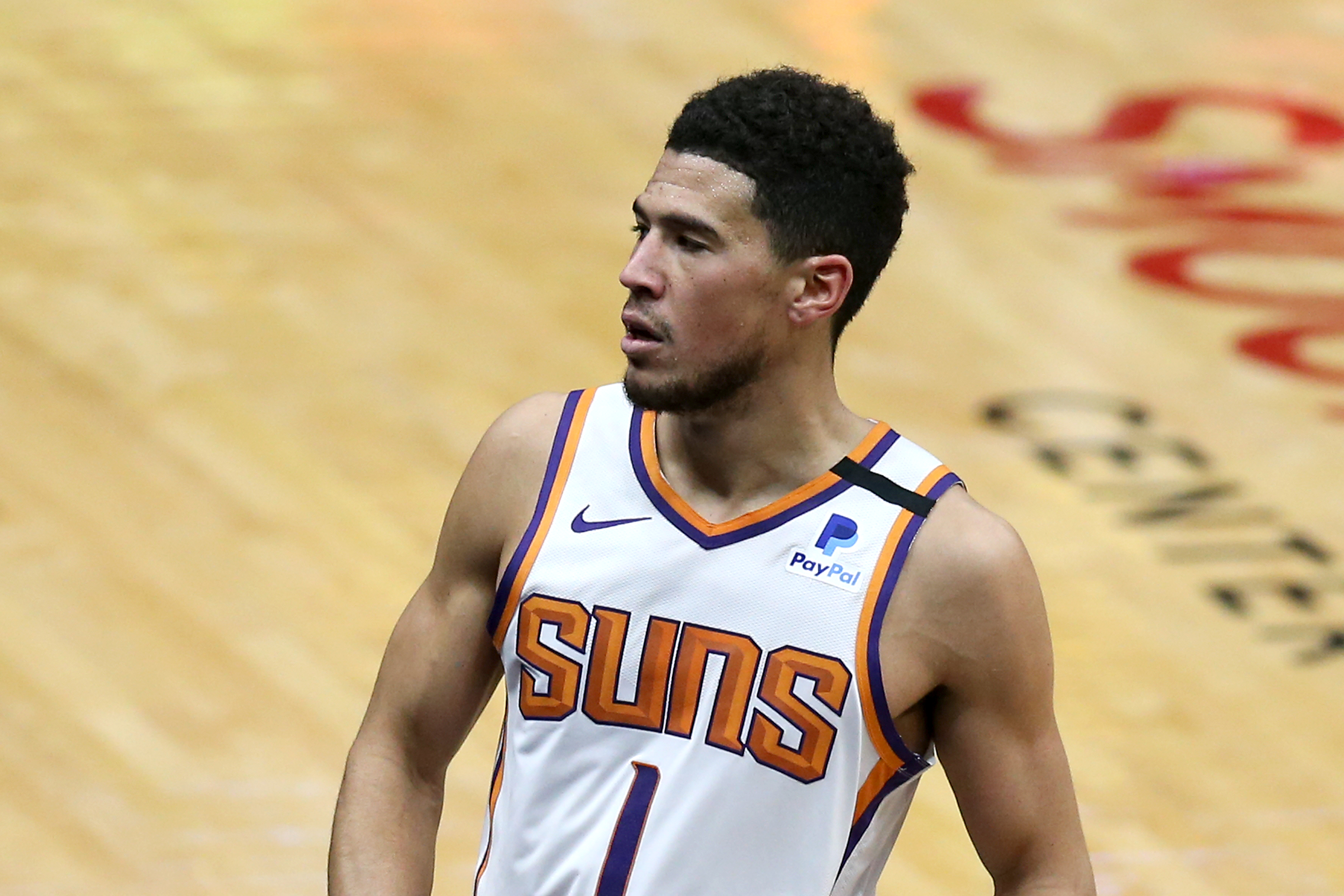 The crowded Kentucky locker room didn't stop him from being noticed by the NBA. Booker himself went 13th overall in the first round of the 2015 draft. Unfortunately, it was to the 2015 Phoenix Suns. That team was bottom-of-the-barrel, giving Booker little to work with beyond polishing off individual stats.
That is, until Chris Paul joined up. The pair have big plans for pushing the Suns to the next level. While Paul has much more experience in the league, the relationship between the two is one more of mutual respect. "Iron sharpens iron," Booker said of his work alongside Paul in Slam Online. "We both have that similar approach where we want to win at all costs."
Paul mirrored his would-be protege's take. "They're teaching me at the same time too. I'm not just trying to come in here and teach," he said. "[Booker is] not only talented, he's a dog. He's really competitive." What Paul senses in Booker likely comes from those muggy days in Mississippi, learning the underlying logic of the game from his father.