A Cocaine-Filled Night Cost Clifford Etienne His Reputation and His Freedom
Clifford Etienne could have been the world's next elite boxer. Instead, his career ended way too early not because of injury, but because of drugs.
Clifford Etienne was one of the world's top rising boxers in his prime and even fought Mike Tyson once. Nearly 20 years after that fight, Etienne is serving the rest of his life in prison after a cocaine-fueled night of various crimes.
Clifford Etienne once fought Mike Tyson
RELATED: Mike Tyson Has a Surprising Pick for the Toughest Opponent He Ever Fought
Clifford Etienne was one of boxing's best stories in the late 1990s. A former standout high school linebacker in Louisiana, Etienne became a professional boxer after he served a 10-year prison sentence for armed robbery.
Etienne reportedly had a 30-0 prison record in boxing and won the state prison boxing championship.
Those feats behind bars served Etienne well once he earned his freedom. Clifford Etienne went 29-4-2 with 20 knockouts in his career.
Etienne defeated future WBO heavyweight champion Larmon Brewster in a 10-round fight in May 2000.
Etienne is best known for his 2003 fight with Mike Tyson, but for the wrong reasons. Tyson needed only 49 seconds to knock Etienne out and win the high-profile match.
Etienne had several legal problems throughout his life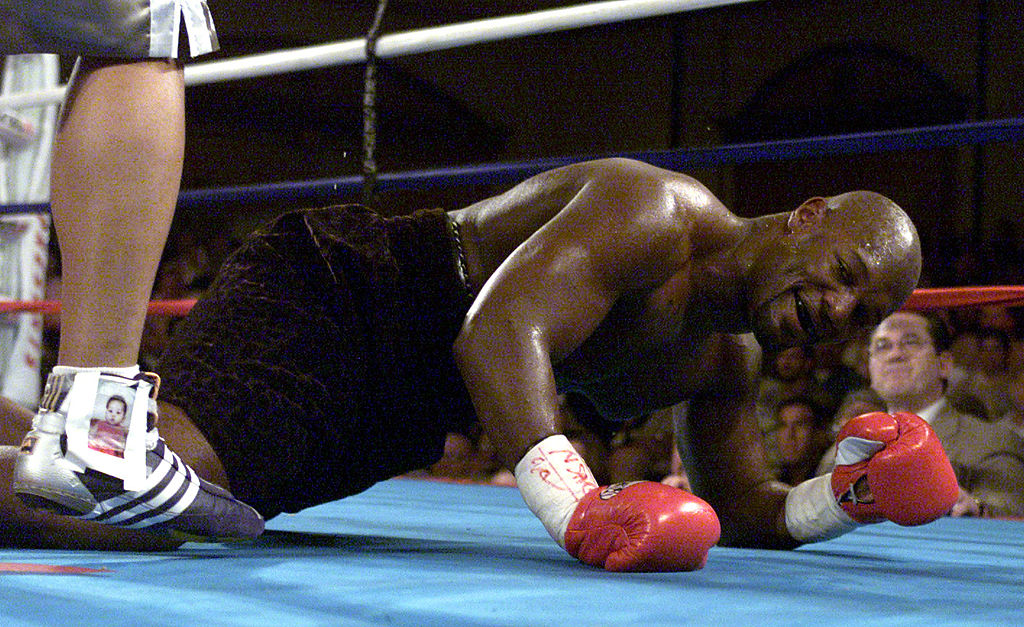 RELATED: Mike Tyson vs. Tito Ortiz in the Works According to UFC Hall of Famer
Blue-blood football programs like LSU, Nebraska, and Oklahoma all wanted Clifford Etienne to play linebacker for them in the late-1980s. Etienne's aforementioned prison sentence for armed robbery got in the way of those hopes.
Louisiana charged Etienne as an adult and sentenced him to 40 years in prison. He served only 10 years because of good behavior, though.
There likely won't be any early releases coming for Clifford Etienne in the coming years. At least, not after what happened in August 2005.
Clifford Etienne is currently serving a life sentence after a cocaine-fueled night
RELATED: Who Is Wanderlei Silva and Is He Really Going to Fight Mike Tyson?
Louisiana police arrested Etienne in August 2005 on charges of armed robbery, kidnapping and the attempted murder of a police officer. While allegedly high on cocaine, Etienne robbed a local business, tried hijacking two vehicles, then pulled a gun on police officers.
Police said Etienne tried to fire at the police officers before his gun jammed, according to ESPN.
Judges rejected Etienne and his lawyers' argument that he committed the crimes because of cocaine and brain damage from his boxing days. Etienne received a 160-year prison sentence for those crimes.
Etienne's sentence was reduced to 105 years in April 2013 because of a technicality. He has tried to make the most of his life behind bars and now works as a prison painter.
TMZ Sports published a letter from Etienne in August 2019 where he not only discussed his current life, but he also recalled his famous fight with Mike Tyson.
"Fighting Mike Tyson was just like fighting the other 30-plus fighters I fought. It was a job that took care of my family. I never got into all the hype, and I'd met Tyson years before they even talked about us fighting each other."

Clifford Etienne could have had it all and he even fought the most notorious boxer of the last 50 years. One night gone wrong, though, sealed his fate.