A Controversial 49ers Draft Decision Is Under Fire Following Terrifying Reports of Potential Season-Ending Surgery
As the San Francisco 49ers continue to tumble down the standings in the AFC West (currently 2-4 and in third place), more and more fingers are being pointed toward head coach Kyle Shanahan, general manager John Lynch, and the entire 49ers' leadership system.
The Niners have long been viewed as one of the most stable organizations in professional football. However, San Francisco is getting antsy following a six-win season in 2020 and a slow start in 2021.
The 49ers' draft history is controversial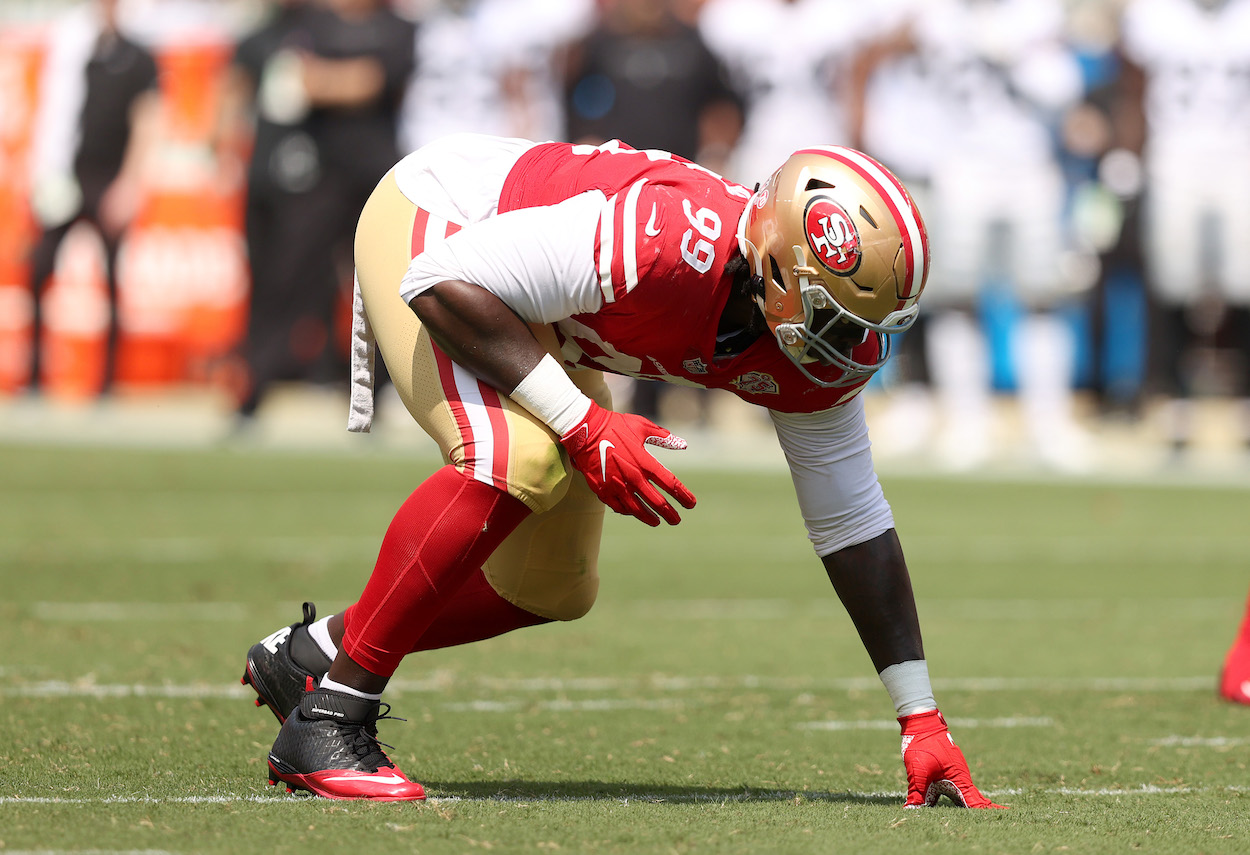 Shanahan's play-calling continues to be criticized weekly. However, general manager John Lynch is increasingly feeling the pressure as well. His recent decision to trade up for quarterback Trey Lance is already being met with criticism, especially considering the rookie's slow start and recent knee sprain.
While Lance is the more-talked-about draft pick these days due to its recency, Lynch's 2020 draft decisions were also quite controversial.
Lynch traded Pro Bowl defensive tackle DeForest Buckner, to the Indianapolis Colts for their first-round pick (No. 14 overall). He then used that pick on defensive tackle Javon Kinlaw, essentially replacing Buckner with a rookie.
At the time, the move made a semblance of sense as San Francisco didn't want to extend Buckner. However, in hindsight, the move looks questionable, especially after the Niners' Week 7 loss to Buckner and the Colts.
Kinlaw is injured, Buckner is thriving
Kinlaw struggled out of the gate during his rookie season in 2020, only recording 1.5 sacks, four quarterback hits, and three TFLs (tackles for a loss). It was a disappointing year for a top-15 pick. However, the 49ers expected him to take a major step forward in 2021.
The 49ers' defensive line is loaded with talents like Nick Bosa and Arik Armstead. Kinlaw, in theory, should thrive attacking opposing offensive linemen one-on-one.
However, such a reality has yet to evolve. This year, Kinlaw has only appeared in four games and is now being considered for season-ending surgery due to knee issues.
"Right now, he's down in [Los Angeles], trying to figure that out, whether he's going to get surgery or not, and what kind of surgery," Shanahan said. "And I think we'll get some news on that pretty soon."
Do the 49ers miss Buckner?
Kinlaw has only appeared in 18 NFL games thus far. There's plenty of time for him to flip the narrative on his career with the Niners. However, it's impossible not to wonder if Lynch regrets his decision to replace Buckner.
Buckner has recorded 12.5 sacks, 33 QB hits, and 14 TFLs since joining the Colts. He was also named an All-Pro for the first time in his career in 2020.
Needless to say, Buckner is establishing himself as one of the top defensive tackles in football, while Kinlaw is struggling to stay on the field for San Francisco.
The NFL is a money-driven league, and sometimes, tough decisions have to be made with the salary cap in mind. However, this feels like a decision Lynch and the 49ers wish they could have back.
All stats courtesy of Pro Football Reference.
RELATED: Mike Florio Prematurely Rips the 49ers for Their Controversial 2021 Draft Pick: 'The Trey Lance Experiment Has Indeed Been a Disappointment'