A 'Diversity Guru' Once Sued NASCAR for $500 Million
NASCAR is no stranger to complaints about diversity. While most of the league's drivers are white, NASCAR has worked in recent years to add more drivers of color.
NASCAR's diversity struggles got to the point where a 'diversity guru' sued the league for $500 million. Here are the details.
NASCAR has struggled with diversity
RELATED: NASCAR Toyota 500 Ends With Rain, a Wreck, and Plenty of Pit Row Fireworks
The best NASCAR drivers, both now and in history, have been white. Dale Earnhardt Sr. and his son, Dale Jr., were white. Jimmy Johnson is white, as are legends Richard Petty and David Pearson.
As of 2020, only eight black drivers have competed in the NASCAR Cup Series: Wendell Scott, Elias Bowie, Charlie Scott, George Wiltshire, Randy Bethea, Willy T. Ribbs, Bill Lester, and rising star Bubba Wallace.
To its credit, NASCAR has worked on improving diversity in the last 20 years. The league founded the Drive for Diversity program in 2004 and three racers, including Wallace, had earned full-time spots in the Cup Series by 2018.
Drive for Diversity allows any and all minorities to participate. That includes white women, a minority group in NASCAR.
A 'diversity guru' once took NASCAR to court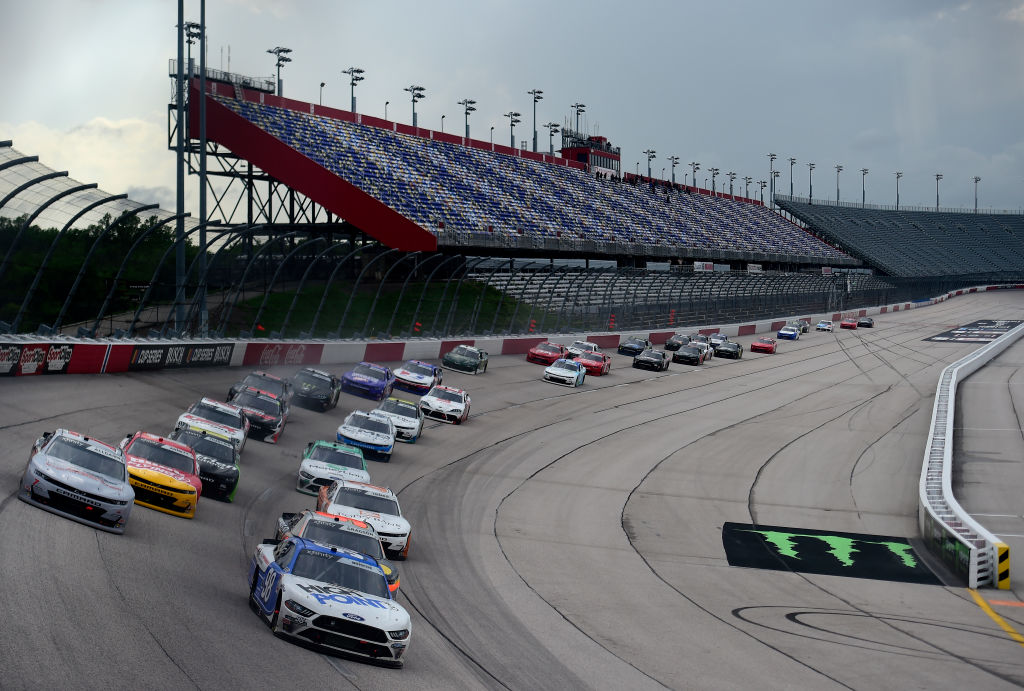 RELATED: What Is Joe Gibbs' Net Worth?
There is only so much good that rule changes and social media movements about a league's diversity problems — whether it's NASCAR or the NFL — can do. That's why Terrance Cox, a self-proclaimed 'diversity guru,' went down a different path.
In September 2016, Cox and his company, Diversity Motorsports Racing LLC, filed a $500 million lawsuit against NASCAR, its parent company, International Speedway Corp, and 18 teams.
The plaintiffs sought an injunction requiring the defendants to "fully integrate the African-American community." At the time, none of NASCAR's 48 Sprint Cup drivers were black.
The lawsuit sought $75 million in compensatory damages and another $425 million in punitive damages. Ronald Paltrowitz, a lawyer for the plaintiffs, said the money would go toward increasing minority participation in motorsports.
Of all people, Steve Harvey found himself involved in the lawsuit, too. Cox named the TV host as a partner in the racing team he wanted to found.
Harvey dismissed Cox, though, and said he had no interest in owning race cars. Days after the lawsuit emerged, Harvey ripped Cox, the lawsuit, and his unsanctioned involvement on his radio show.
"I don't want a damn race team. I don't even like fast-a– cars. I'm going to say it again: If that man [Cox was going to mess around, I wish he had some money so I could sue him, but he ain't got none."
The diversity lawsuit didn't go far
RELATED: Ryan Newman Has Severe Lasting Effects From Horrific Daytona 500 Crash
NASCAR dismissed the lawsuit and its merit when the lawsuit emerged. Suffice to say, the league wasn't worried at all, nor did they have reason to be.
In February 2018, Cox voluntarily dropped the racial discrimination lawsuit when NASCAR agreed to not seek fees, expenses or sanctions from him.
In the end, Terrance Cox's lawsuit may have had good intentions and it at least increased the conversations about people of color racing.
NASCAR has long struggled with diversity and that may change in the new decade. Just don't expect to see Steve Harvey involved.