A Doctor Explains How Johnny Knox Suffered the Most Gruesome Spinal Injury in NFL History
Johnny Knox has the dubious honor of being most famous for how his football career ended. In one of the most gruesome injuries in NFL history, the former Chicago Bears wide receiver hurt his back in 2011. And he never returned to an NFL field again. Dr. Brian Sutterer recently evaluated the horrific injury and gave fans a detailed look at what went wrong. 
Johnny Knox's NFL career
Knox did not come out of a football powerhouse to make it into the NFL as a top pick. He worked hard at Abilene Christian University in Texas, reports Pro Football Reference. While not a mill for future NFL players by any stretch, the school has a hefty roster of talent. Knox is one of the most memorable examples. After four years there, he tested the NFL waters. 
When the Chicago Bears picked him with the 140th overall pick, he had a chance to become something special. In four years with the team, he appeared on the right course, too. Knox appeared in 15 games off the bench as a rookie. While he showed some promise as a Cinderella story, it wasn't until the following year that his presence was entirely felt. 
That year, Knox started all 16 games, rushed for 960 yards, and showed that he could possibly be the type of weapon that Jay Cutler could use to his advantage. He showed similar promise the following year, as well. Everything changed in the blink of an eye. 
Knox's $500,000 injury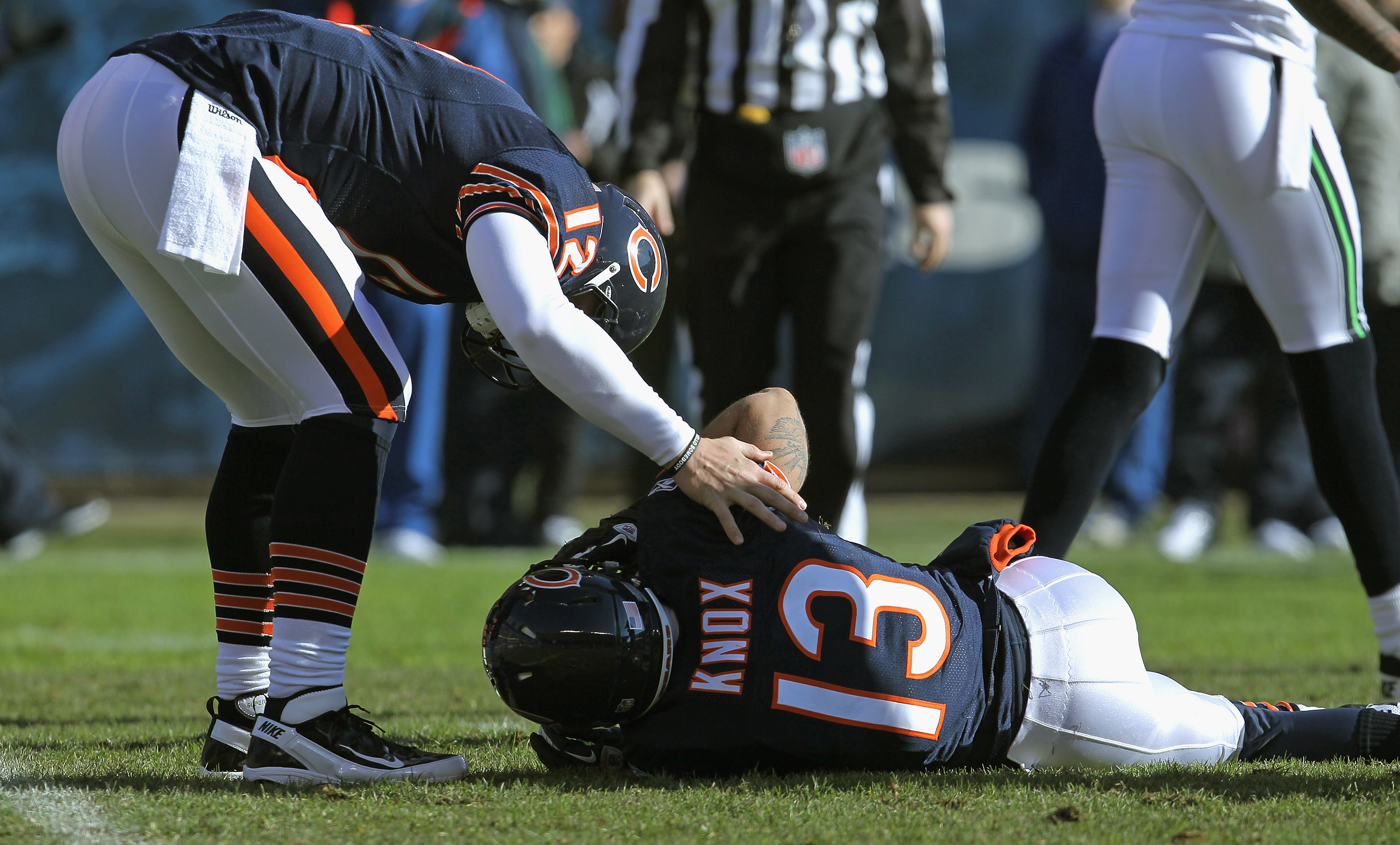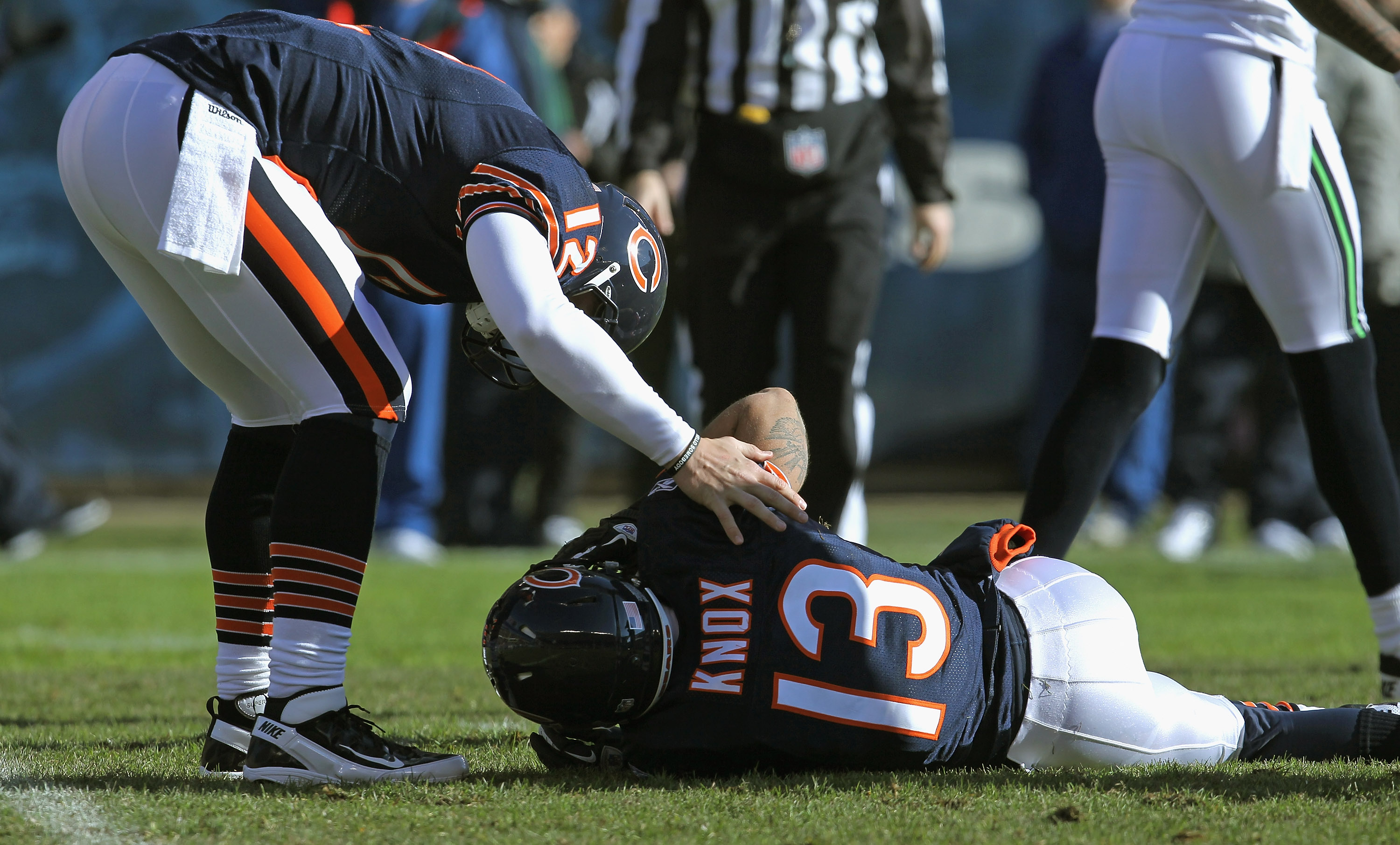 During a 2011 game against the Seattle Seahawks, Knox received a blow from Seahawks defender Anthony Hargrove. Fumbling the ball, Knox tried to recover the ball only to get tackled at an awkward position by Anthony Hargrove. He sat on the ground writhing in pain for several minutes before being lifted off in a stretcher. 
ESPN caught up with him several years later. While the injury cost him an NFL career, he didn't think back to it with any bitterness. 
"I feel good. I'm standing, that's the main thing," Knox told ESPN. "It could be worse than it is now. But for me to be able to walk after an injury like that, that's big. I'm pressing forward. I can't worry about the past. I've just got to keep looking forward for me, my family, my kids. That's what it's about."
Knox eventually settled for $500,000 from the NFL in the aftermath, a similar number to his annual salary while with the greatest league on earth. However, his injury serves as a cautionary tale about how quickly things can change for these promising young athletes. Dr. Sutterer recently reviewed how it happened, why it happened, and what can prevent such injuries from occurring again.
Dr. Sutterer explains Johnny Knox's injury 
Dr. Sutterer has made a name for himself by dissecting NFL injuries from a medical perspective. Fans appreciate the way he takes these complicated injuries and puts them into layman's terms. Showing the hyperextension of Knox's back, called a thoracolumbar fracture-dislocation, Dr. Sutterer explained why it was so tragic on his Youtube page.
According to the doctor, the initial dive set things off. As he landed, he was already going to land in an awkward position. Still, the hit from Hargrove complicated things and made his spine fold, causing nerve damage and ending his career. The added hit from the side further complicated things, causing nerve damage and making the hit all that more unnatural. 
The spine is the most crucial bone in the body. While Knox's injury was tragic, the fact that he was able to walk afterward away from football was a minor miracle. The injury Knox sustained start at the top. Every ensuing hit and movement made it an unlikely but very real conflation of events that ended his career, and he was lucky not to do the same to his life. 
Injuries are often viewed as something that happens in sports. However, Dr. Sutterer's analysis shows that it's usually a conflation of things, not just one, that sometimes causes such things to occur more drastically.