A Former Cowboys Player Reveals What's Really Wrong With America's Team
It was yet another year of disappointment for the Cowboys. Despite having a talented roster and being surrounded by mediocrity in the NFC East, Dallas managed to miss the playoffs, finishing 8-8. The reasoning for the underwhelming performance is nothing new.
Several bad losses can mostly be attributed to the conservative offense implemented by head coach Jason Garrett. It became a running joke among rival fans that he managed to retain the coaching job despite having little success in his nine-year tenure.
This year turned out to be the last straw for the team's owner and general manager, Jerry Jones. He decided not to renew Garrett's contract at the end of the season, hiring Mike McCarthy instead. Recently, a former Cowboys player gave fans a behind-the-scenes look at the dysfunction in Dallas.
New coach, same results for the Cowboys?
The team found their next leader in a former Green Bay Packers coach. This choice proves to be controversial. While McCarthy was in Green Bay, he developed a reputation similar to Jason Garrett's.
Despite having a peak Aaron Rodgers for most of his time there, McCarthy's offense was never as effective as fans hoped. He lost that job largely because people got sick of a perceived lack of creativity. Green Bay clearly hasn't missed him this season.
In order for the Cowboys to improve, the team must change the gameplan. But according to some analysts and former players, there's something fundamentally wrong about how things are done in Dallas.
One former player's thoughts on why Dallas always disappoints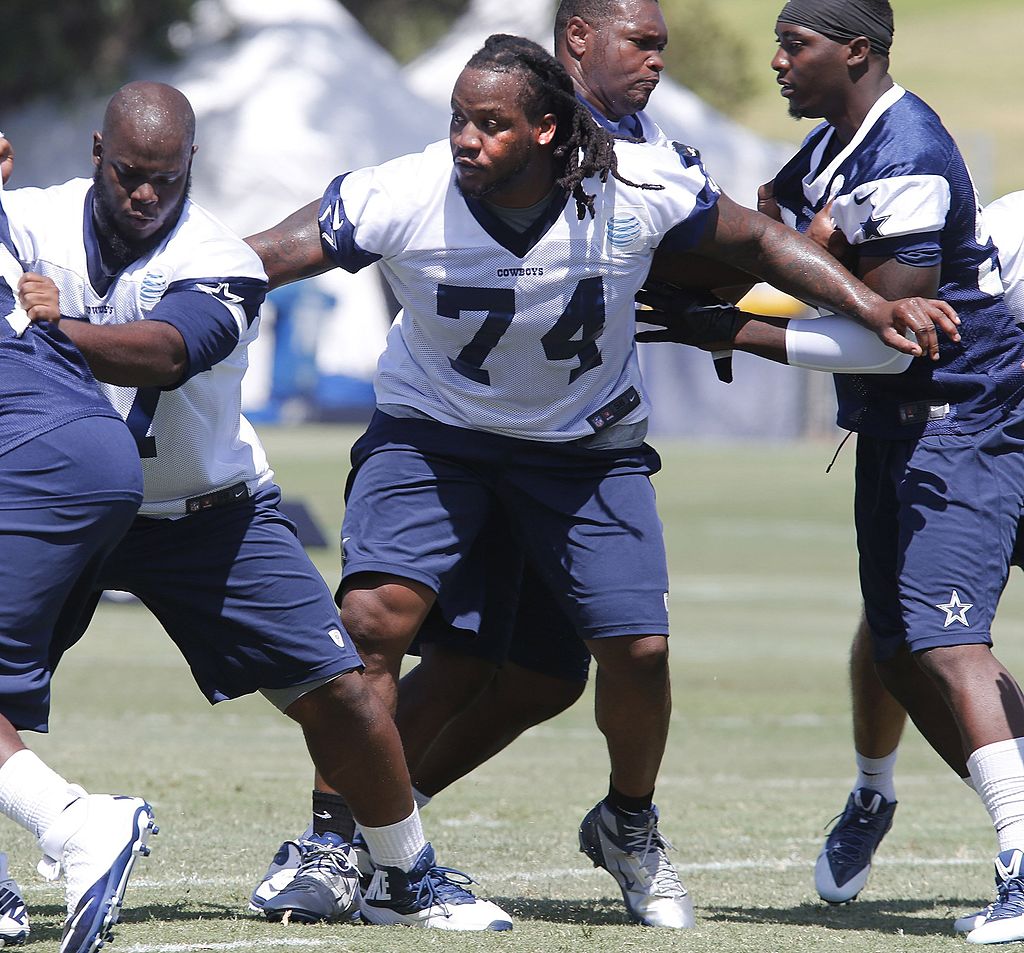 Former Cowboys player Uche Nwaneri recently wrote a post on Reddit describing the inner workings of the Cowboys organization and why Jones is the main culprit for the team's repeated failings.
It should be said that the retired offensive lineman's perspective is a limited one; he was only on the Cowboys roster for 66 days during the summer of 2014. Still, his opinion has some substance. He's certainly not the only one who's pointed the finger at Jones for the Cowboys' problems.
Nwaneri's Reddit post is only five paragraphs long, but he states his point with true clarity: Jones is an arrogant control freak whose nostalgia for the Cowboys' golden years are out of touch with how the league looks at his franchise.
Nwaneri explained: "Posters, and signage plastered all around the facility pushed a message of prestige and inflated arrogance. And as a player who came from a small market team in the Jaguars, I could sense that arrogance a mile away."
You don't have to be a genius to see that Jones has a considerable ego. No other owner is more interested in crafting their public persona than him. But the details provided by Nwaneri are quite revealing:
This was a narrative that was constantly shouted from the mountain tops while at Valley Ranch, not by the players, whom I got along with fine and had immense respect for, but from Jason Garrett and his staff … It was as if we were in some alternate universe in which the Cowboys were defending Super Bowl champs. Except it was a falsehood.
Will Jerry Jones ever change his ways?
It's better to have an owner invested in the success of the team over an owner who behaves like an absentee landlord. But Jones acts on his Cowboys fandom in the worst way. As much as he may want to be the head coach, Dallas won't improve until the staff is empowered to mold the team themselves.
Jones' behavior was the main reason the Cowboys lost the services of the best coaching team during his tenure. Jimmy Johnson was in charge as Dallas won two consecutive Super Bowls in the early '90s. Despite all the winning, Johnson was let go because he wanted credit for the personnel decisions that led to the championships.
Jones felt aggrieved by this completely reasonable assertion and believed he could easily find another coach who could be on the sideline while the roster he put together racked up victories. He's still looking for that coach.
Jones' desire for credit has directly made the Cowboys worse over time. Nothing will change until he humbles himself. That shift in personality doesn't seem likely any time soon.
Follow more updates from Sportscasting on our Facebook page.