A Hat-Signing Incident and a New Report Has Eagles Fans in a Frenzy Over Offseason Trade Target Russell Wilson
Whether you're a fan of Jalen Hurts or not, the Philadelphia Eagles are expected to be involved in the quarterback market this offseason. This doesn't mean they're 100% moving off Hurts for someone else. However, anytime you have three first-round picks in hand, you have to do your due diligence on making an upgrade at the most critical position on the field.
To make matters even more interesting for Philly, this year's offseason is expected to see several big-name quarterbacks move around. Russell Wilson, Aaron Rodgers, Deshaun Watson, and Jimmy Garoppolo could all be traded.
The Eagles are expected to show serious interest in Russell Wilson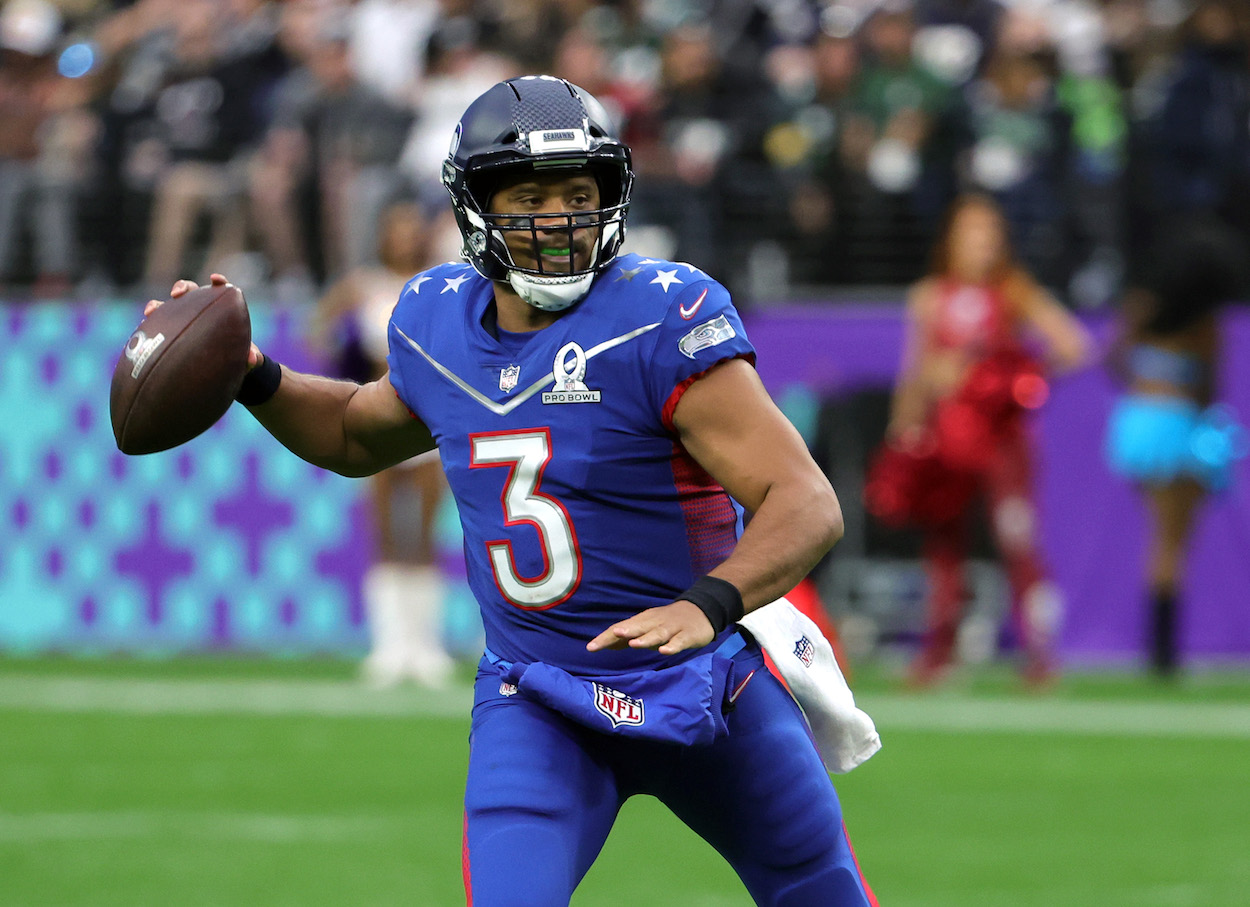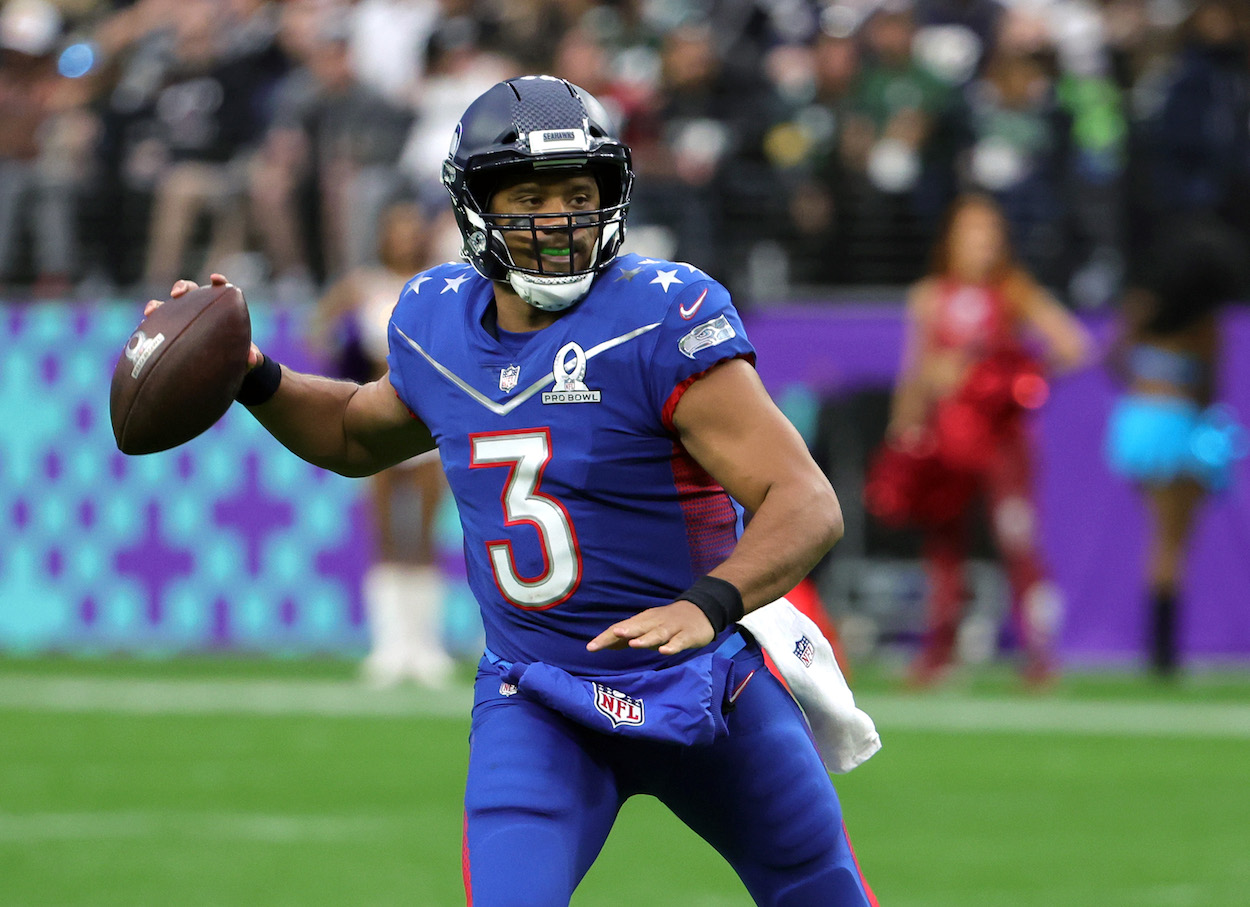 Several reports dropped during the 2021 NFL season that Eagles general manager Howie Roseman was interested in current Seattle Seahawks quarterback Russell Wilson. Of the four names mentioned above, he's the guy Philadelphia is expected to show the most amount of interest in.
Roseman wanted to draft Wilson way back in 2021 and hasn't lost interest since. With three first-round picks in hand and a solid offensive line (a big point of emphasis for Wilson), the Eagles are in a prime position to pursue and acquire the future Hall of Famer.
Up to this point, we've seen little from Wilson's side of things regarding potential interest in joining the Eagles. However, a recent hat-signing incident at the Pro Bowl was enough to get Philly fans excited
Russell Wilson added smoke to the Philly fire
By no means is this enough to suggest Wilson is seriously interested in being traded to Philadelphia this offseason. However, the current Seahawks quarterback did take some time during the Pro Bowl to sign a particular midnight green-colored hat.
This clip was more than enough to send Eagles fans into a hype-filled frenzy about the possibility of acquiring Wilson this spring. As much as Jalen Hurts is a fan-favorite in Philadelphia, Wilson would be a noticeable upgrade at the quarterback position.
NFL reporter Albert Breer believes the Eagles will land the star QB
The hat-signing is nothing more than an amusing incident making the rounds on social media. However, there's genuine noise to the Wilson-to-Philly rumors. During his latest mailbag for Sports Illustrated, notable NFL reporter Albert Breer predicted Wilson landing with the Eagles this offseason.
If I had to guess, I'd say he'll eventually get moved. And I'd have said the destination was going to be the Saints a month ago. Now that Sean Payton's gone, let's put him in the NFC East … to the Eagles. In a way, it'd be a sort of redemptive move for Howie Roseman, who was part of a front office that planned to take Wilson in the third round in 2012, only to have Seattle scoop him up earlier in the round.

Albert Breer, Sports Illustrated
This is merely a prediction from Breer. However, just like the rest of us, he's connecting the dots. Roseman and the Eagles have been interested in Wilson for a very long time, and they've historically acted aggressively at the QB position. It isn't in their nature to sit around and be patient when an upgrade is there to be made.
Like Sportscasting on Facebook. Follow us on Twitter @sportscasting19.
RELATED: Former NFL Agent Labels Eagles Jordan Mailata 'Best Contract Extension' in the NFL