A Homeless Man Recently Helped Gilbert Arenas Win $300,000
Throughout his NBA career, Gilbert Arenas was a star in the league, especially for the Washington Wizards. This was before, however, an injury ultimately slowed him down immensely. His life has not been a bunch of bad luck since then, though. Arenas posted on social media recently that a homeless man helped him win $300,000 last week.
Gilbert Arenas was a star in the NBA for the Washington Wizards
RELATED: Gilbert Arenas Pledges to 'Fulfill the Task' That Kobe Bryant Once Gave Him
The Golden State Warriors selected Gilbert Arenas in the second round of the 2001 NBA draft. Arenas spent two seasons with the Warriors and even averaged 18.3 points per game to go with 6.3 assists and 4.7 rebounds in his second season. However, he then spent seven-and-a-half seasons with the Washington Wizards, and that was when he became an absolute star. 
After averaging 19.6 points per game to go with five assists and 4.6 rebounds for the Wizards in 2003-04, Arenas became an All-Star in 2004-05. Arenas scored 25.5 points per game for the Wizards that season to go with 5.1 assists and 4.7 rebounds.
He was not done getting better, though. Arenas earned an All-Star selection the next two seasons as well. He averaged 29.3 points per game for the Wizards in 2005-06 to go with 6.1 assists. Then in 2006-07, Arenas averaged 28.4 points per game to go with six assists and 4.6 rebounds.
That was the last season Arenas was at the top of his game, though.
An injury kept him from becoming an NBA legend
RELATED: What Happened to Former NBA Star Gilbert Arenas?
On April 4, 2007, Gilbert Arenas tore the meniscus in his left knee, according to The Washington Post. He then only played in 13 games in 2007-08, two in 2008-09, and 32 in 2009-10. 
Arenas played in 70 games in 2010-11 for the Wizards and Orlando Magic, but he only averaged 10.8 points per game. Arenas then played in 17 games in 2011-12 for the Memphis Grizzlies, and only averaged 4.2 points per game. He has not played in the NBA since the 2011-12 season.
"I was on my way to becoming a Hall of Famer and having my name in the rafters, but three surgeries in 14 months, that is not good. I wasn't the same player," Arenas said, according to The Washington Post. 

Gilbert Arenas
Last year, The Washington Post wrote that Arenas has been playing in men's leagues in California in his retirement while also training young guys like Bronny James. He also played in Ice Cube's BIG3 league. 
A homeless man helped Arenas win $300,000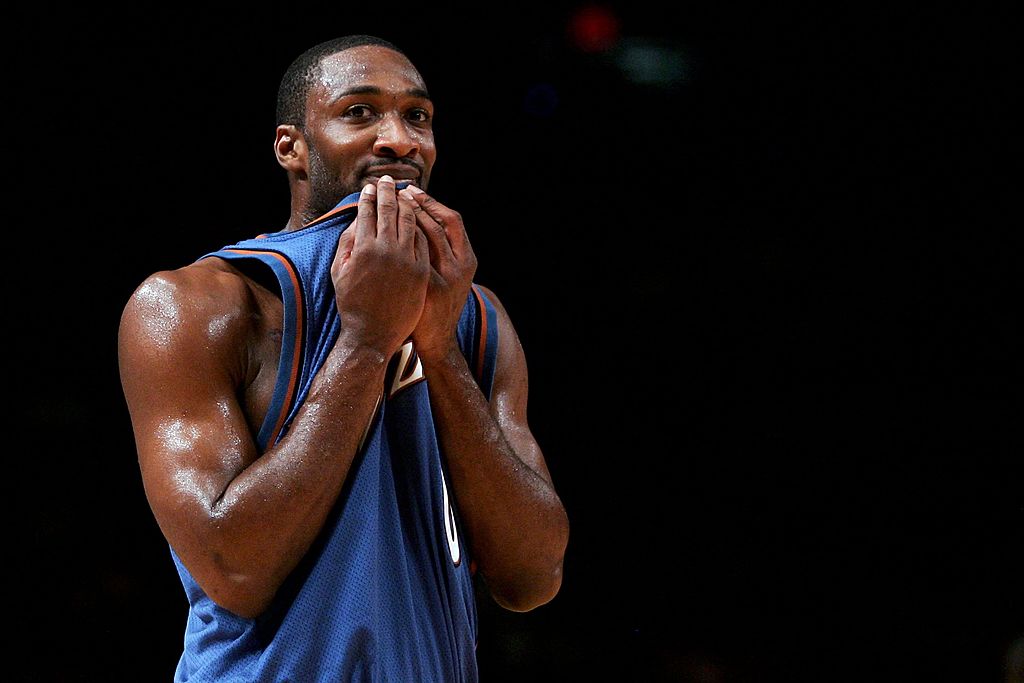 RELATED: Gilbert Arenas Spent Almost $80,000 a Year on His Pet Sharks
In a recent post on his Instagram, Gilbert Arenas posted about how a homeless man helped him win $300,000. He said that he left his house to play his lotto numbers, but forgot his money, and his car did not have much gas in it. He then went to a gas station to get $10 worth of gas so he could head to his "hook up gas station," where they let him push the buttons himself.
However, a homeless man asked him for some spare change. Arenas offered him $5, but the man did not know if Arenas could make it to the other gas station and back on $5 worth of gas (since Arenas only had $10 on him). Little did the man know, though, that Arenas had lied about how far away that gas station actually was. The man, however, ended up telling him to keep the $10 and to just give him $20 after he wins.
Arenas did not get to play his numbers because the gas station closed early. However, he woke up to a text the next day that he won $300,000. The owner had apparently played Arenas' numbers since they closed early. Arenas then ultimately later gave the man his cut from the winnings. He did not say how much he ended up giving him, though. 
"He jumped up and hugged me for 5 mins crying and then started to pray," Arenas said in his post on Instagram. "I've given back to the homeless BUT never was blessed by one."
Gilbert Arenas certainly had a great week last week, but he might have helped the homeless man have an even greater one. Arenas had some bad luck in his NBA career, but last week he definitely had luck on his side.
All stats courtesy of Basketball Reference