A James Harden Trade or a Deal Involving Kyrie Irving Could Finally Solve the Brooklyn Nets' Dysfunction
Not that they need anyone piling on right now, but the Brooklyn Nets might be dismayed to learn that no team has ever lost seven straight regular-season games and gone on to win an NBA championship. Considering the sad-sack state of the Nets right now, winning an NBA title is probably the furthest thing from their collective minds.
To recap, Kevin Durant is still out, James Harden seems to be tanking his way out of town, Kyrie Irving is winless in his most extensive stretch of the season, and Steve Nash seems to be a coach with no answers.
Two-thirds of the way into the season, and the Nets are still a major mess in every way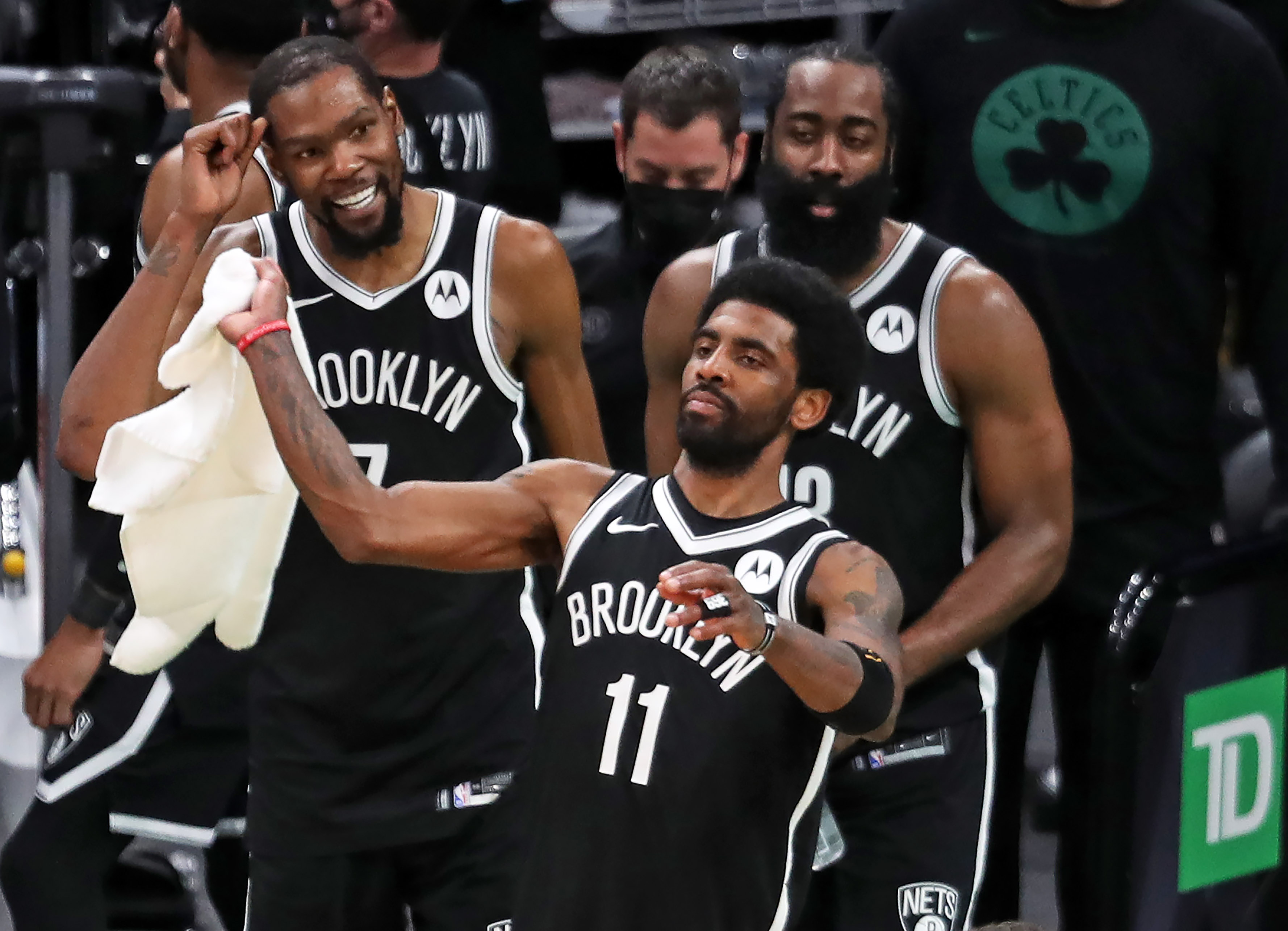 Assuredly, this isn't what the Brooklyn Nets had in mind when they pulled off the massive coup of landing Kevin Durant and Kyrie Irving in free agency. Or when they did the unthinkable and added Harden to the mix as if it were some stacked AAU travel team. 
But here the Nets are, looking like a masterpiece of artwork that has shattered into a thousand shards. Presently, the Nets are in the throes of a hideous seven-game free-fall, and they are a game-and-a-half from being out of the playoffs. They haven't even been that close in the skid, losing the seven games by an average of 10.7 points. Things are so bad Kyrie Irving — the person who refuses to sacrifice anything for his team — has been left to speak up as the team's voice of reason.
"It's really just where we are, facing reality, that we're not winning ballgames right now," Irving said after Friday's 23-point loss in Utah, according to ESPN. "And we got to kind of get out of that hole with just one win and then start a new streak from that point. But no time to feel like our season is in doomsday or we need to push the panic button at all points, but we have to face reality that a lot of guys, a lot of my teammates, we're still getting to know one another, how we play, what's our spots, offensive and defensive tendencies."
A James Harden trade or a deal involving Kyrie Irving might solve the Nets' dysfunction
On the one hand, the struggles of the Brooklyn Nets could be forgiven because of their numerous injuries. But, on the other hand, Brooklyn's three stars have rarely ever been healthy simultaneously. Remarkably, the three stars have played together in just 16 of a possible 122 games.  
Durant missed his first season in Brooklyn while nursing an Achilles injury, while Irving had a season-ending shoulder injury. Last season, Durant was in and out of the lineup, Harden predictably broke down late, and Irving was unavailable after severely spraining his ankle in the playoffs.
This season, it's more of the same for the hard-luck, dysfunctional Nets. Durant is off rehabilitating his injured knee. Harden has a mysterious hand injury, and rumors abound that he wants out of Brooklyn. As for Irving, he's been available for his longest stretch, but he long ago cursed the season with his foolish stance on remaining unvaccinated.
One could look at all this bad luck as an example of karma biting the Nets for their weak-minded stance on Irving's availability. When they caved and allowed Irving to be selfish and half invested, they gave themselves the look of mindless mercenaries. They are getting what they deserved for their lack of solidarity on the Irving issue.
With the trade deadline approaching, should the Nets trade James Harden or Kyrie Irving?
Of course, the Nets still have the potential to be a dominant team capable of rolling to a championship if they could ever get all their pieces healthy and happy at the same time.
That time doesn't seem to be coming any day soon.
Brooklyn would be wise to scan the NBA trade landscape and do some serious contemplation. The NBA Trade Deadline is five days away, and the Nets would be wise to see what they could get for Harden and/or Irving to pair Durant in the future.
Harden's behavior now feels very much like the petulant way he forced his way out of Houston, and he's again trying to force a franchise's hand. As for Irving, his refusal to sacrifice for his teammates is one of the greatest cardinal sins of sports, and the Nets would be wise to cut the cancerous portion from their roster.
If Brooklyn could get Ben Simmons, Damian Lillard, Donovan Mitchell, Domantas Sabonis, Pascal Siakam, or Fred VanVleet, they would be wise to do it immediately.
Brooklyn's visions of putting Durant, Irving, and Harden together were noble, and they made all kinds of Xs-and-Os sense. But that was before Irving's selfishness arose and Harden's dysfunctional ability to thrive on a team without being the singular star surfaced.
Assuredly, the Nets probably want to hold out hope they can get their stars back and save this season. But failing to address this flawed roster before Thursday's NBA Trade Deadline — given all the evidence the franchise has to go on after 2 1/2 failed seasons — would be downright foolish.
All statistics are courtesy of ESPN.com. 
RELATED: The Brooklyn Nets Should Trade Away Kyrie Irving — Even If It Means Taking Back Less Talent