A Look Back When Torii Hunter Threw a Punch at a Teammate
During Torii Hunter's playing career, he enjoyed every part of playing baseball. He was a team player and wanted to do whatever it took to help his team win. But Hunter did get upset at times with his teammates to the point where he almost fought one.
When Hunter was playing for the Minnesota Twins, he could not control his anger during an argument between teammate Justin Morneau. Hunter took a swing at him and ended up punching Nick Punto.
Why did Hunter take a punch toward Morneau?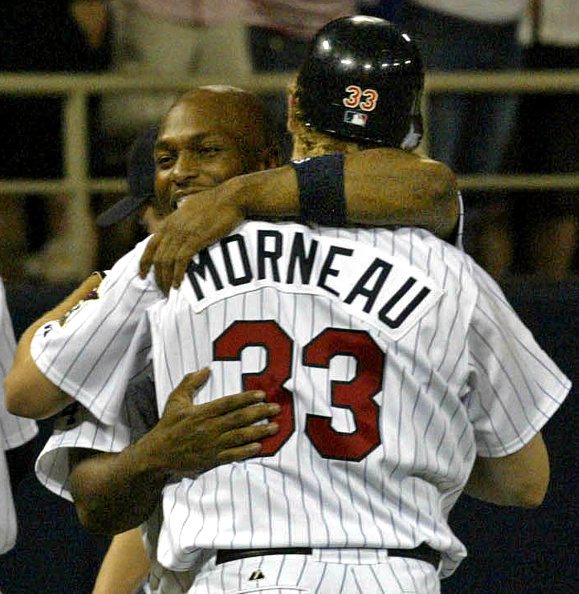 Apparently, there was an argument between Hunter and Morneau after the Twins lost a game to the Kansas City Royals towards the end of the 2005 season. That season the Twins were expected to win the division, but that did not happen. The team finished with an 83-79 record and missed the playoffs.
Hunter and Morneau were two of the Twins' core players during that season. There was an argument that started in the dugout and then continued to the clubhouse at the conclusion of the baseball game. Hunter, one of the veterans on the team, let his emotions get the best of him and he threw a punch at Morneau. Morneau was able to dodge the blow, but unfortunately for teammate Nick Punto, he was grazed by Hunter's punch.
It's not clear to what the two were arguing about, but Hunter did have this to say at the time. "Some of the things I just don't like in the clubhouse," he said. "I can't handle it. Some things are going to have to change. If it doesn't change, I don't want to be around that clubhouse. The young guys should respect the veterans. I'm talking about some guys, not all the guys."
Now looking at that statement from Hunter, it seems as if he wasn't getting the respect he thought he deserved, especially from the younger players. Hunter plays the game with a lot of emotion and when something is bothering him or if he gets upset, you will know. At the time Hunter had been in the league for nine years and had success throughout that time. He had been a part of winning teams and knew what it took to win, and that's what he wanted for his team during that 2005 season.
Making peace after the mini scuffle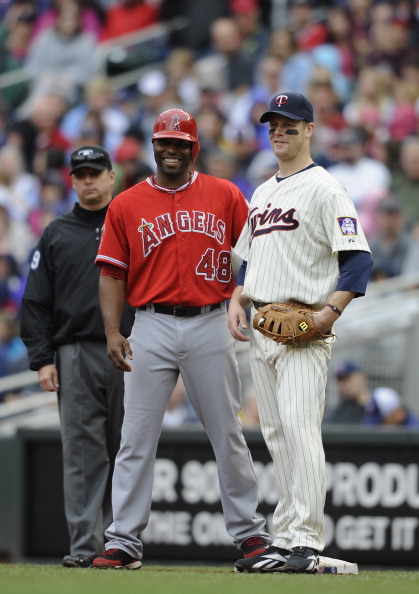 Even though things did not get any worse, Hunter and Morneau were able to put their differences aside and come together for the good of the team. Morneau talked about how the two were able to put that whole experience behind them. "When you spend as much time as you do together, you become like brothers," Morneau said. "Sometimes, brothers don't always agree with everything. It was one of those things. We talked in the offseason. It was almost completely forgotten before we got to spring training. Once we saw each other, everything was great."
When you have people who are very competitive and want to win at all costs, there will be differences that come up, and that was what happened with the two. The good thing is that they were able to settle things and keep their friendship/brotherhood.
"When you have a desire to win, a desire to be great and a desire to do good things, sometimes you don't always agree," Morneau said. "I think both of us, looking back on it, probably would have handled it differently. Sometimes that stuff brings you closer together."
Morneau says Hunter is like a mentor to him
In sports, there are mentors that people have and look up to. For Morneau, he said that Hunter was one of them. "A lot of people have an impact on your career," he said. "Some have a bigger impact than others. He's one of those guys that saw me come up as a young kid, as a 22-year-old. He was there, and he knew what it meant to come up at that age and to be around a guy like that, a professional guy who literally would try to run through any wall for you."
For people who know the type of player and person Hunter is, they know that he's not one to start fights just out the blue. He was a player who cared about his teammates and wanted them to perform at their highest level. Morneau was someone that Hunter took under his wing when he first came into the league, and it paid off for Morneau.