A Mic'd Up Joey Bosa Will Terrify You and Make You Laugh: 'You're Going Crazy, Joey'
LA Chargers defensive end Joey Bosa is an absolute monster. He plays a hard-nosed take on his position that often results in outright shoving matches when plays resolve. One has to wonder, is it just the physicality of the game that gets people going? Or is there something more?
Now that NFL players regularly get mic'd up, not much is left to the imagination anymore. Bosa gets people annoyed by his nasty blocks, but he gets in people's heads with his words just as often. After games, Bosa seems like a lovable, fun guy. But in games, in the midst of all the violence inherent to the game, he switches into a different gear.
Joey Bosa mic'd up during games is both hilarious and terrifying
In this NFL on ESPN excerpt, Bosa is often the jovial figure fans are familiar with in post-game. He cracks jokes, even to the other team, about how enormous his opponents are. He laughs, yells ebulliently, and cracks jokes about his constant chattering. The guy's a talker, and he comes off like he'd be a lot of fun off the field.
Most of the time, though, he veers off into adrenaline-fueled madness. On a great play he absolutely pops off, cursing with joy. When he gets run down, he shouts at the other team to get off him, dropping F-bombs along the way. "I turn into a different guy when I get mad," he says to one opponent as they hug. "I'm a f—ing beast!" Bosa howled at the end of the clip, flexing in a hard stance not unlike an angry silverback.
Joey Bosa's short NFL career is already stacked with honors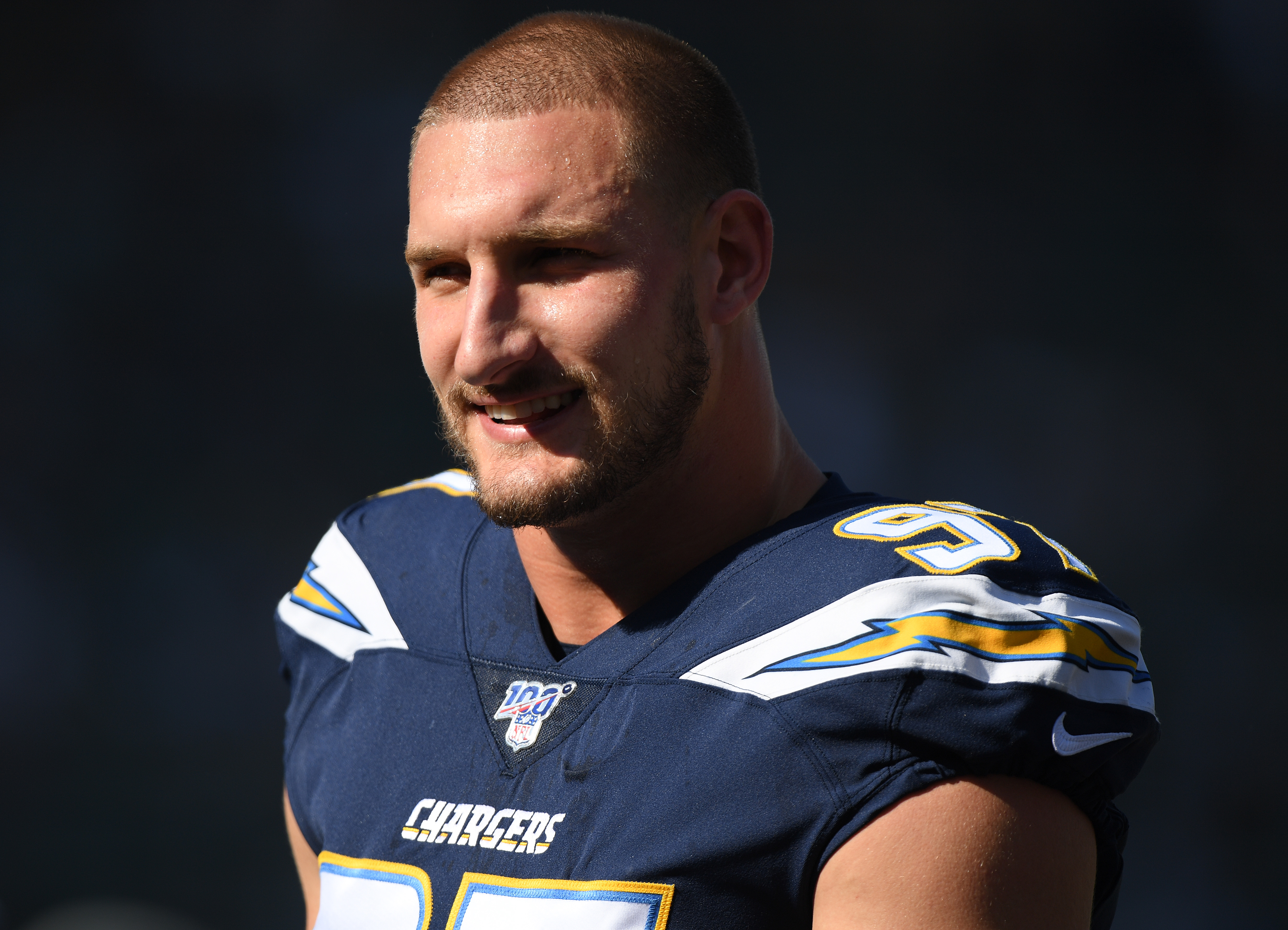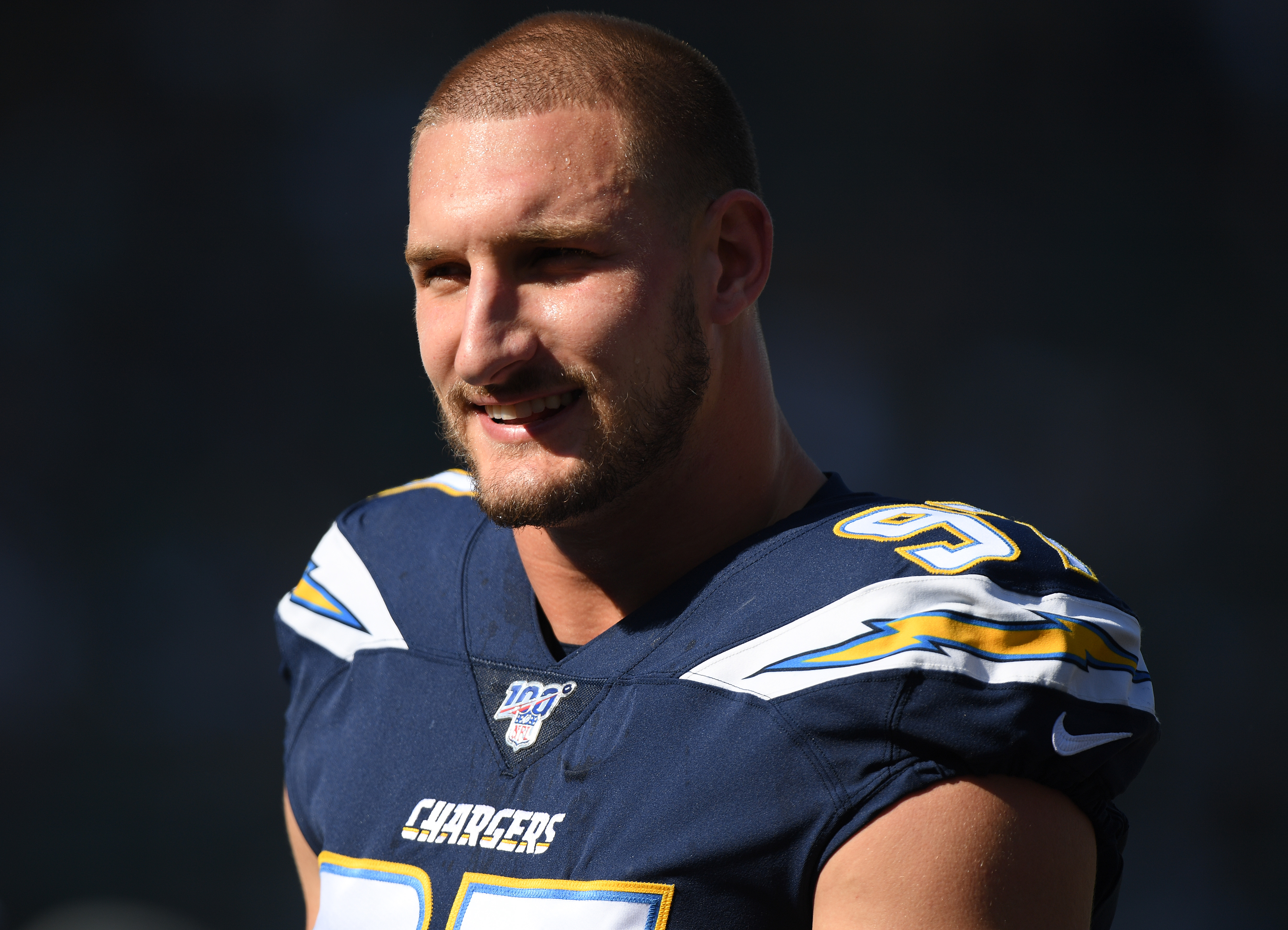 After going third overall in the 2016 NFL draft, Bosa quickly proved his NFL bona fides. In the few short years since, he's a decorated DE, hitting new personal milestones regularly. He took NFL Defensive Rookie of the Year and is already a two-time Pro Bowler.
His run was interrupted in his third season by a foot injury. He returned in top form by Week 11 of the 2018 season. Not long after, his wild-card appearance against the Baltimore Ravens, as Pro Football Reference reports, was a full return to form. He notched one sack, two tackles, and one QB tackle.
That against-all-odds nastiness he brings to the game has its downsides, however. He regularly attracts fines for his brutal plays, as NBC Sports reports. He's already dropped $30,000 in fines in 2020 alone. For his part, he never appears too concerned with it. His approach to the game is almost something from another era, and he doesn't much care to change that about himself.
Other great mic'd up moments in the NFL
The prevalence of mic'd up players has led to all kinds of hilarious and even heartwarming moments. This November was an all-timer, with Marshawn Lynch and Richard Sherman chatting each other up about the holidays. Sherman, who has no interest in talking about Christmas, instead sticks to Thanksgiving talk. Sherman, impressed by Lynch's plans to hand out free turkeys, immediately signs up to join him. Now that's a teammate!
Equally funny are the situations where hot mics catch awkward moments entirely unintentionally. Like the time Philip Rivers made a big completion and ran up to his receiver to celebrate. He screamed in an opponent's face, "90-yard touchdown!" A nearby referee, exhausted with Rivers' notorious antics, was caught telling him to "get the f*** outta here."
One of the best moments, according to Bleacher Report, went down when head coach Hank Stram became the first sideline figure to be wired for sound, ever. It happened to be the first time the public got a clear look at a different kind of coach: a player's coach. Rather than the Tom Landry type, who ran his teams like a drill Sergeant, Stram was all in on his guys' behalf.
He saved all his ire for the referees, instead. "Mr. Official, let me ask you something. How can all six of you miss a play like that? All six of you," Stram famously shouted. Then, to his own squad: "C'mon boys, just keep matriculating the ball down the field, boys."