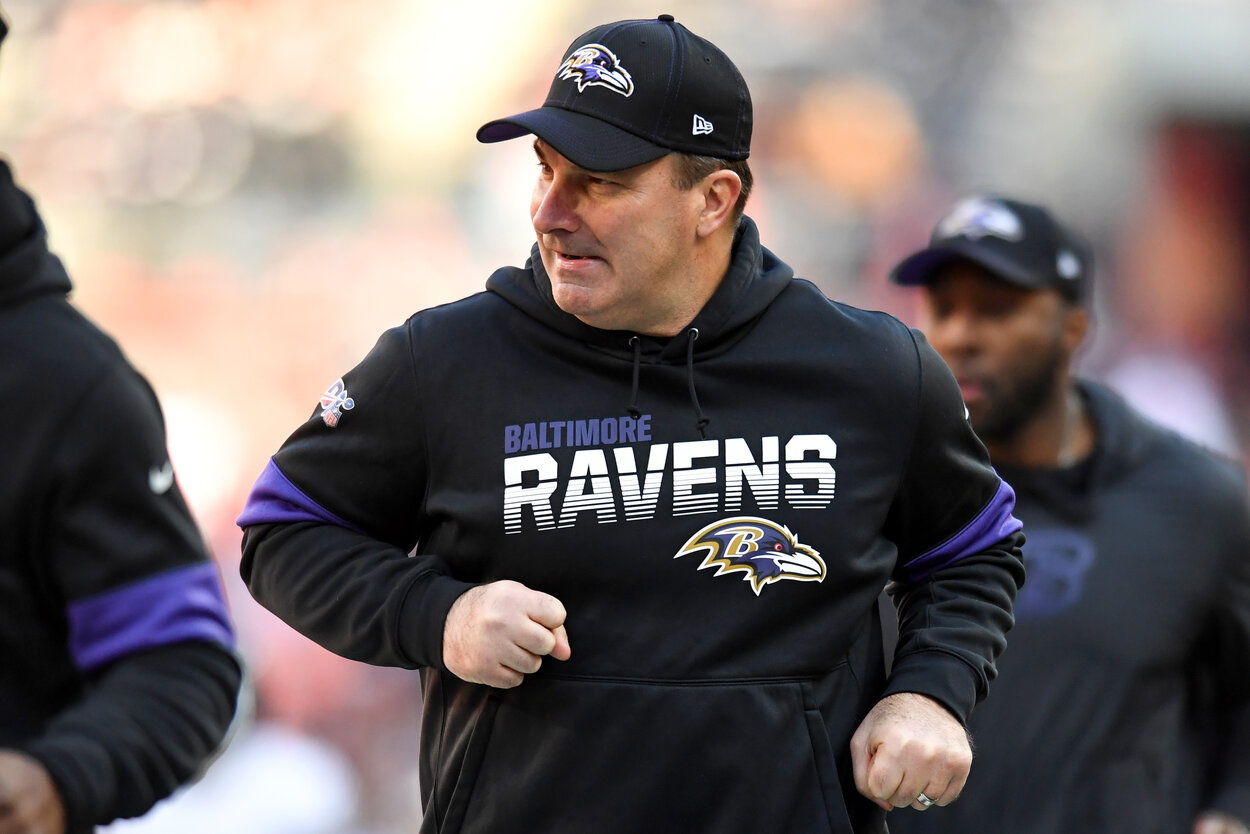 A Naked Trip to Wendy's May Have Saved Jaguars Defensive Coordinator Joe Cullen's Life
New Jacksonville Jaguars defensive coordinator Joe Cullen once had a troubling naked trip to Wendy's -- and it may have saved his life in the process.
Veteran defensive coach Joe Cullen's next stop appears to be with the Jacksonville Jaguars.
As Urban Meyer assembles his first NFL coaching staff, he is expected to appoint Cullen as the Jacksonville Jaguars' defensive coordinator. Cullen inherits a Jaguars defense that has shed the likes of Calais Campbell and Jalen Ramsey in recent years.
This is a monumental job for Cullen, whose life arguably changed for the better after a naked trip to Wendy's in 2006.
Urban Meyer is hiring Joe Cullen in Jacksonville
Joe Cullen is Jacksonville-bound.
Cullen, 53, is expected to join the Jacksonville Jaguars as their defensive coordinator. Cullen previously coached in Jacksonville from 2010-12, when he served as the defensive line coach.
A former star nose guard at the University of Massachusetts Amherst, Cullen has coached in football — either at the college or professional level — every year since 1990. He has not held a defensive coordinator role since 2004 when he coached at Indiana University.
Cullen spent the last five seasons as John Harbaugh's defensive line coach in Baltimore.
Cullen had a troubling naked trip to Wendy's in 2006
Before he coached a stout Baltimore Ravens defensive line, Joe Cullen was perhaps best known for a trip to Wendy's.
According to ESPN, Michigan police arrested Cullen twice in the summer of 2006, once for nude driving and again a week later for drunken driving. Cullen served a one-week suspension in December 2006 and received a $20,000 fine. 
ESPN reported that Cullen allegedly approached the drive-in window at a Wendy's late at night on Aug. 24, 2006, and the server noticed that he was nude.
Cullen also underwent counseling following the arrests.
That fateful night wasn't Cullen's only incident with alcohol. According to the Jackson Free Press, the University of Mississippi fired Cullen in March 2005 after a public drunkenness arrest at a local Subway restaurant. 
Although Cullen sued the school for wrongful termination, he and Ole Miss eventually reached a settlement.  
The incident possibly wound up saving Joe Cullen's life
What might have been the worst night of Joe Cullen's career — not to mention his life — also greatly helped him.
In a 2018 interview with Sports Illustrated, Cullen recalled a conversation with his grandfather, who once struggled with alcohol. Cullen's grandfather quit drinking when Joe was born.
"When I got in trouble I called him, and I said, 'Gramps, I got a major problem.' He said, 'I learned that if I didn't have the first drink, I couldn't have the 21st drink. You just have to avoid that first drink. Then do it again the next day.'"
As of October 2018, when that story went online, Cullen said he had not had a drink of alcohol since the conversation with his grandfather.
Nearly 15 years after that eventful trip to Wendy's, Joe Cullen is an NFL defensive coordinator for the first time. His comeback, and the words he shared in that interview, could serve as an inspiration to others.
How to get help: In the U.S., contact the Substance Abuse and Mental Health Services Administration helpline at 1-800-662-4357.