A Piece of Kobe Bryant Memorabilia That Lets Fans Take the Floor
Fans of the late NBA superstar Kobe Bryant have many choices when it comes to remembering the man who proudly wore numbers 8 and 24 during his 17-year Lakers career. For those lucky enough to see Bryant display his Black Mamba performances, the sheer memory of his fadeaway jump shot might be enough to keep his memory alive. But some fans want a piece of memorabilia to remember the likely future Hall of Famer.
There is something in every price range and taste for NBA diehards wanting a piece of Kobe. For $29.99 plus free shipping, the NBA Store sells an LA Lakers Kobe Bryant fanatics authentic 10.5-by-13-inch 60 Point finale plaque that has a replica of Bryant's signature across the top. If you want to relive the glory days of Shaq and Kobe doing their Batman and Robin act, there is a Kobe Bryant and Shaquille O'Neal dual signed NBA all surface basketball. The item is fully authenticated and goes for $3,279. 
A true piece of Kobe Bryant history
If you go beyond plaques and game balls, there is something for the serious fan who has some serious money. Consider, if you will, a true piece of history: the 2016 Kobe Bryant No. 8 Staples Center hardwood used in his historic 60-point farewell game. Heritage Auctions is holding the online bidding part of the auction, with a live auction scheduled for September 26, 2020.
The lucky winner will receive four panels that each are four-by-eight feet and taken from the hardwood at Staples Center. The section of wood had Kobe's number 8 painted on it before his final game in the NBA. After his 60-point performance, Kobe autographed that section of the floor with a Sharpie.
The final price for this once-in-a-lifetime piece of pro basketball history is expected to reach more than $500,000. Heritage Auctions stipulates that 10% of the final sale price will be donated to the Mamba and Mambacita Sports Foundation to honor Kobe and his daughter Gigi. Both father and daughter died in a helicopter crash on January 26, 2020.
What Kobe meant to the Lakers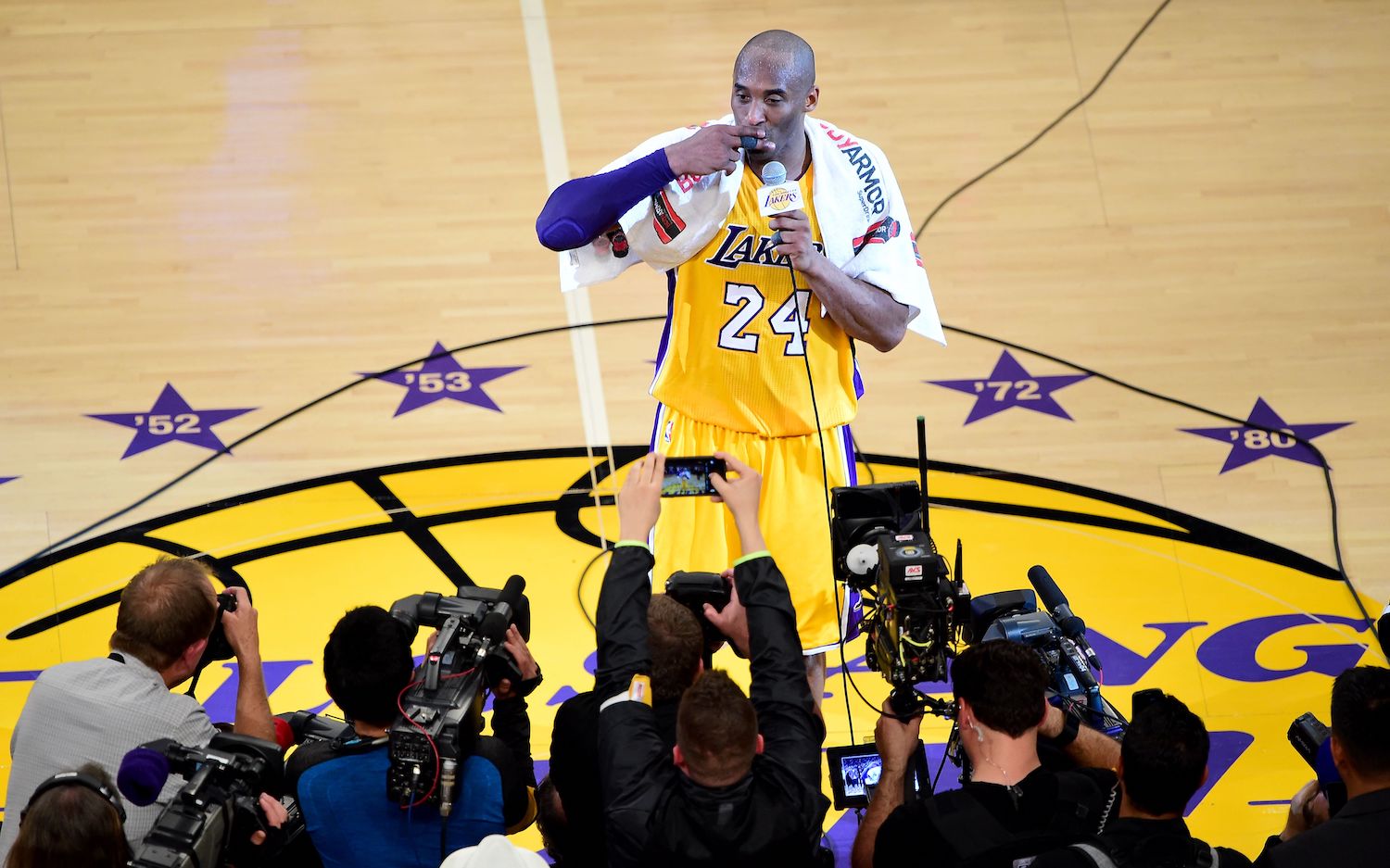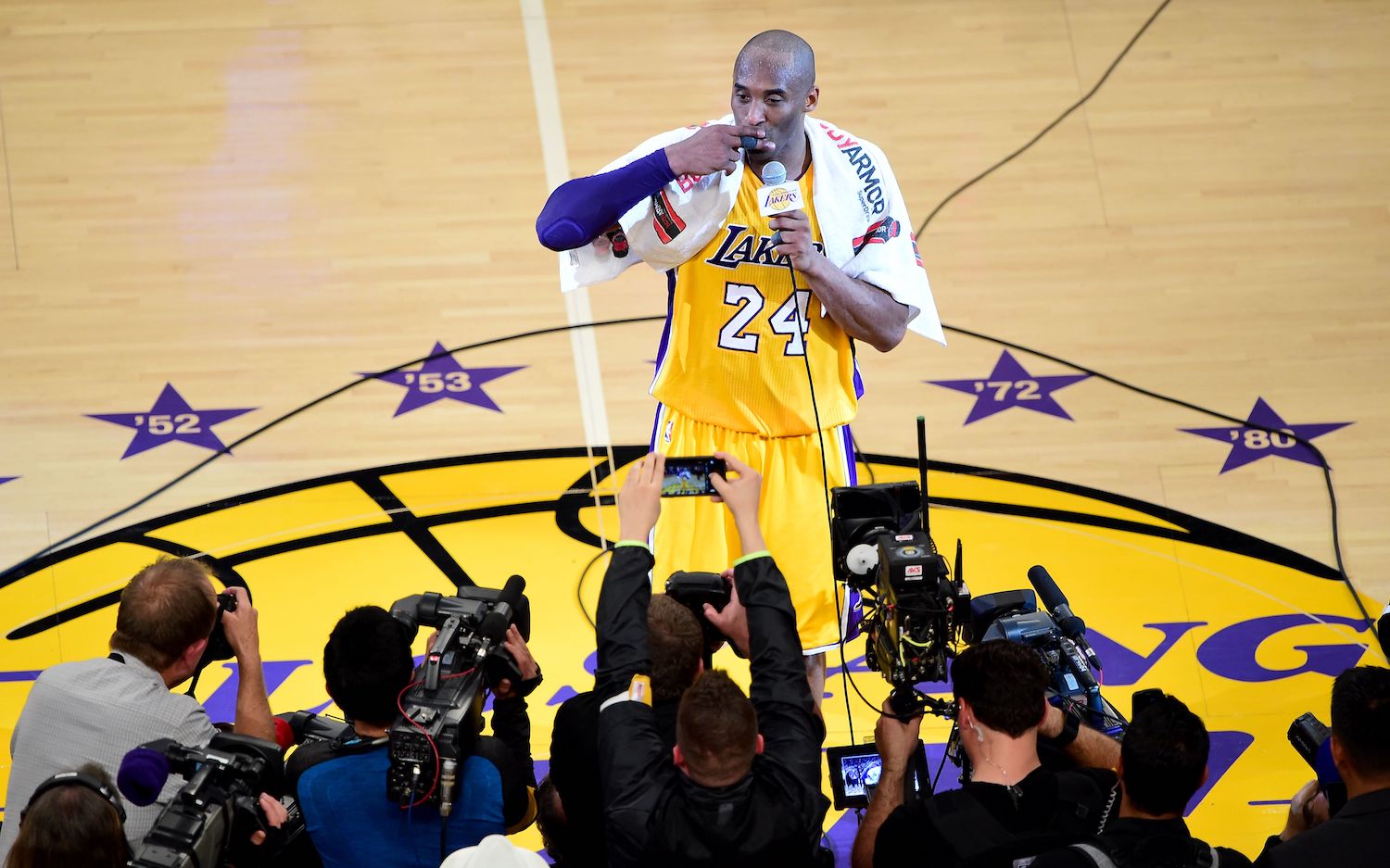 This oversized piece of Lakers history allows fans of the team and Kobe Bryant to relive the things that made him great. The awards and stats only tell part of the picture of Kobe, the man. He won five NBA titles with the Lakers, leading the league in scoring twice. Bryant was an 18-time All-Star and ended his career fourth all-time in scoring in the NBA. In 2008, the Philadelphia native won the NBA's Most Valuable Player award.
To the Lakers faithful, it was what Kobe called his "Mamba mentality" that separated him from the pack. With a lifelong interest in technology, Bryant was involved with the development and use of massage guns, which are used by players while sitting on the bench. For example, Dallas Mavericks star Luka Doncic uses a similar product to treat his ankle while on the bench.
Another example of his devotion to the finer points of the game, Kobe studied the referee's handbook to give him insight as to where the men in the striped shirts position themselves during the game. Growing up as the son of Joe Bryant, a former NBA player, Kobe understood all aspects of the game off and on the court.
Will Kobe's historic hardwood crack the top 10?
Sports memorabilia can bring in some hefty dollars. To crack the top 10 of all-time most expensive sports-related items ever sold, this Kobe Bryant piece of Staples Center wood will have to bring in close to $1 million.
According to The Sportster, Babe Ruth's 1920 New York Yankees jersey sold for more than $4 million in 2012, eclipsing the previous top money winner—an original copy of James Naismith's 1891 Rules of Basketball, which fetched $4.3 million. 
To make the top 10, the ultimate tribute to an NBA great will have to bring in more than $956,000. That was the price tag on one of only four FA cups ever sold. England's FA Cup, officially known as the Football Association Challenge Cup, was sold in 2005 to an unnamed bidder.