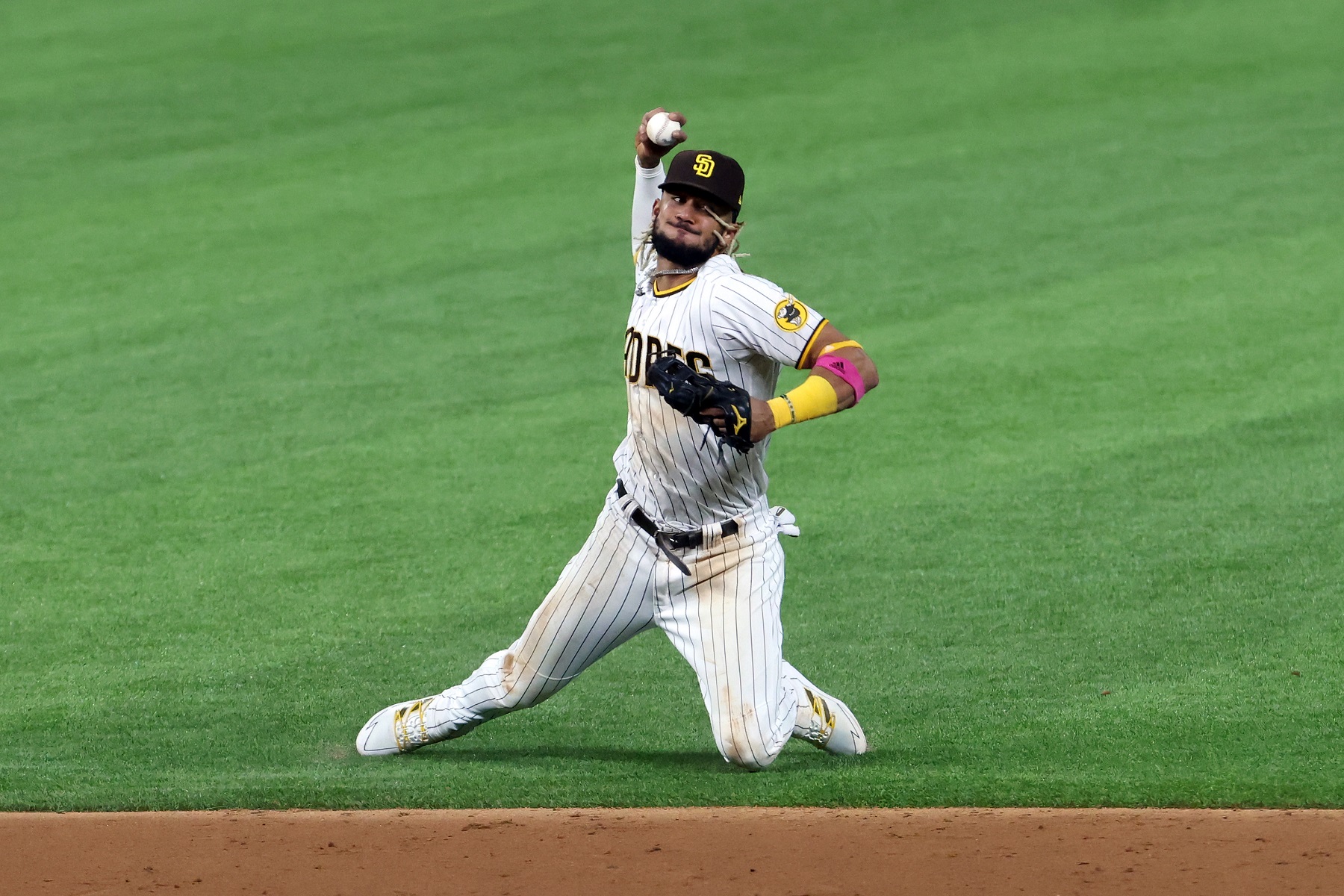 A Pitcher With a 3-2 Career Record Gets a Cut of Fernando Tatis' Salary
San Diego Padres shortstop Fernando Tatis Jr. accepted money from an investment firm in return for a percentage of his future MLB earnings.
He hasn't even played what amounts to a full season of Major League Baseball, but Fernando Tatis Jr. has already established a reputation as an emerging star in the sport who could be the face of the San Diego Padres franchise for 15 years if they can afford to keep him.
In fact, there is speculation about the Padres locking Tatis into a nine-figure contract soon. If that should happen, Tatis and his agent aren't the only ones who stand to make significant money off the deal.
Fernando Tatis Jr. made it to the big leagues in a hurry
Fernando Tatis Jr. Was just 17 years old when he made his professional baseball debut in 2016 for the San Diego Padres' entry in the Arizona League at the lowest rung of the minors.
Just a year later, he was already getting a taste of Double-A pitching with San Antonio in the Texas League. That set him up for more extensive action at that level in 2018, and Tatis rose to the challenge. Appearing in 88 games for San Antonio, he batted .286 with 22 home runs, 43 RBIs, and 16 stolen bases.
It seemingly put him on track to reach the majors for at least a portion of the 2020 season, with multiple publications rating Tatis as one of the top three prospects in baseball at the time. However, Tatis had different plans. He was so impressive in spring training in 2019 that the Padres announced that he had made the big-league roster – quite an achievement for a 20-year-old.
Tatis belted out a pair of hits in his MLB debut and finished with 22 homers, 53 RBIs, and a .317 average in 84 games. He followed that up in the pandemic-shortened 2020 season with 17 homers, 45 RBIs, and a .277 average in just 59 contests.
The Padres were swept out of the NL Division Series by the Los Angeles Dodgers, but Tatis hit .318 with a pair of homers in six postseason games.
Fernando Tatis Jr. took the alternate path to stardom
Most players reaching the majors come up through the ranks in the United States, either signing directly out of high school or after playing college baseball. Either way, players selected near the top of the draft are positioned for significant signing bonuses.
In 2015, the Houston Astros made Alex Bregman he No. 2 pick in the first round of the June draft and paid him a $5.9 million bonus. Players taken in the first half of the third round landed payouts generally in the range of $750,000 to $1 million.
Latin America has produced thousands of quality prospects through the years, but they are not part of the same player procurement system. Instead, MLB teams are assigned varying amounts of money that they can use to sign international prospects and bring them to the United States and Canada to play.
Fernando Tatis Jr. was one of those players. In July 2015, the Chicago White Sox signed the promising shortstop out of the Dominican Republic for $825,000, about a quarter of its allocation for international players.
A year later, the White Sox included Tatis in a trade with the San Diego Padres to acquire veteran pitcher James Shields. With just two seasons under his belt, Tatis isn't going anywhere via free agency before 2025 at the earliest, and there is talk that the Padres may buy him out of future salary arbitrations and at least a year or two of potential free agency with a sizeable contract.
That's rare for such a young player. However, it's not even the most unusual aspect of Tatis' future financial situation.
What is an income-sharing agreement?
Sportico.com reported this week that Fernando Tatis Jr. is the most successful instance of an income-sharing agreement in sports.
Under income-sharing agreements, athletes accept upfront money from an investor in return for a percentage of future earnings. The strategy can be especially attractive to baseball players, who typically spend four to six years in the minor leagues – where the pay is below the poverty level for most players not on the 40-man roster — before reaching MLB.
Players selected in the first few rounds of the annual draft can fall back on their signing bonuses. Others, though, might be tempted to accept an income-sharing agreement like the one Tatis has with Big League Advance, an investment firm founded by former pitcher Michael Schwimer.
It's believed Schwimer, who was 3-2 for the Philadelphi Phillies in 2011-12, has more than 120 players under contract and that Big League Advance takes about an 8% cut of their MLB earnings. A player making $12.5 million would be surrendering $1 million of his salary in return for the prior payments. Over the course of a career in which a player makes $200 million, the fee works out to around $16 million.
That's on top of what the athlete pays agents to negotiate on his behalf or accountants and financial planners to keep track of and invest his money. It's a factor in why unions representing MLB, NFL, and MLS players have all gone on record against income-sharing agreements on the grounds that they are exploitative.
All stats courtesy of Baseball Reference.