A Random Office Conversation Reunited Eric Hinske With a World Series Home Run Ball
Eric Hinske had an extended MLB career and mashed plenty of home runs. But it took him years to locate one of his favorite home run balls.
A year before he helped Derek Jeter and the Yankees to a World Series title, Eric Hinske played for the rival Tampa Bay Rays. Hinske hit a World Series home run in October 2008 that he would never have obtained if not for a random office conversation.
Eric Hinkse had a solid MLB career
RELATED: A Young Sammy Sosa Had to Shine Shoes to Survive After Father's Death
A 17th-round pick of the Chicago Cubs in 1998, Eric Hinske debuted with the Toronto Blue Jays in April 2002. Hinske hit .279 with 24 home runs, 84 RBIs, and 38 doubles en route to the American League Rookie of the Year Award.
Hinske still had a power stroke but never lived up to expectations. Toronto traded him to Boston midway through the 2006 season and Hinske won a World Series with the Red Sox a year later.
Hinske hit 20 home runs for the Tampa Bay Rays in 2008, a team that lost in the World Series. A year later, Hinske won his second title with the New York Yankees.
Eric Hinske played out the final years of his career with the Atlanta Braves and Arizona Diamondbacks. He retired after the 2013 season with a .249 average, 137 homers, and over $22 million in career earnings.
Hinske hit a home run in the 2008 World Series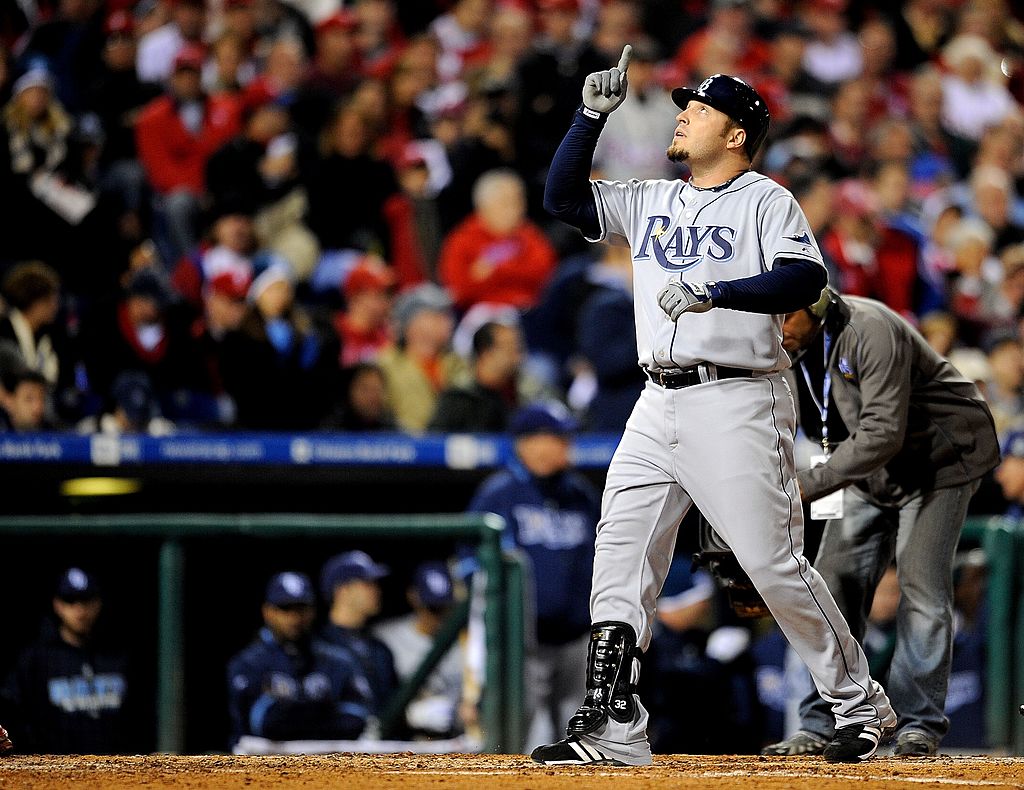 RELATED: Roy Halladay Shocked Phillies Organization After Perfect Game With Expensive Gifts for Bat Boy and Others
Hinske and the Tampa Bay Rays faced the Philadelphia Phillies in the 2008 World Series. With two outs in the fifth inning of Game 4, Hinske mashed a home run to center field off Phillies starter Joe Blanton.
The home run didn't mean much in the end. Tampa Bay lost 10-2 and, a few nights later, dropped the series in five games.
Famously, Eric Hinske represented the series' final out. Phillies All-Star closer Brad Lidge struck Hinske out looking to end Game 5.
A random office conversation reunited Eric Hinske with that ball
RELATED: Dodgers Pitcher David Price Just Spent $200,000 on Players He Barely Knows
For years, Eric Hinske wanted to find that home run ball from Game 4. It took him over a decade, but the ball finally found its way to Hinske's hands.
Sean Forman, the founder of Sports-Reference, recently shared a story on Twitter. A neighbor's wife was the head landscaper at Citizens Bank Park, the Phillies' home since 2004, and grew the ivy in center field.
Hinske's home run landed in the center field batter's eye. When he went to find the ball the next day, it was already gone.
Forman's neighbor worked in an office with a "devoted Phillies fan." The two discussed the home run and eventually determined the ball came from Hinske's home run.
Eventually, the neighbor's friend got in touch with Hinske, who is currently the Diamondbacks' assistant hitting coach. After Hinske received the ball, he sent a picture of him smiling with the stained ball to those who went out of their way for him.
In a year full of strange events, Eric Hinske's reunion with a home run ball won't rank too high up the list. But if not for a random conversation, he'd still be searching for a hit that he clearly treasured.