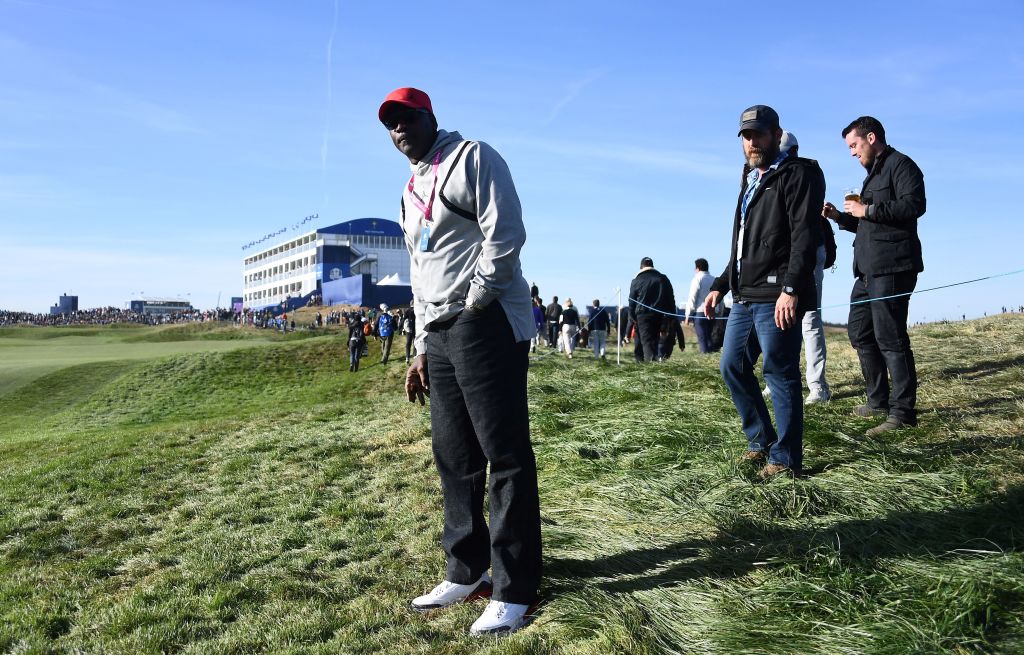 A Small Annoyance Inspired Michael Jordan to Build an Exclusive Golf Course
At one point, Michael Jordan grew frustrated by the slower pace of the game when he play golf. So he decided to build his own golf course.
It's well-noted that people of influence love golf. It extends far beyond the President of the United States; many in the NBA are enamored by golf, too. A good argument can be made that Michael Jordan assimilated golf into his life more than any other basketball legend. At one point, though, he grew frustrated by the slower pace of the game.
His Airness decided to build his own golf course — something anyone can do when worth $1.9 billion. He designed the course to produce more dramatic games, something he enjoyed in his NBA days, too.
Why did Michael Jordan build his golf course?
Reports involved Jordan despising a country club, Bear's Club, in Jupiter, Florida, where he lived and played golf. The pace of play was simply too slow for him — understandable as he's one of the most competitive athletes of all time.
Understanding this mindset is only possible by going back to 2015 when news first hit about Jordan wanting his own golf course. Back then, Golf.com reported that Bear's Club golf games moved at a snail's pace despite being an exclusive golfing club. As someone used to faster play in everything he does, Jordan took action to amend the problem.
Building a golf course is easier said than done, however. At first, Jordan wanted golf course architect Tom Doak to design one on a property MJ bought in Hobe Sound, not too far away from Jupiter.
Three years later, in 2018, Golf.com offered an aerial map of the 226-acre site where the course, called Grove Golf Club, took shape. The course was delayed due to numerous technical and environmental challenges. Regardless, the details behind this course are more than a little eye-opening.
Grove Golf Club will be one of the most challenging golf courses
Jordan's Grove Golf Club — or The Grove XXIII — officially opened last year, quickly becoming one of the most exclusive golf clubs in the world. Reports are that Bobby Weed designed it to give even the most experienced golfer various natural challenges.
South Florida trade winds are made to blow through the course, offering more random complexity to make shots. Last year, Weed elaborated in a press release on how the course is designed:
"The two nines wrap around each other while traversing the site in opposing directions. This dynamic layout ensures that golfers will feel the breeze from every quarter. It's a course for tomorrow, with a refined edge. Knowing the caliber of the membership and Michael's passion for golf, we are designing a forward-thinking, progressive layout."
Jordan invested considerable time in visiting the grounds during the design process. Although the NBA legend is not the sole investor, not every random golfer can go there to play. Only those personally invited can participate, meaning Jordan can play with the world's best golfers whenever he wants.
Will other athletes follow Jordan's lead with golf courses?
At 18 holes, the course still stays within the standard confines of a traditional green. It's apparently one many professional golfers may want to experience regularly to keep their skills sharp. Creating a "faster" and more competitive golf course might also interest other athletes who play golf on the side.
If they play on Jordan's course, maybe the course will end up becoming an official tournament for TV broadcast. Being able to see Jordan go up against the likes of Tiger Woods would be worth everyone's time. So far, though, Jordan's course has hosted NASCAR driver Denny Hamlin and golfer Rickie Fowler.
Jordan has long incorporated golf into his life. In fact, his 2013 wedding was on one designed by Jack Nicklaus. How exciting would it be to see Jordan play on a competitive level again with players technically better than he is?