A Suspended License Helped Cost the Chargers' Vincent Jackson Three Game Checks
Former Chargers receiver Vincent Jackson didn't have the popularity or video game-like numbers that teammate LaDainian Tomlinson did. Still, it is indisputable that Jackson played a vital role in the early years of the Philip Rivers era.
Vincent Jackson was one of the Chargers' most valuable weapons entering the 2010 season. But an issue with his driver's license not only cost the wide receiver three games, but it also helped keep the Chargers out of the postseason.
Vincent Jackson was a Pro Bowl-caliber receiver
RELATED: Chargers Just Saved Justin Herbert's Career With a Genius Hire
Vincent Jackson entered the NFL as a second-round pick from Northern Colorado in 2005. By 2007, the 6-foot-5, 230-pound Jackson emerged as one of Philip Rivers' most important targets.
Vincent Jackson posted his first 1,000-yard receiving season in 2008, a year he averaged 18.6 yards per grab.
In 2009, Jackson caught 68 passes for 1,167 yards and nine touchdowns for the AFC West champions. Jackson also earned Pro Bowl honors for the first time that year.
Expectations were high for Vincent Jackson and the Chargers entering the 2010 season. That was, until legal and contractual issues impacted both sides' futures.
Jackson missed three games in 2010 for a suspended license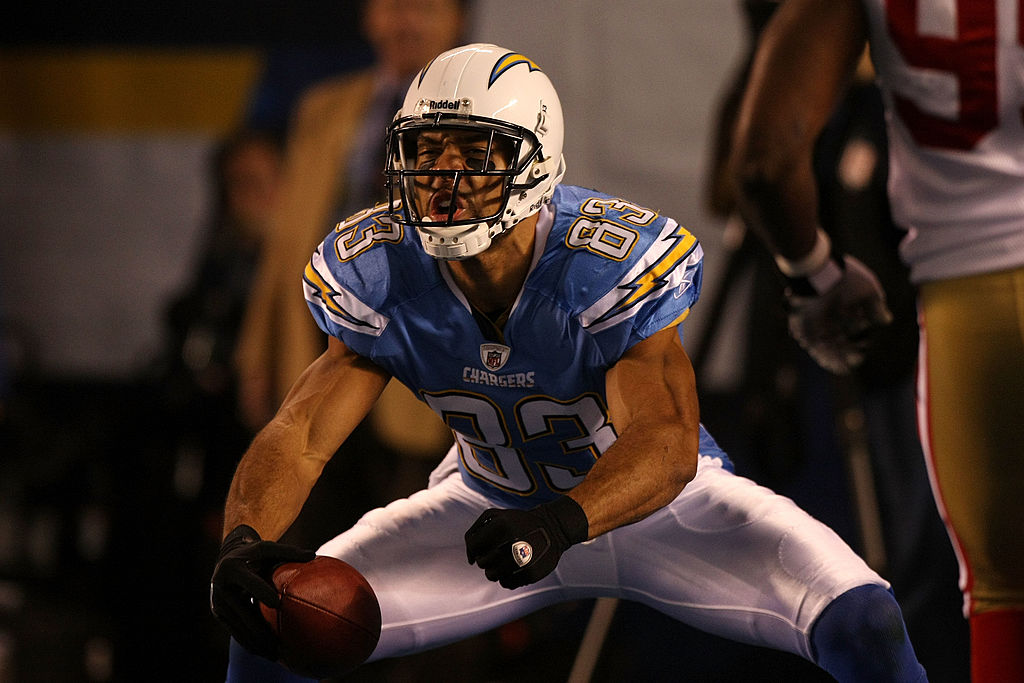 RELATED: Philip Rivers Drives a 2008 Ford F-250 Despite Making Over $215 Million in His Career
Although Vincent Jackson was one of the Chargers' top weapons, he also repeatedly found himself in trouble with the law. Jackson was arrested twice for DUI charges, the first in 2006 and the second three years later.
He pleaded guilty after the first incident and he still was on probation at the time of his 2009 arrest, according to NFL Media.
In January 2010, Califonia police arrested Vincent Jackson before the Chargers' playoff loss to the New York Jets because he was driving with a suspended license.
The second DUI, coupled with the suspended license, earned Vincent Jackson a three-game suspension to start the 2010 season.
Interestingly, Jackson planned on missing the season's first three games anyway. At the time, Jackson and the Chargers were in a bitter contract dispute; Jackson believed he deserved a long-term contract, yet the Chargers only offered him a one-year deal.
Vincent Jackson served the contract and, eventually, returned to the Chargers. He caught 14 passes for 248 yards and three touchdowns in five games.
Ultimately, the damage was done. Although the Chargers had the league's second-best offense and a top-10 defense, San Diego finished 9-7 and out of the playoffs.
San Diego had a 5-6 record when Jackson returned, but went on a 4-1 tear in the five games Jackson played.
Vincent Jackson remained a consistent player after the suspension
RELATED: Former Colts Star Bob Sanders Made $23 Million and Still Owns the House He Bought as a Rookie
The truncated 2010 season didn't have a long-term impact on Vincent Jackson's career, nor did it affect his earnings. Jackson retired after the 2016 season having made over $70 million, according to Spotrac.
Jackson earned Pro Bowl honors in 2011 after a 60-catch, 1,106-yard, nine-touchdown season. That was it for him in San Diego, though, and Jackson spent the rest of his career on the Tampa Bay Buccaneers.
Jackson had at least 1,000 receiving yards in his first three seasons with the Buccaneers. He totaled 268 catches for 4,326 yards and 20 touchdowns on 16.1 yards per catch in his five years with the Buccaneers.
Vincent Jackson retired after the 2016 season. In 12 NFL campaigns, he recorded 540 receptions for 9,080 yards and 57 touchdowns.
The 2020 season will be four years since Vincent Jackson's final NFL catch. For all of our sakes, let's hope he's managed to keep his license valid in retirement.