A Texans Legend Says Deshaun Watson Needs to Leave Houston
In less than a year, the Houston Texans have gone from one of the NFL's most promising organizations to a complete dumpster fire. The front office has traded away promising players and draft picks, leaving the team's long-term future in doubt. Things have descended to a point where even a franchise legend has warned their current quarterback to leave town.
Who is Andre Johnson and what does he mean to Houston?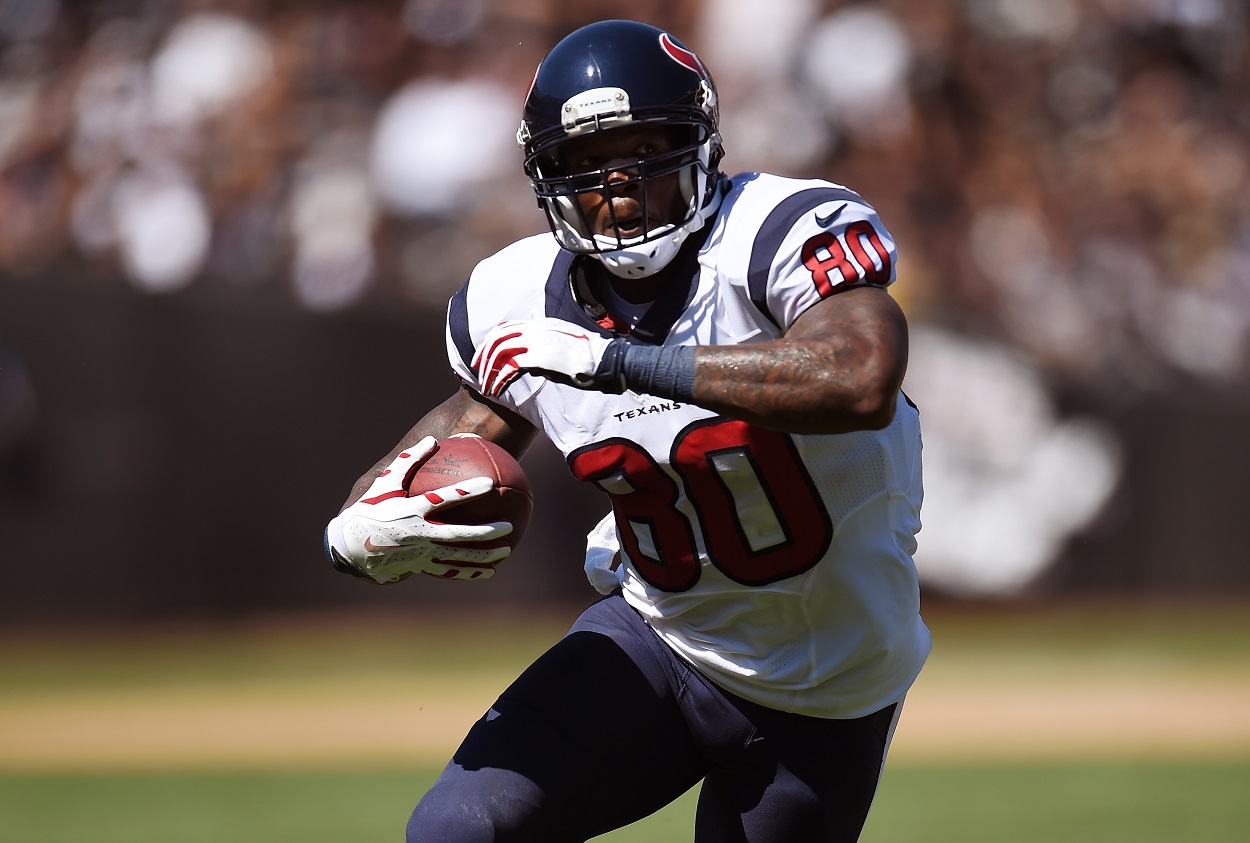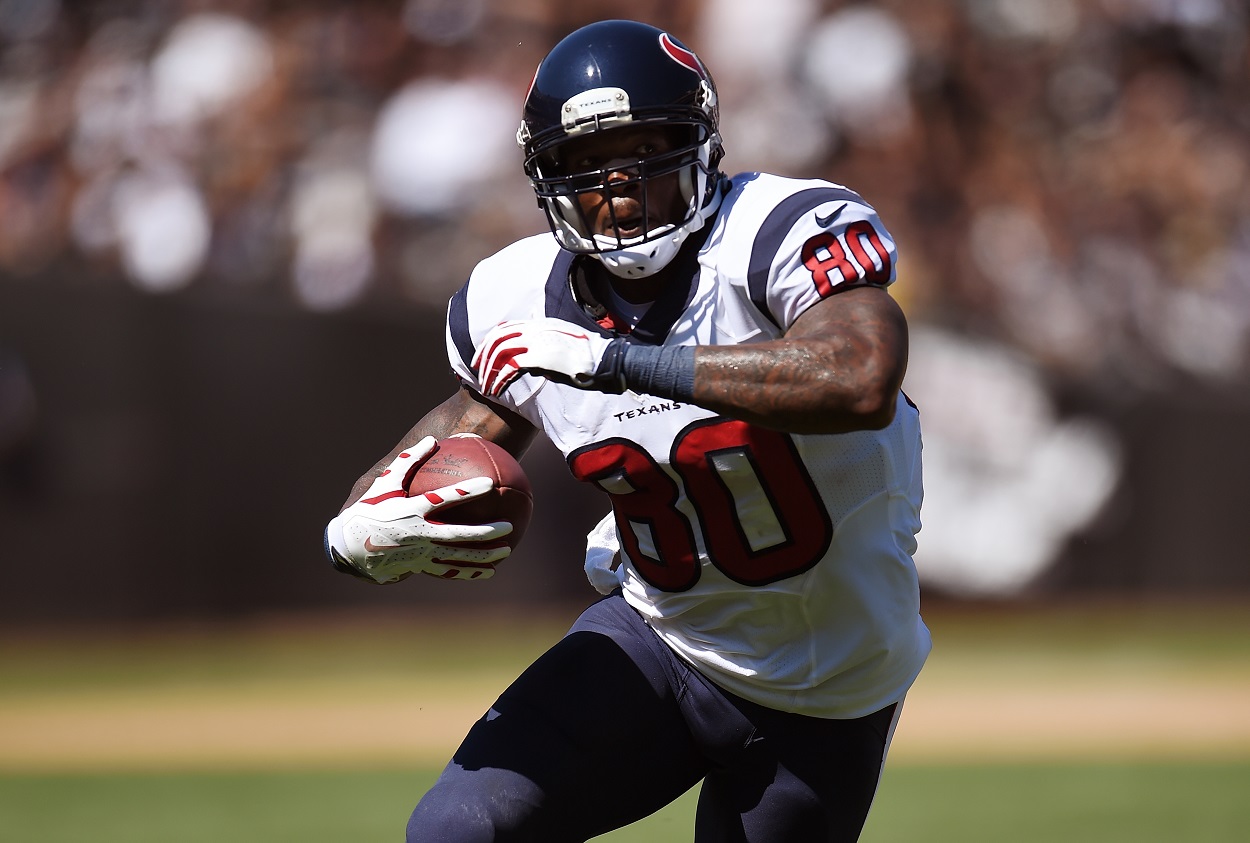 Simply put, Andre Johnson has been associated with the Houston Texans for almost as long as the team has existed.
Houston selected the Miami (FL) wideout with the third overall pick in the 2003 NFL draft. He made a positive impact for the second-year expansion team immediately, nearly crossing the 1,000-yard mark in his rookie season and doing so in his second season. Twice — in 2006 and 2008 — Johnson led the NFL in receptions. In 2008, he became the first receiver to make 10 receptions in seven different games.
Johnson finished his career 10th on the all-time receiving yards list. No player, other than perhaps J.J. Watt, has been more associated with the Texans. At the end of his career, he spent one season each with the division-rival Colts and Titans. He signed a ceremonial one-day contract in 2017 so he could retire as a Texan.
"Even when I was with the Colts and the Titans, my heart never left this place," said Johnson during his retirement speech, as quoted by Bleacher Report.
Deshaun Watson is caught in a mess
Fast-forward to 2021. Johnson is long gone, and the Texans have endured a disappointing and frustrating 2020 season.
Head coach Bill O'Brien lost his job after "leading" his team to four straight losses to open the year. However, the decisions he made with player personnel could negatively impact the team for years to come. As a result of O'Brien's stellar work as general manager, the Texans will not pick until the third round of this year's NFL draft. Before the season began, O'Brien also traded DeAndre Hopkins to the Arizona Cardinals, depriving Watson of his No. 1 weapon.
A constant theme of the Texans' season was its mishandling of their star quarterback. Even though Watson led the league in passing yards, he could not overcome his team's poor offensive line, leaky defense, or lack of weapons. The team also failed to consult their quarterback before hiring former Patriots assistant Nick Caserio as general manager, ignoring Watson's suggestions on the matter.
Since the conclusion of the season, Watson has made some not-so-subtle comments on Twitter regarding his frustration with the Texans. These comments have since been deleted.
Andre Johnson cuts ties with his team
On Tuesday afternoon, with the situation between Watson and the Texans nowhere near resolved, Andre Johnson chimed in through his Twitter. Less than an hour later, former Texans wide receiver DeAndre Hopkins retweeted Johnson and added the following.
Incredibly, this was Johnson's first tweet since April 2019 that wasn't an advertisement for Crown Royal.
At first, Johnson's comments are an unexpected about-face for a former player who once considered himself a Houston Texan for life. In context, however, they make more sense.
In December, Johnson was part of a five-man committee appointed by Texans owner Cal McNair to find the team's next permanent head coach and general manager. The committee also included Super Bowl champion head coaches Jimmy Johnson and Tony Dungy. Although McNair appointed the committee, their recommendations were not binding.
"We will consider any input we receive, but at the end of the day, my mom and I will decide who will lead our football team into the future," said McNair, as quoted by TheScore. If Johnson's tweet is any indication, it doesn't seem like McNair took any of their advice.
Stats courtesy of Pro-Football-Reference.