A Tribute to 'Movember': The 7 Best Mustaches in Sports History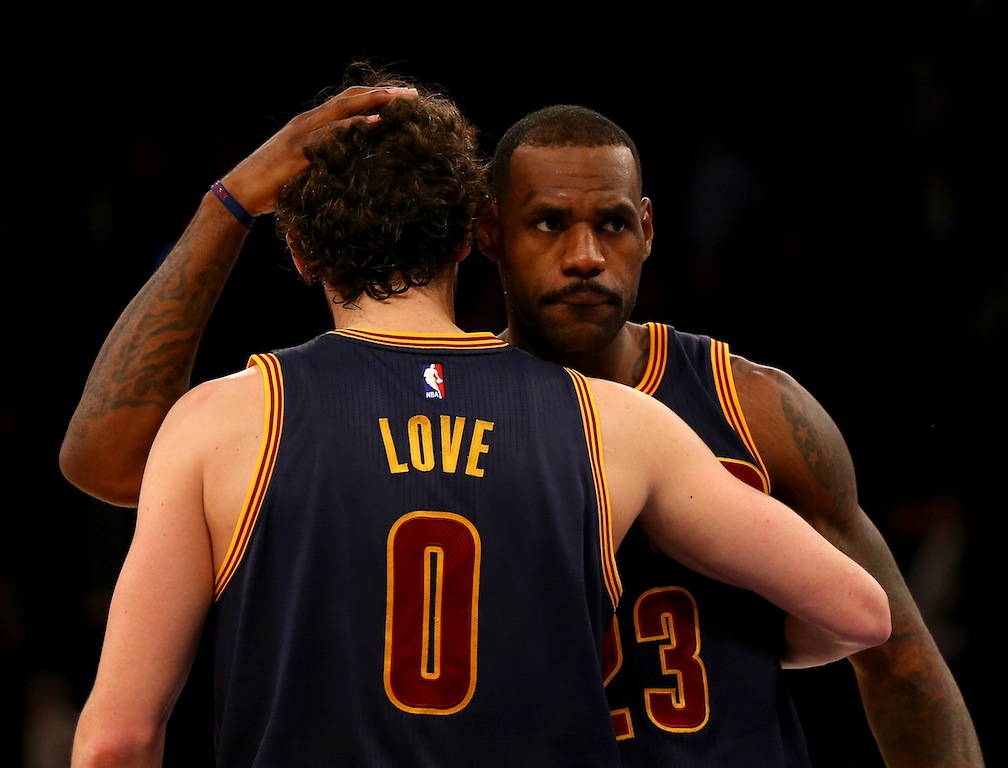 As the month of November comes to an end, we'd be remiss not to take the time to discuss the time-honored tradition that has become known as 'Movember.' For those unfamiliar with the facial hair phenomenon, it's when men are called to grow mustaches during the month of November, in order to raise awareness for some of the biggest male health issues. It's become such a call for unity, it's even managed to find its way into the world of pro sports.
Behind the leadership of LeBron James, the entire Cleveland Cavaliers have banded together and grown their 'staches to show their support for the cause. As far as major platforms are concerned, it doesn't much bigger than having the King and the National Basketball Association in your corner.
With that in mind, with the month of December on the horizon, we decided to pay our respect to Movember in the best way we know how: a sweet listicle.
Therefore, in honor of such a worthwhile cause, here's a look at the seven best mustaches in sports history.
Honorable Mention: Tom Selleck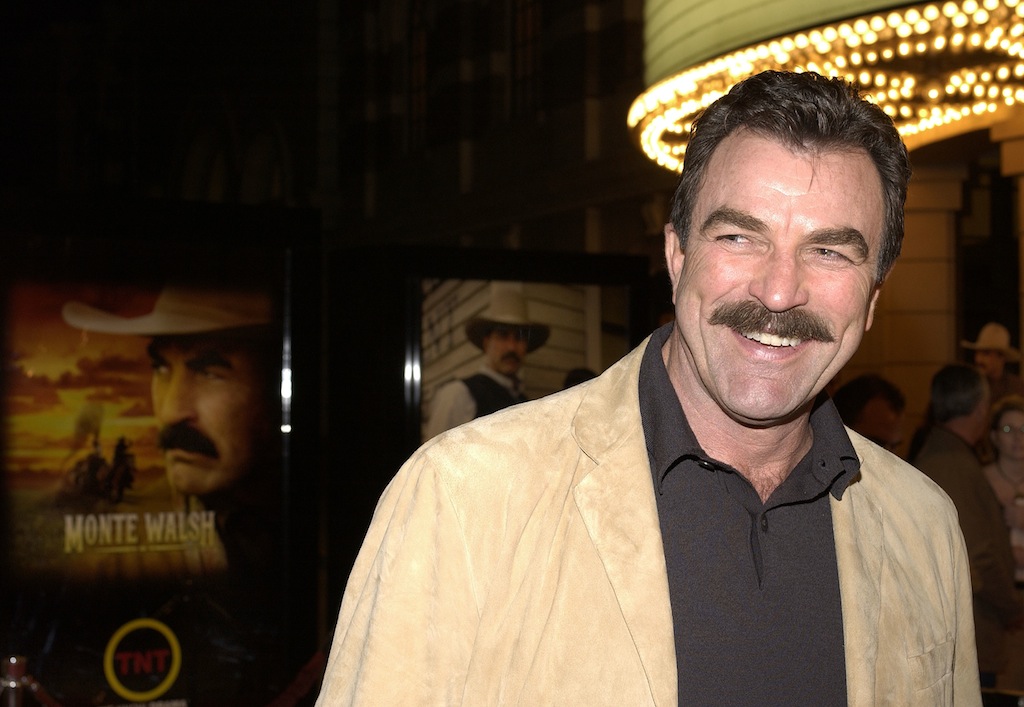 You cannot talk about epic mustaches and not include Tom Selleck in the discussion. It's one of the most sacred (unwritten) rules out there. And while this legendary actor was not exactly an athlete, he did play fading ballplayer 'Jack Elliot' in the delightful 1992 flick, Mr. Baseball. As a result, we feel his inclusion in this particular list as an 'Honorable Mention' is more than justified.
1. Steve Prefontaine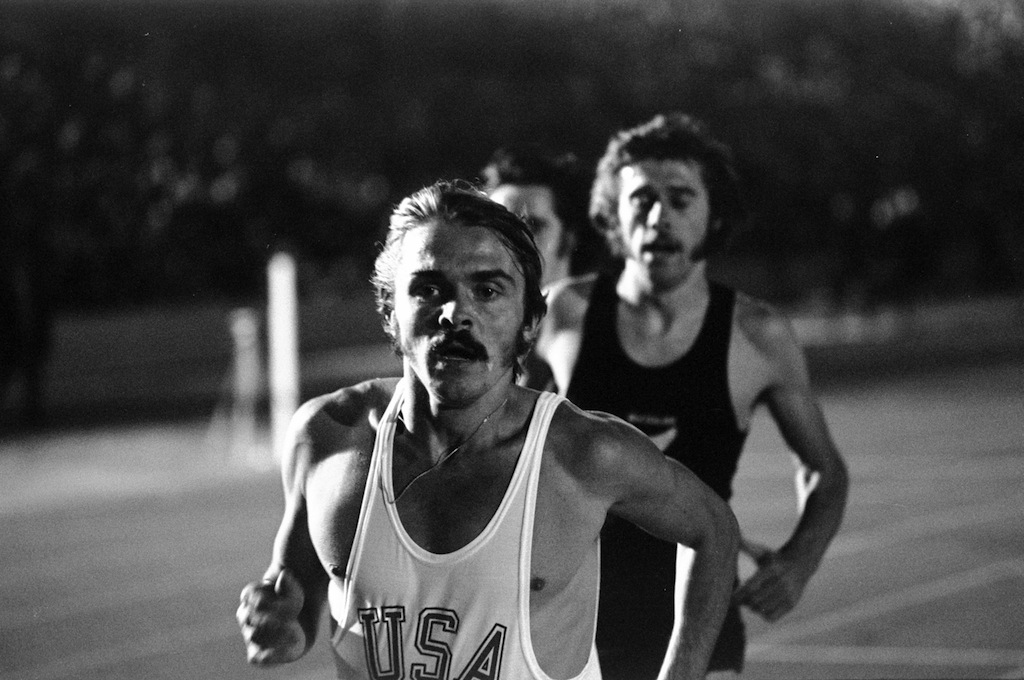 The only thing more incredible than the legend of Steve Prefontaine's and his general standing in the history of American track and field — "he once held U.S. record in every long-distance event from the 2,000 meters to the 10,000 meters" — was his well-groomed mustache. While Pre was famous for taking his body to the limits every time he stepped out on the track, we'd like to believe that same drive was extended to his glorious facial hair. "Go Pre!"
2. Wade Boggs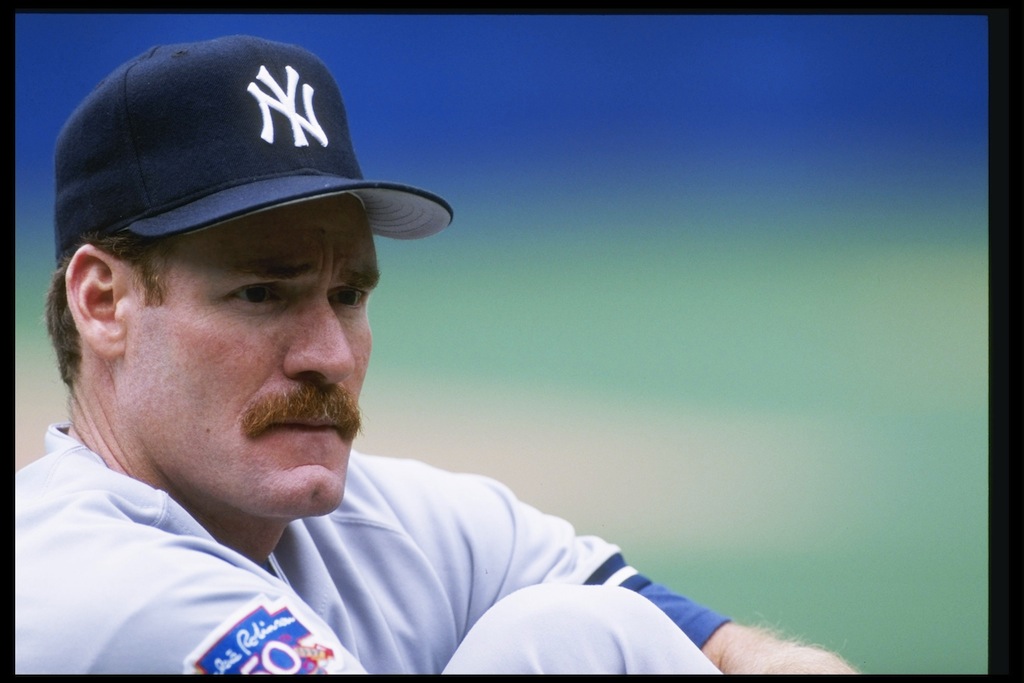 Throughout his 18-year career in the Major Leagues, Hall of Famer Wade Boggs was known for his unbelievable prowess at the plate and for his crazy superstitions. His 3,010 career hits, love for everything "chicken," and ability to polish off case after case of brew are the stuff of legends. And yet, on this occasion, we'd like to pay our respect to his sensational 'stache. As you can see in the above shot , that thing is thick, plush, well-maintained, and gloriously red in color. Once again, Wade Boggs comes through in the clutch.
3. Adam Morrison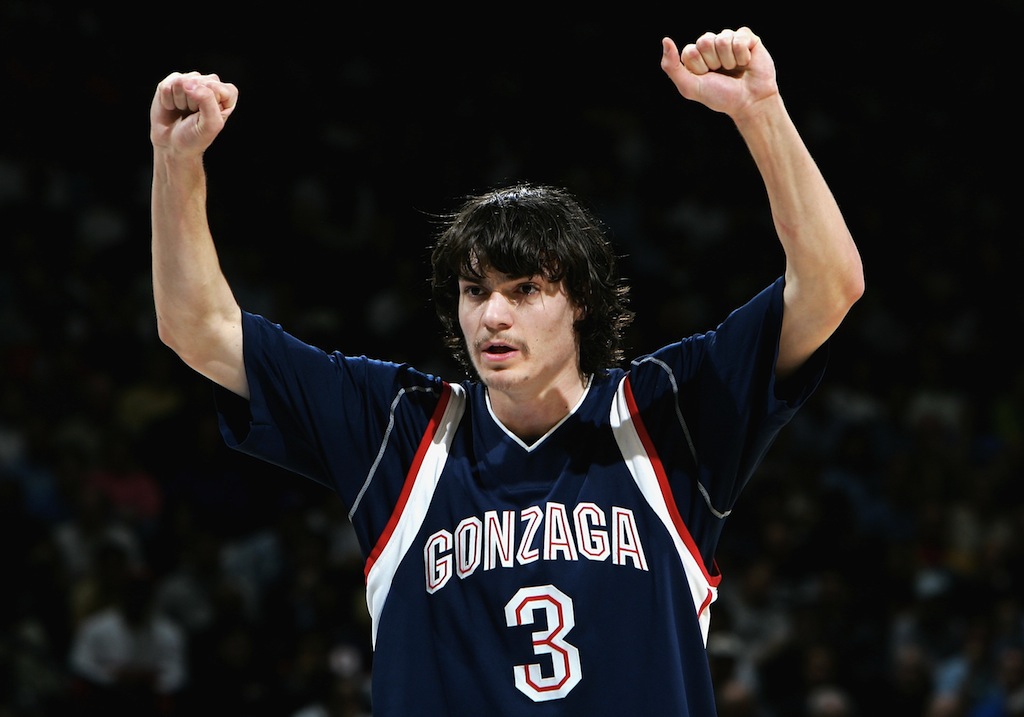 Compared to his playing days at Gonzaga, Adam Morrison's time in the NBA was an absolute disaster. However, where this former All-American failed on the hardwood, he more than made up for it in the facial hair department. With his thin, grimy, and more or less gross 'stache, Morrison made sure that while his game never lived up to the hype, his overall appearance always would. We'll save the discussion on his floppy hair for another day.
4. Hulk Hogan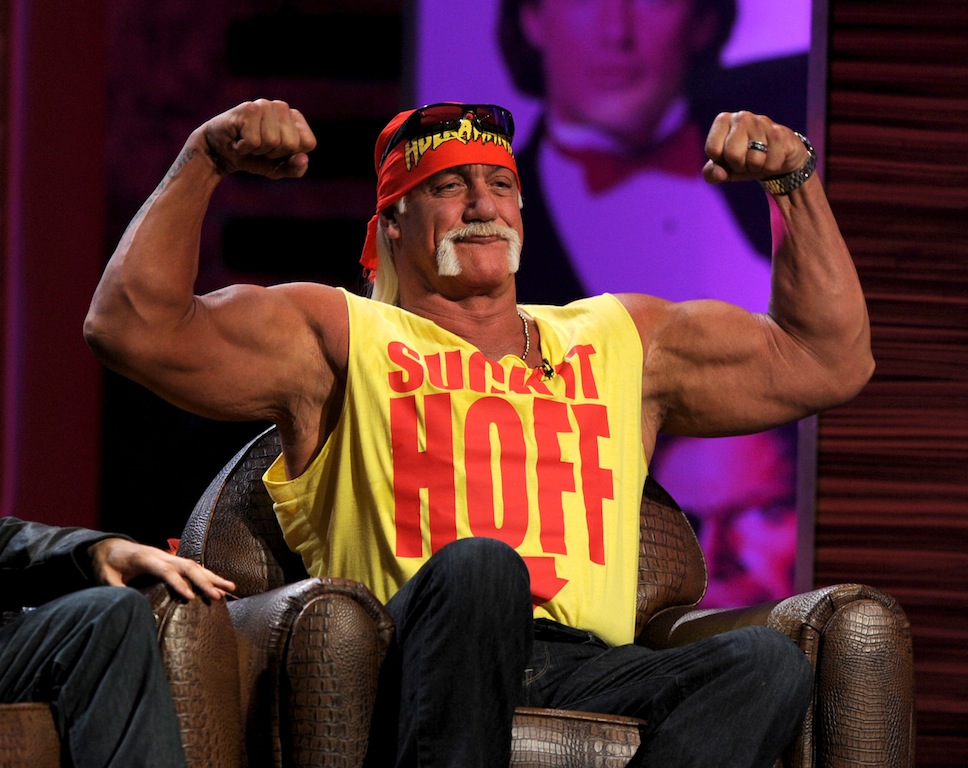 Whether you're among those who believe wrestling is real or not, one thing that can't be denied is the gloriousness of Hulk Hogan's mustache. It's thick, it's even, and it's got that incredibly platinum tone (OK, maybe that's not entirely natural). If you ask us, as far as impressive 'staches are concerned, Hulk Hogan has every reason to be plenty satisfied.
5. Lanny McDonald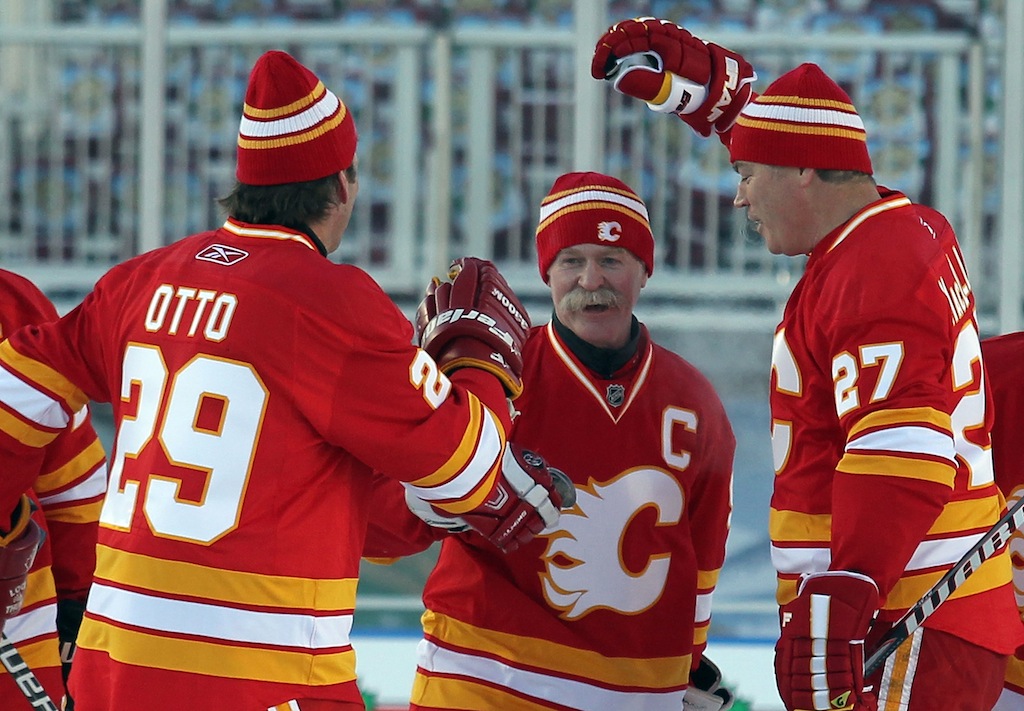 Take a wild guess who we're zeroing in on.
The man in the middle, the great Lanny McDonald, scored 500 career goals, was a Stanley Cup winner, and was inducted into the Hockey Hall of Fame as a player in 1992. But more importantly, he was also the owner of one of the most fluffy mustaches in sports history. Seriously, words cannot do that thing justice. Therefore, in order to show just how much we — and fans in general — respect McDonald's mustache, we'll leave you with this.
6. Goose Gossage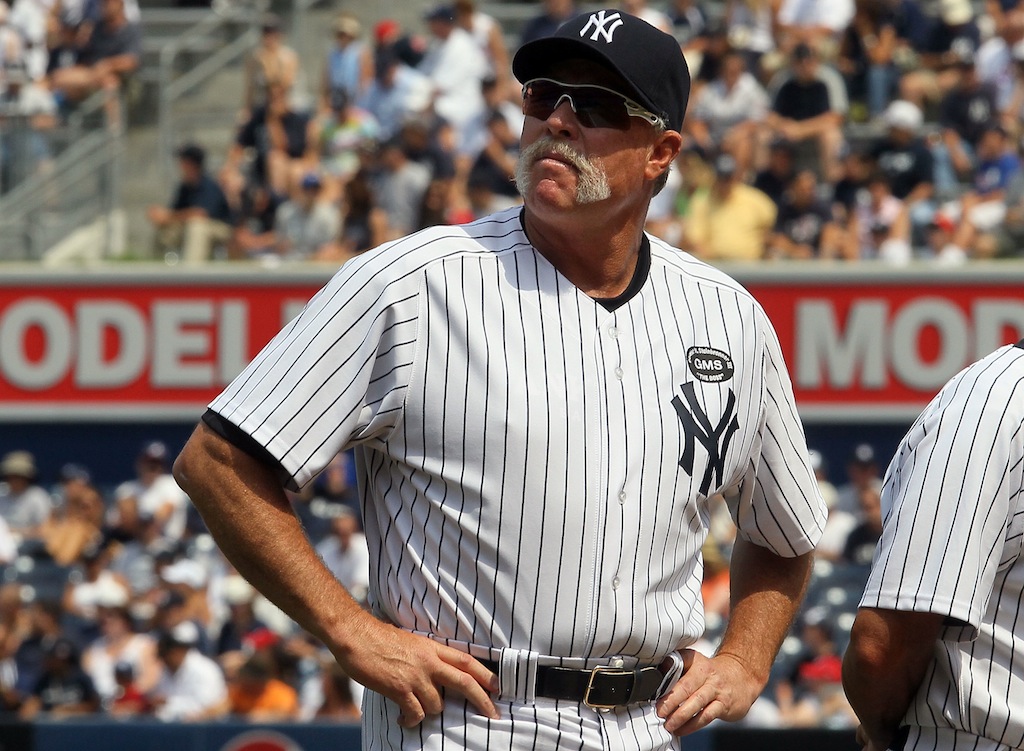 Thick, fluffy, and well-shaped, Goose Gossage's mustache was made to be talked about. We have to believe that had the outstanding relief pitcher not been elected to the Hall of Fame for his work on the mound, he would've had to make it based on the lasting impression of his facial hair. We dare anyone to disagree.
7. Rollie Fingers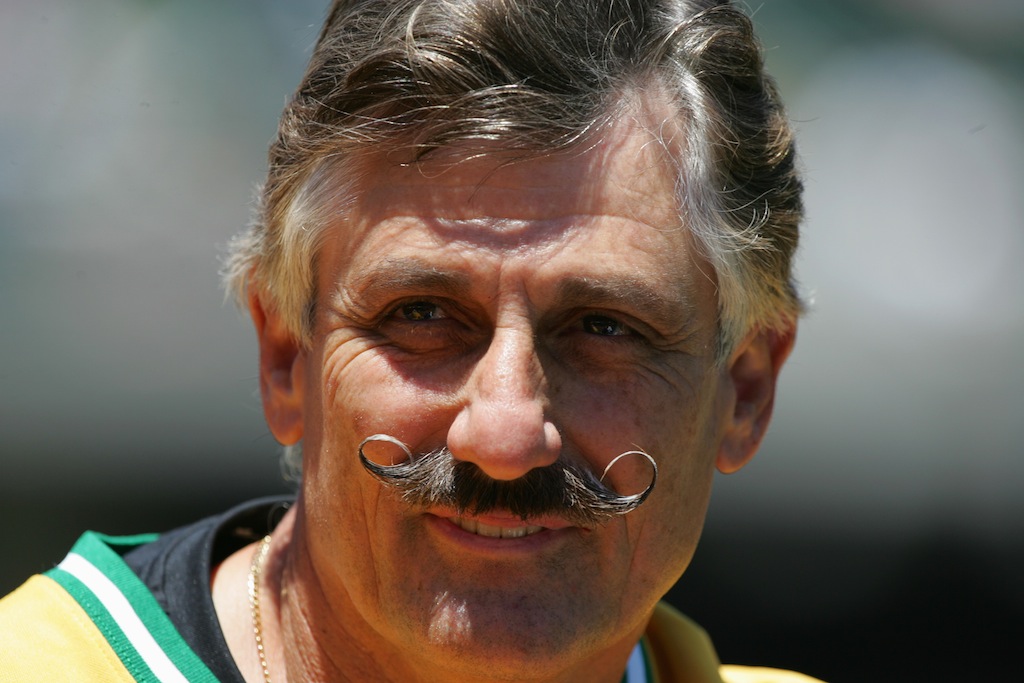 The handlebar mustache belonging to Hall of Fame pitcher Rollie Fingers was such a masterpiece that it deserved its own historical analysis. The ease, the flow, the curl. Like the Mona Lisa herself, this gorgeous 'stache is the ultimate work of art.
All statistics are courtesy of Sports-Reference.com.