A Young Giannis Antetokounmpo Absolutely Ethered Nicolas Batum During Early Bucks Years: 'If I Become Nic Batum, I'm Going Back to Greece'
Milwaukee Bucks superstar Giannis Antetokounmpo had the motivation to succeed long before leading the franchise to its first NBA title in 50 years.
Antetokounmpo's journey is one of perseverance and growth. He didn't even start playing basketball until he was a teenager in 2008 and was fortunate NBA scouts essentially stumbled across the little tape he had.
The Greek prospect wasn't exactly a household name when the Bucks selected him with the 15th overall pick in the 2013 NBA Draft. Yet, it wouldn't be long before Antetokounmpo distinguished himself as one of the best players in the league. He never had any interest in being anything less than great.
The Milwaukee Bucks worked tirelessly to unlock Giannis Antetokounmpo's full potential
Basketball fans might not have understood much about Antetokounmpo when he was coming into the league, but the Bucks learned pretty quickly they had a special (albeit raw) talent.
The Ringer published an excerpt from Mirin Fader's upcoming book entitled Giannis: The Improbable Rise of an NBA MVP. The excerpt details former Bucks head coach Jason Kidd's desire to make Giannis into an "assassin."
Fader writes Kidd and former Bucks assistant Sean Sweeney would work out with Antetokounmpo multiple times per day during the summer of 2014. Milwaukee's coaching staff challenged Antetokounmpo, and the Greek Freak was soaking up all the information he was being given. Kidd also demanded his star pupil acknowledge his mistakes during film study and learn from them accordingly.
Kidd played Antetokounmpo at point guard during the summer league. He suggested Giannis could be like Magic Johnson. That experiment ultimately fizzled out, and Antetokounmpo made a move to small forward. Still, the Bucks would consistently see flashes that made them salivate at their young star's apparent potential.
Giannis Antetkounmpo saw that potential within himself, as well, giving the Bucks star more motivation to put in the work.
Antetokounmpo's dig at Nicolas Batum speaks to his killer mindset
Antetokounmpo made gains during that 2014-15 campaign, his sophomore season in the NBA. His scoring average nearly doubled (6.8 to 12.7), and he also averaged more rebounds (6.7) and assists (2.6).
The budding talent would be an All-Star in his fourth year in the NBA, but his true killer instinct was born in his third season.
Bucks assistant Josh Oppenheimer told Fader of an interaction he had with Antetokounmpo before a game against the Charlotte Hornets. Oppenheimer told Giannis to consider patterning his game after then-Hornets swingman Nicolas Batum. Antetokounmpo's response was telling.
"Coach," Giannis said, via Fader, "if I become Nic Batum, I'm going back to Greece."
Oppenheimer's suggestion might not have seemed crazy at the time. Batum, in his prime, was a lengthy forward who could space the floor with his shooting ability while making plays on the ball and disrupting the passing lanes on the defensive end.
However, Antetokounmpo had no interest in merely being a "good" player. He wanted to be great.
Antetokounmpo has reached the pinnacle of the NBA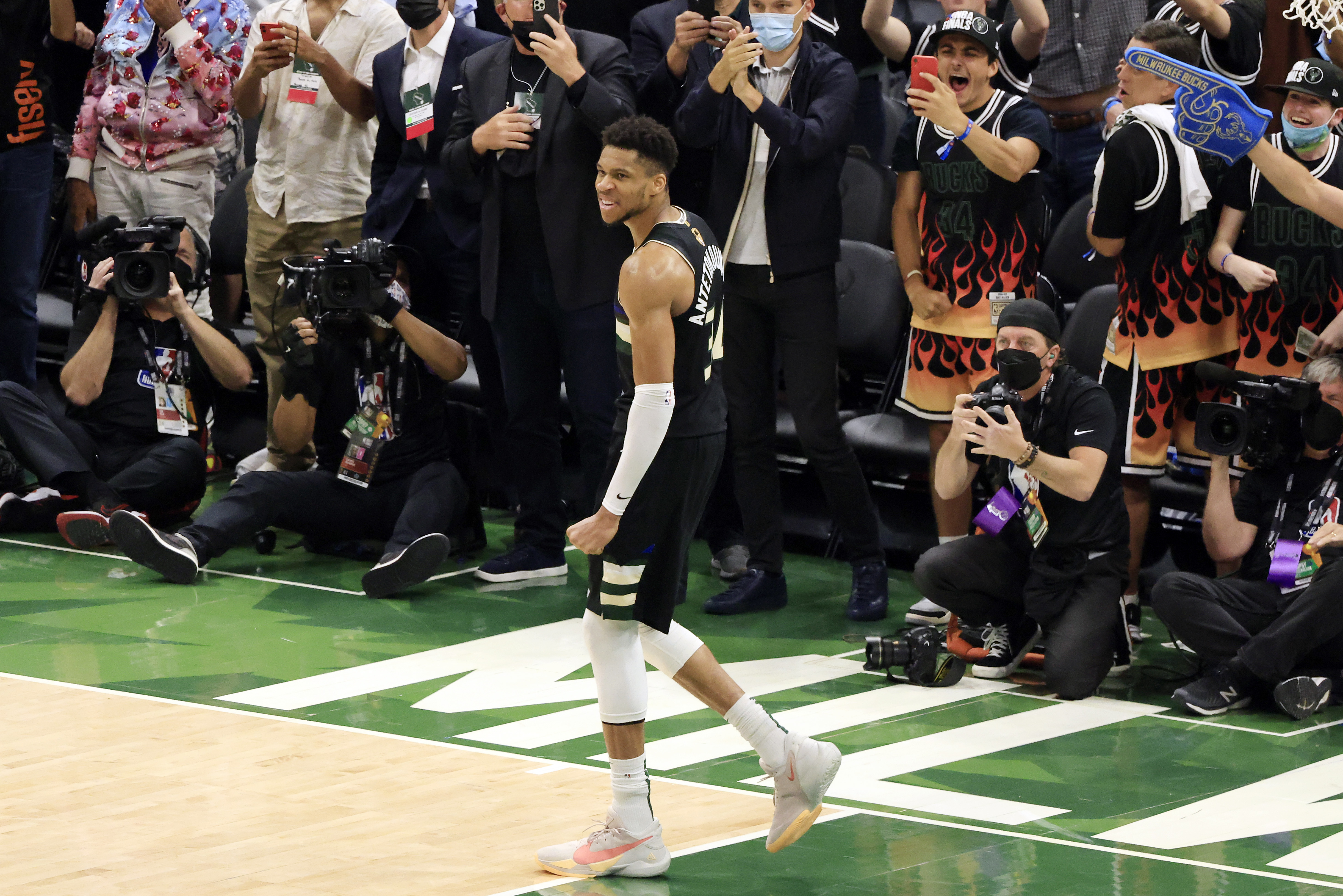 The Bucks star hasn't just been great; he is arguably the best player in the NBA.
Antetokounmpo has two league MVPs and a Defensive Player of the Year Award on his mantle. He has made first team All-NBA and first team All-Defense in each of the last three seasons. Those achievements speak to his greatness, though they likely mean nothing to Antetokounmpo compared to his NBA title.
The 26-year-old led the Bucks to their first championship in 50 years. He did so in historical fashion, scoring 50 points as part of a dazzling performance in the title-clinching Game 6. Antetokounmpo joined Michael Jordan as one of only two players to win multiple league MVPs, DPOY, and Finals MVP.
Milwaukee's favorite son never settled. He has earned everything he has gotten and can now call himself an NBA champion.
Stats courtesy of Basketball Reference.