Aaron Donald Can't Hide the Excitement After Rams Massive Acquisition of Von Miller Increases Their Super Bowl Hopes
What a week it has been in the NFL. After everything that has happened, it seems like the Los Angeles Rams traded for Von Miller from the Denver Broncos forever ago.
With Miller set to make his Rams debut, the reactions came pouring in after another eye-popping decision by LA to load up in hopes of a Super Bowl run.
Suddenly, the Rams have Jalen Ramsey, Leonard Floyd, Aaron Donald, and Miller all on the same defense — and boy, is that scary. Speaking of Donald, he was highly candid after the acquisition, and why wouldn't he be?
Rams go all-in with another trade that decimates their draft picks
Matthew Stafford, Sony Michel, Jalen Ramsey, you name it — the list just keeps on going.
The Rams have been aggressive as ever, and the latest move to acquire Miller is just another chapter in the book. They gave up a second and third-round pick to acquire a rental of the Broncos long-time Pro Bowl pass rusher.
By now, it's no secret: the Rams aren't backing down. Jared Goff left town for Stafford, and after Cam Akers suffered a season-ending injury, LA added some insurance by acquiring Michel from the New England Patriots.
Miller is just another addition, and frankly, the Rams defense doesn't need much help. Donald and Ramsey alone are Pro Bowl-type talents, and while Miller isn't what he used to be, he can still produce and terrorize the opposing quarterbacks.
Aaron Donald is loving every second of this move
All week long, Donald and other Rams players shared their thoughts on the latest trade piece to come to Southern California.
Kurt Warner sat down and chatted with Donald, and the Rams All-Pro defensive star couldn't help but express his excitement after the Miller deal.
"I was excited, felt like my first day of school … How can you not smile about that?"

Aaron Donald on adding Von Miller to the Rams defense
That certainly merits a bit of a smile.
As if things weren't going well enough in LA with Stafford and Cooper Kupp tearing up the league, now they add Miller to a vaunted defense.
Donald should reap the benefits of this move. He has 11 or more sacks every year since 2017, including a career-high 20.5 back in 2018. Donald has five sacks through eight games in 2021, and now opposing offenses have another defensive weapon to gameplan around.
Donald, Ramsey, Floyd, Miller. It just isn't fair anymore.
The Rams' Super Bowl chances just got a boost after the trade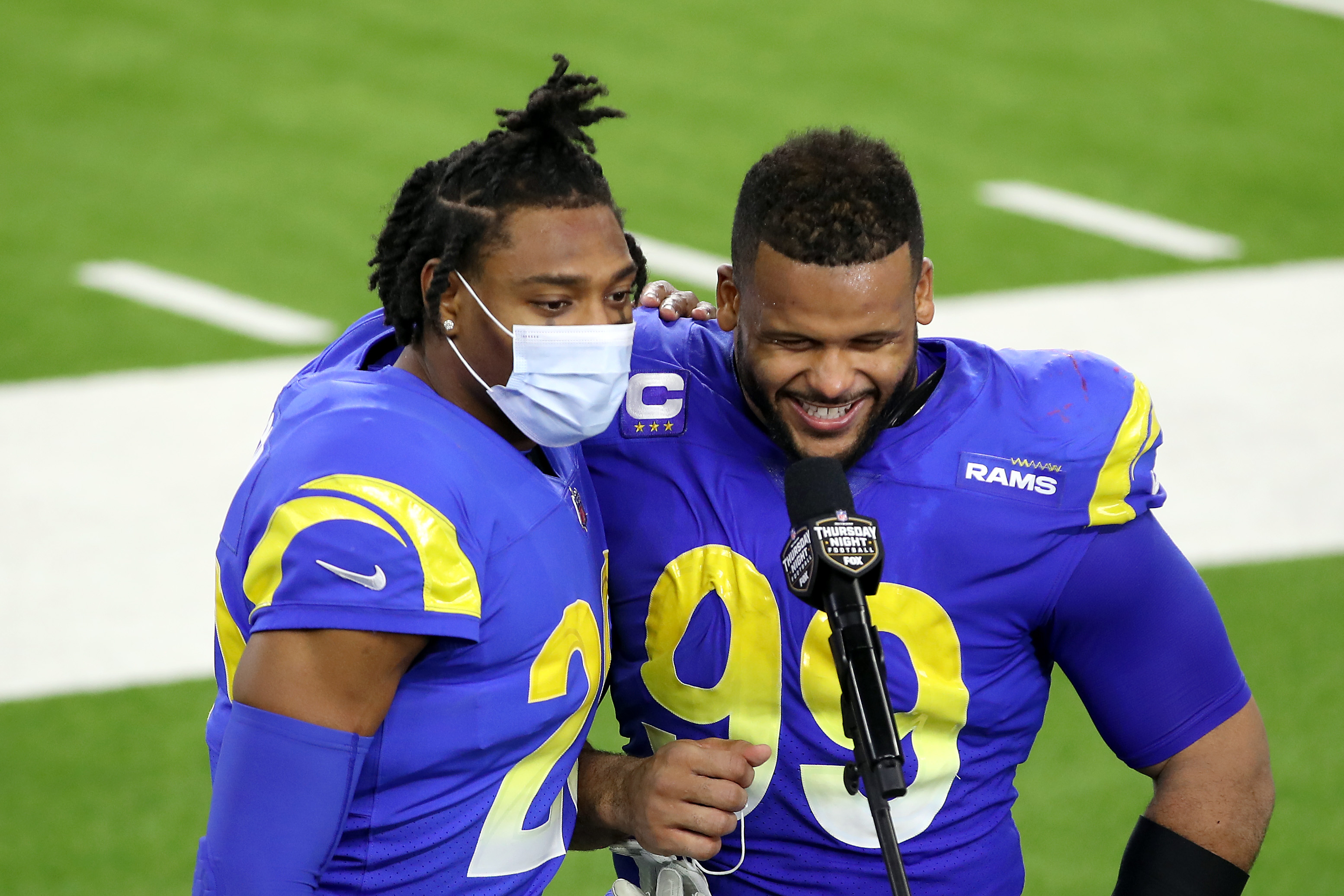 As if the Rams weren't already one of the favorites to go to the Super Bowl, their chances got even better. The Tampa Bay Buccaneers are still a giant hurdle to overcome, although the Rams defeated Tom Brady and the defending Super Bowl champions earlier this year.
Oh, and the game is at SoFi Stadium, which would be a perfect situation for Sean McVay's team.
The games still need to be played, but Donald's excitement is warranted, and the Rams just got that much more dangerous on the defensive side of the ball.
Stats Courtesy of Pro Football Reference
RELATED: An Inspired Von Miller Quickly Got Over Leaving the Broncos and Upgrading to a Legitimate Super Bowl Contender: 'Went to Sleep 4-4, Woke up 7-1'