Aaron Donald's Favorite Tool Helps Him Prepare for His Opponents Like a Genius and is the Driving Force Behind His Dominance
The Los Angeles Rams face their stiffest test of the young 2021 NFL season when the defending Super Bowl champion Tampa Bay Buccaneers travel to SoFi Stadium. Aaron Donald and the Rams defense will have their hands full. Donald will likely be utilizing a special tool to prepare for the most highly-anticipated matchup in Week 3.
Aaron Donald wreaks havoc on opposing teams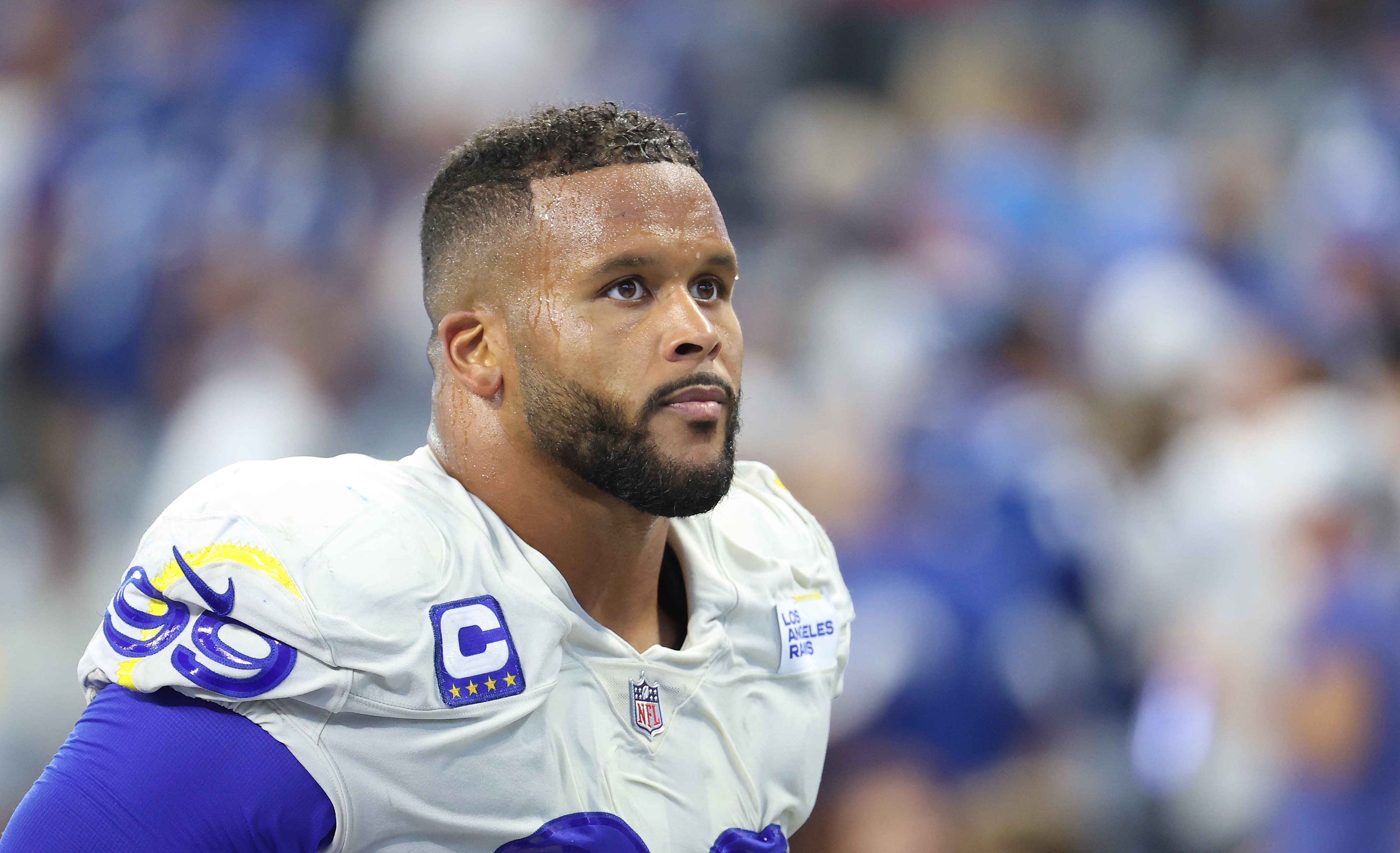 Aaron Donald is in his eighth NFL season and is entrenched as one of the most dominant players in the league regardless of position.
Donald was a standout at the University of Pittsburgh, earning consensus All-American honors as a senior. He also won ACC Defensive Player of the Year honors.
Since coming into the league in 2014, the Pittsburgh, Pennsylvania native has caused serious issues for opposing offenses. He registered 48 tackles and nine sacks as a rookie en route to winning AP Defensive Rookie of the Year.
Donald has 367 tackles, 86.5 sacks, and 19 forced fumbles in 112 games with the Rams. The former first-round pick has proven to be a model of consistency, further solidifying his greatness.
Donald is an athletic freak who imposes his will against opposing offensive linemen. His stats are incredible, especially considering he often commands double teams.
With his skill set, teams cannot stop him. They can only hope to contain him.
Aaron Donald uses a notebook to study his opponents
Aaron Donald joined NBC's Jac Collinsworth for an interview before a Sunday Night Football game during the 2020 season. He revealed a particular he uses to prepare for his opponents.
The Rams defensive tackle keeps a handy dandy notebook.
"Mostly the guys I've played against, I've got something down to the point where I know their strengths and weaknesses," said Donald. He studies the notes to dominate his matchup.
The 7-time Pro Bowler has been using the notebook since his days at Pitt, and it's worked for him up to this point. "Just trying to give myself the upper hand," he added.
Donald watches plenty of film and utilizes the notebook as a running record of everything he sees. He dissects offensive linemen's technique and tendencies that the casual viewer may overlook.
Donald said that watching film and actually understanding it slowed the game down and allowed him to perfect his craft. "I started to see my game go to another level," he said.
How does the Rams defense match up against the Bucs offense
Tom Brady leads an explosive Tampa Bay Buccaneers offense into LA in Week 3. Both teams are 2-0 on the season, and this game is a potential NFC Championship preview.
Aaron Donald spearheads the Rams defense which will have its work cut out against the Bucs. Tampa Bay leads the NFL in scoring through the first two weeks of the 2021 season.
Brady has an embarrassment of riches at his disposal. Even with the absence of Antonio Brown, he'll still have plenty to work with. Chris Godwin, Mike Evans, and the resurgent Rob Gronkowski each present matchup problems for opposing defenses.
The Rams defense has the pieces to match up with them, probably better than any other team in the league. Jalen Ramsey is arguably the best shutdown cornerback in the NFL. Opposite him, Darious Williams has quietly become one of the brightest young stars at the position after a breakout 2020 season.
Safeties Jordan Fuller and Taylor Rapp will be tested on the back end but can make plays. Fuller is the play-caller on defense.
If LA's defense has success, though, it will be because they created pressure. Aaron Donald is a fierce pass-rusher on the interior and has to get after Tom Brady.
Donald has yet to sack Brady in his career. This game may end the streak.
Stats courtesy of Pro Football Reference
RELATED: Matthew Stafford Is Thriving on the Rams but Looked at Houses in an Entirely Different City Prior to His Blockbuster Trade