Aaron Donald Puts a Massive Stipulation on Running It Back With the Los Angeles Rams: 'If We Bring Everybody Back…'
In the wake of their Super Bowl 56 win, there's been some uncertainty surrounding the future of several key contributors for the Los Angeles Rams. There have been retirement rumors surrounding both Sean McVay and superstar defensive tackle Aaron Donald. Odell Beckham Jr. also has an uncertain future as well. Not only did he tear his ACL in the Super Bowl win, but he'll be a free agent at the start of the new league year.
So yes, there's undoubtedly some uncertainty.
If you are to believe Donald and OBJ's statements while celebrating in the Super Bowl parade, though, there's no doubt that the Rams will "run it back".
Or is there?
Aaron Donald already has a Hall of Fame resume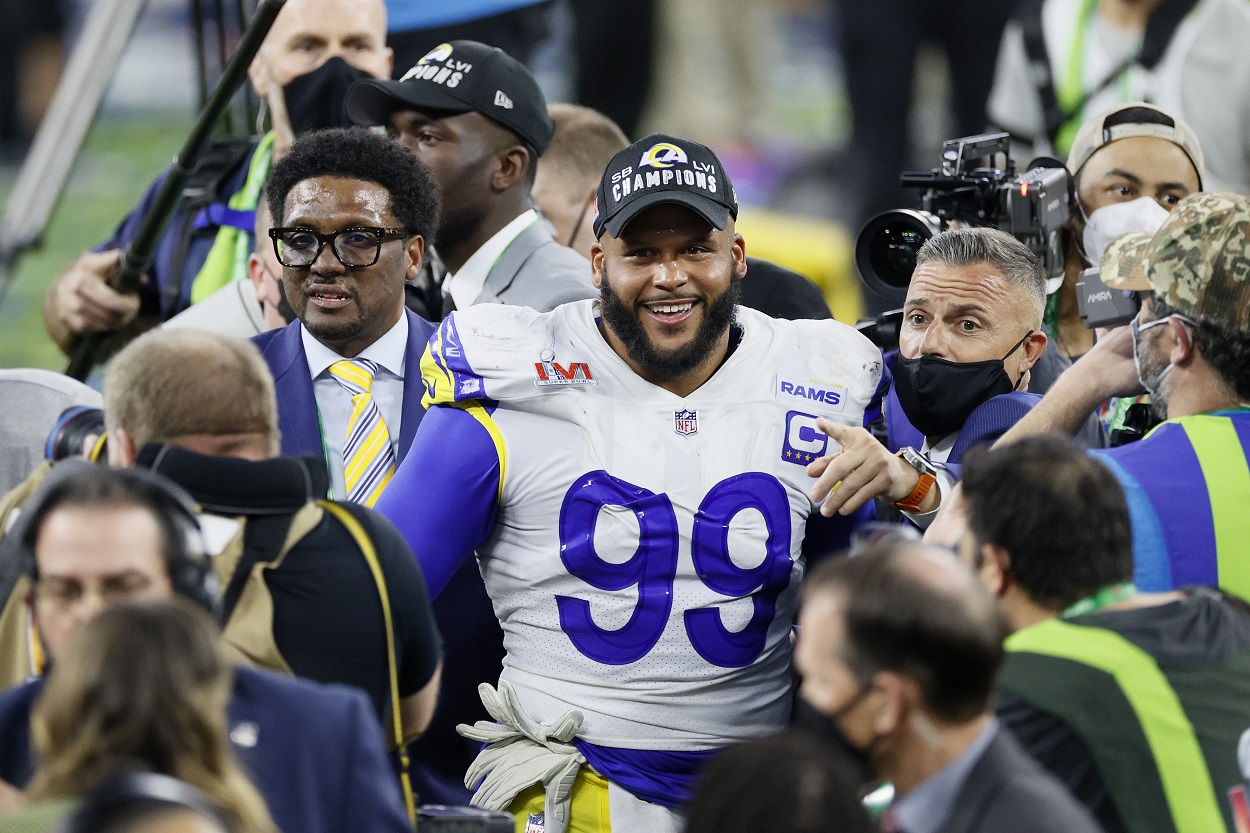 For Donald, the decision will come down to whether he wants to go out on top or not. There's no question that he has the talent to continue playing while doing so at an elite level.
He's been such a dominant force in the league that it seems like he's been terrorizing quarterbacks since the early 90s. In actuality, Donald just finished his eighth NFL season. He's only 30 years old and already has a Hall of Fame resume. He's an eight-time Pro Bowler, a seven-time first-team All-Pro, a three-time Defensive Player of the Year, and now the proud owner of a shiny new Super Bowl ring.
If he stepped away today, he'd have reason to start trying on Hall of Fame jackets. If he continues to play, though, there's a realistic chance he can add to an already incredible resume. There's also a solid chance the Rams can continue winning and even win another Super Bowl or two.
Donald and Odell Beckham Jr. want to 'run it back' with the Rams
The potential of winning more Super Bowls was apparently on Donald's mind as he and OBJ were celebrating the Super Bowl victory in the streets of LA.
"This is what it's all about. We're world champions. The last team standing," he told Prospect Media.
"We're going to bring this guy back," Donald said, pointing to OBJ. "We're going to bring Von [Miller] back. Why wouldn't we run it back?"
"We got to," Donald said as Beckham repeated the phrase in agreement.
"It's the best feeling in the world."
That feeling must have been contagious amongst the organization as the Rams took the streets of LA and celebrated the world championship. In fact, head coach Sean McVay led a "run it back" chant as Donald spoke to the crowd at the podium.
"We built a super team. [If] we can bring the super-team back, why not run it back? We can be world champs again," Donald said as McVay cheered like the biggest LA Rams superfan in the world.
Donald's stipulation for coming back for another season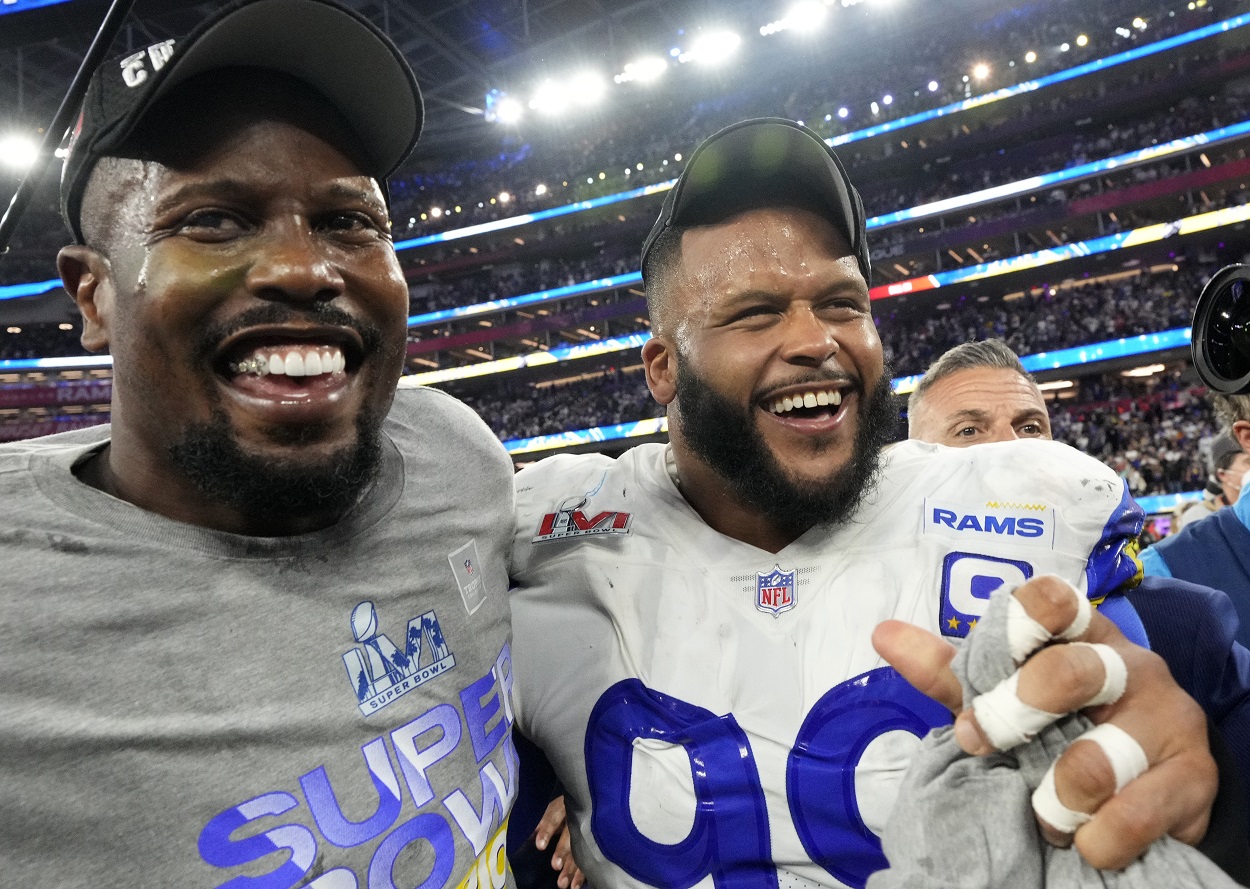 One would think that for as long as McVay and Donald are at the helm of the organization, LA is going to be one of the favorites to contend for the Super Bowl.
There will have to be some maneuvering, though, in order to bring a few key pieces of the puzzle back. There may even be some hard decisions.
LA is roughly $19 million over the salary cap heading into the league year and both Von Miller and OBJ are going to free agents.
For his part, it does sound like Miller is open to negotiations. In fact, he straight up told TMZ that the Rams are going to 'run that s*** back."
Beckham's case will be a bit more interesting to follow.
He was a big part of the offense after LA picked him up midseason and he looked to have turned his career around. From malcontent in Cleveland to Super Bowl champion in LA, OBJ's story is worthy of Hollywood.
The problem for him is that the ACL injury he suffered in the Super Bowl was his second on that knee. He tore the same ACL earlier in 2020. Recovery from that specific injury can be rather lengthy. For instance, Green Bay Packers offensive tackle David Bakhtiari missed all but the last game of the 2021 season recovering from an ACL tear he suffered the season before.
Even if OBJ takes a "hometown discount", the Rams could be paying for a player who may not even play in 2022. That's a tough decision to make, even if that player just helped you win a Super Bowl.
Confusing the situation is that after the victory parade, Donald seemed to add a caveat to his "run it back" enthusiasm.
"If we bring everybody back, I'm back," he told TMZ, specifically mentioning OBJ and Miller.
It will be interesting to see how the offseason transpires for the Rams once the high of winning the Super Bowl wears off.
Stats courtesy of ESPN and Pro Football Reference. Contract information via Spotrac
RELATED: Aaron Donald's Teammate Von Miller Doubts the All-Pro Will Retire After Super Bowl Win: 'This is an Addictive Feeling, Man'