Aaron Donald: Ranking the 12 Players Selected Before the Legendary Los Angeles Rams DT in the 2014 NFL Draft
After 12 picks in the 2014 NFL Draft, the Los Angeles Rams filled out a card and added University of Pittsburgh defensive lineman Aaron Donald to their ranks. Few, if any, would have imagined on draft night that the 6-foot-1, 285-pound pass rusher would immediately put himself on the path to joining the greatest players in league history.
As of December 2021, Donald owns three NFL Defensive Player of the Year titles and six first-team All-Pro selections. He's apace to top 100 sacks and has already done more than enough to secure his spot in the Pro Football Hall of Fame.
However, as we said, Donald went 13th overall in 2014. Twelve teams, including the Rams, went in another direction to open that year's draft. Who are the best of the 12 players who went before Donald nearly eight years ago?
For this list, we are only ranking players based on their on-field achievements and numbers. We did not consider any off-field issues, including potential arrests. Based on consideration of the aforementioned prerequisites, the best players stack up as follows:
12. Justin Gilbert, CB, Cleveland Browns (eighth overall)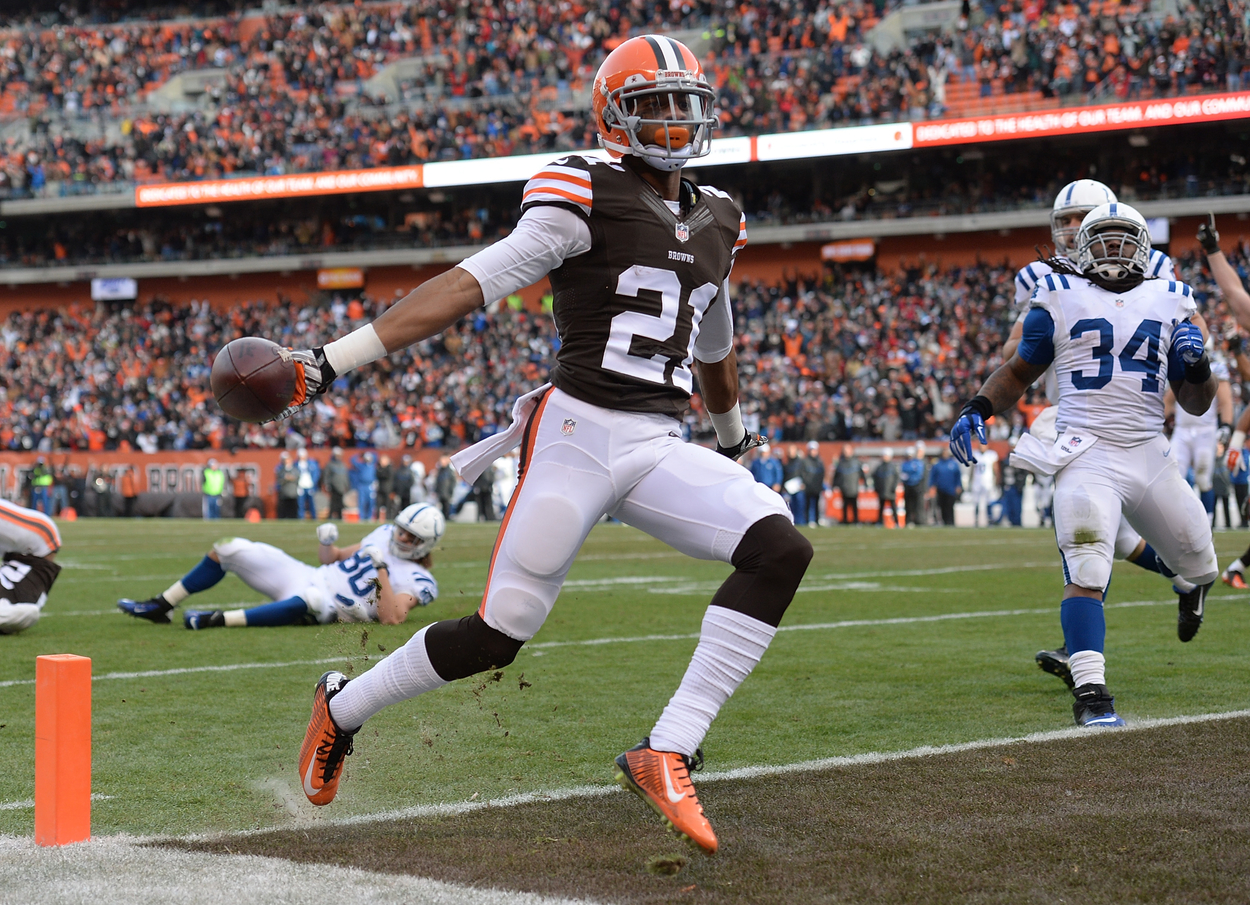 Was Gilbert doomed from the time the woeful Browns selected him eighth overall? Probably. The Oklahoma State product lasted only two seasons in Cleveland before finishing his career with the Pittsburgh Steelers in 2016. 
Gilbert did return an interception 23 yards for a touchdown in his rookie season. You know, if you're looking for any sort of positive here. 
11. Greg Robinson, OT, St. Louis Rams (second overall)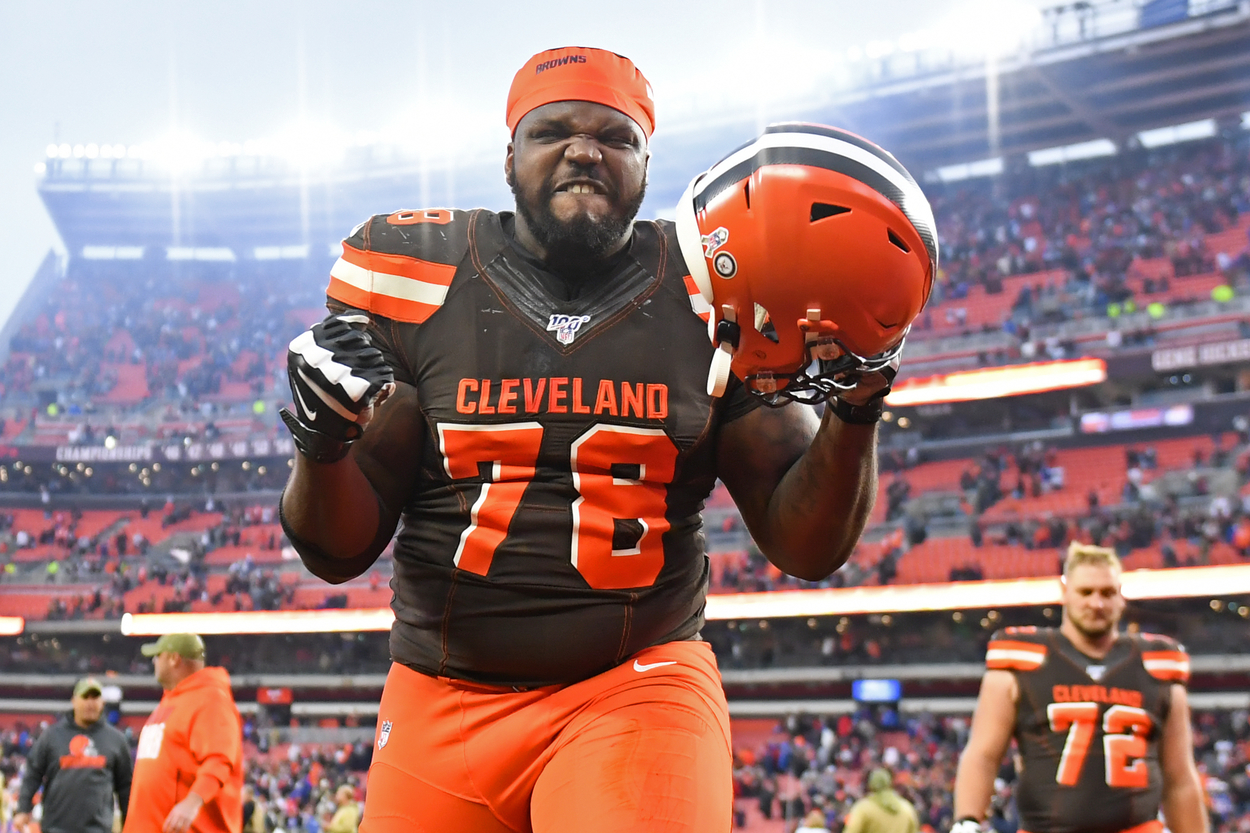 Outside of Gilbert, every player on this list at least managed to stick in the NFL through the end of the decade. That group obviously includes Robinson, who started 70 games for three teams in six seasons.
Although he never lived up to his draft status, the 2013 SEC champion hung around long enough to earn nearly $30 million in the NFL. We can all afford to look at small victories, even if we're 6-foot-5 and 330 pounds.
10. Eric Ebron, TE, Detroit Lions (10th overall)
Now is when the fun begins — and by fun, we mean actually discussing players who are still active in the NFL. Ebron never lived up to his draft billing in Detroit (as is often the case) and hauled in 11 touchdowns across four seasons.
However, the North Carolina product blossomed into a Pro Bowl tight end upon joining the Indianapolis Colts in 2018 and set career-highs in catches (66), receiving yards (750), and touchdowns (13). He's still only 28 years old and currently in his second season with the Steelers.
9. Sammy Watkins, WR, Buffalo Bills (fourth overall)
Is Watkins a bust? Considering that he went fourth overall and has only topped 50 catches in a season once since 2016, the answer might seem extremely obvious. However, he's tallied over 5,000 yards in eight seasons and won a Super Bowl ring with the Kansas City Chiefs.
If Watkins' longevity keeps him out of the bust conversation, we're willing to compromise and simply say he never lived up to how high he went in the 2014 draft. Still, we don't fault the Bills for drafting him, considering how explosive the two-time All-American was at Clemson.
8. Blake Bortles, QB, Jacksonville Jaguars (third overall)
Blake Bortles was a turnover-prone quarterback who still knew how to carve up opposing defenses in his best years with the Jacksonville Jaguars. The UCF legend completed 59.3% of his passes for 17,646 yards, 103 touchdowns, and 75 interceptions in five seasons with the Jaguars.
Bortles never fixed his turnover habits, and the Jaguars ended the relationship after the 2018 season. He's bounced around the league since then as a practice squad and backup quarterback. Trust us when we say there are far worse jobs to have in 2021.
7. Jadeveon Clowney, DE/OLB, Houston Texans (first overall)
There are fascinating and deep conversations to be had about Jadeveon Clowney and his place as a No. 1 overall pick. He made the Pro Bowl every year from 2016-18 and tallied 24.5 sacks and 53 tackles for loss in that span. However, he's battled injuries and inconsistency throughout the rest of this year and is currently on his fourth team in four years.
Clowney has done enough to where he isn't a draft bust, per se. If teams had a chance to do the 2014 NFL Draft again, he's someone who wouldn't go first overall … or second overall … or likely anywhere in the top 20.
6. Jake Matthews, OT, Atlanta Falcons (sixth overall)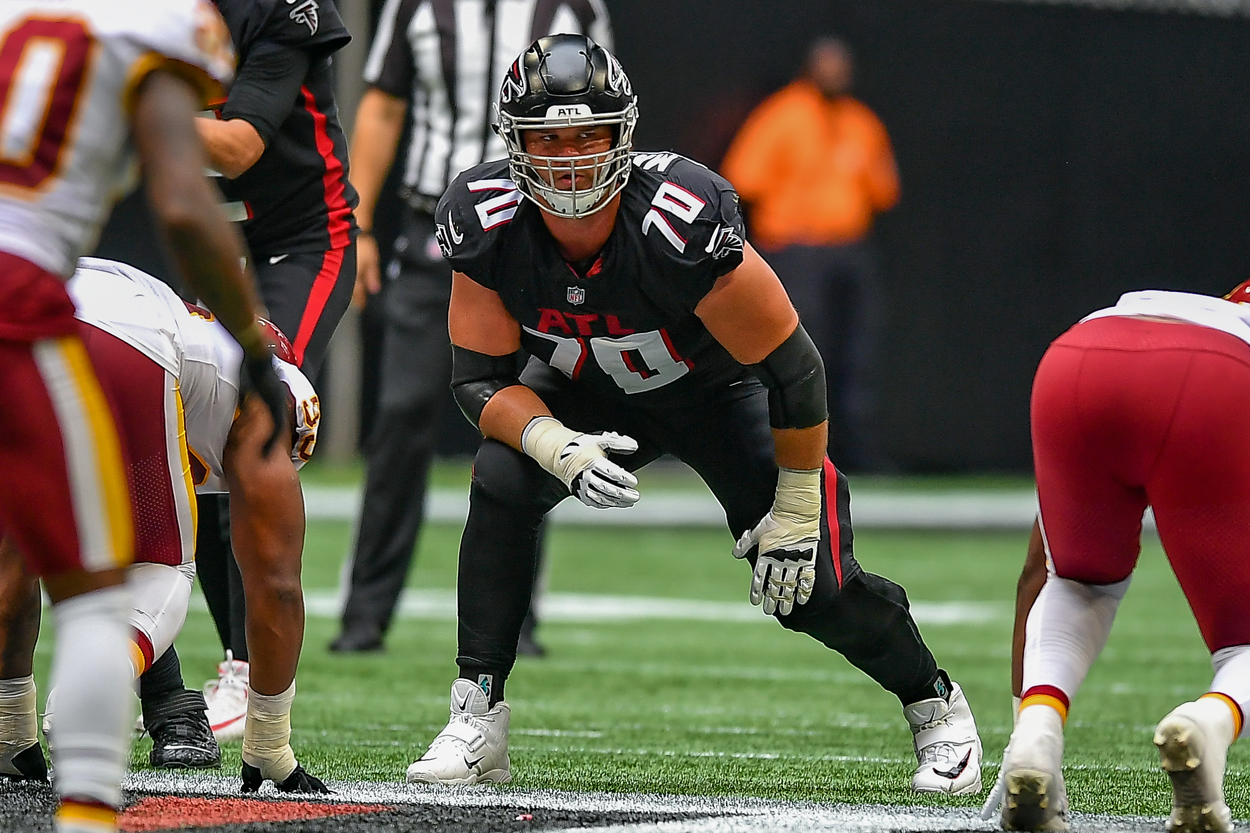 The Atlanta Falcons drafted Jake Matthews, the son of Houston Oilers/Tennessee Titans legend Bruce Matthews, hoping he'd be a 10-year starter at left tackle. Luckily for the Falcons, that is exactly how things have worked out. Matthews is in his eighth year as a starter and only missed one possible game from 2014-21.
A Pro Bowl selection in 2018, Matthews is still going strong and is under contract through the end of the 2023 season. Don't be surprised if the Texas A&M product, who turns 30 in February, plays his entire career in Atlanta.
5. Taylor Lewan, OT, Tennessee Titans (11th overall)
Outside of allowing Chandler Jones to record five sacks against him in Week 1 of the 2021 season, Lewan has enjoyed a fine career in Tennessee. As of December 2021, the Michigan graduate has earned three Pro Bowl selections and started five playoff games.
Like Matthews, Lewan is under contract through the end of the 2023 season. It will be an incredible testament to both players' careers if they spend their first 10 seasons with the same organization.
4. Odell Beckham Jr., WR, New York Giants (12th overall)
Cue the outrage about Beckham being too low. If we made this list in 2018, the three-time Pro Bowler would easily be in the top three. However, his recent injury issues dropped him to fourth — and had we included his behavioral problems in our assessment, he may have finished lower.
With that said, the LSU product topped 500 catches and 7,000 receiving yards during the 2021 campaign, so we won't be too harsh on him. All in all, OBJ has been fine, and he still has plenty of time to finally win a playoff game.
3. Anthony Barr, LB, Minnesota Vikings (ninth overall)
Barr is an intriguing selection for third overall, especially considering his own injury problems; the former UCLA star has only played 16 games in a season twice. However, he's a four-time Pro Bowler who has been an invaluable member of the Minnesota Vikings for years.
We won't lie and say Barr has been significantly better than Beckham. In fact, the latter has an excellent chance to climb above the veteran linebacker on this list in the coming years. For now, though, Barr is third overall.
2. Khalil Mack, LB, Oakland Raiders (fifth overall)
With his 2021 season over, we can say with certainty that Mack recorded 76.5 sacks, 103 tackles for loss, and 33 forced fumbles in his first eight seasons. He's been one of the premier NFL's pass-rushers for several seasons and, barring any injury setbacks in 2022, could very well hit 100 career sacks.
For as great as Mack has been, he has one thing working against him: he's not Mike Evans.
1. Mike Evans, WR, Tampa Bay Buccaneers (seventh overall)
Donald has all but clinched his bronze bust and spot in the Hall of Fame. As of December 2021, Mike Evans is among the only other players from the 2014 draft who we believe has already done enough to join him in Canton, Ohio.
Evans tallied over 1,000 receiving yards in each of his first seven seasons, and, as of publication, he remained on track to repeat the feat in 2021. The three-time Pro Bowler is already one of only 66 players in NFL history with over 9,000 receiving yards and is still only 28. If Evans can stay healthy and hit 12,000 yards, they'll be sculpting a bronze bust in his likeness.