Aaron Donald's Legal Team Has Received a Massive Update After an Assault Accusation Involving a Concussed Man in Pittsburgh
Los Angeles Rams star defensive tackle Aaron Donald can now devote all of his energy to football again.
Donald, the three-time NFL Defensive Player of the Year, was recently accused of assaulting a man in Pittsburgh. Only days after the allegations, Donald and his legal team have received excellent news about what the future holds.
Aaron Donald's accuser says the Rams star didn't attack him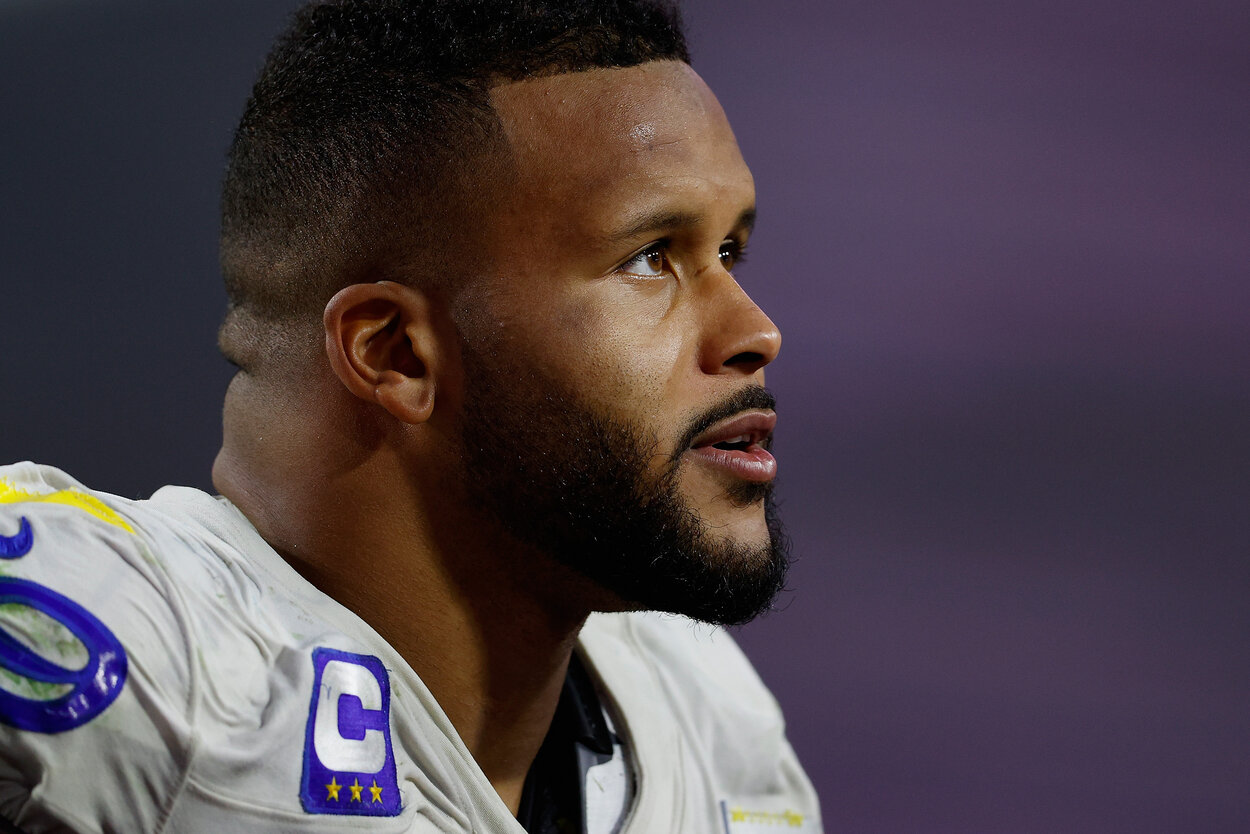 RELATED: NFL: How Much Does the Rams' Aaron Donald Bench Press?
Aaron Donald appears to be in the clear after an alleged incident in Pittsburgh.
A man named DeVincent Spriggs was assaulted in a club on Sunday, April 18. DeVincent accused Donald, the Rams star who grew up in Pennsylvania and played at the University of Pittsburgh, of being the aggressor. Spriggs suffered a concussion and received 16 stitches over his right eye.
Spriggs and his attorney, Todd Hollis, reviewed surveillance footage of the incident. Although Donald was at the Boom Boom Room that night, the video showed him pulling people away from Spriggs.
Hollis spoke with KDKA in Pittsburgh and acknowledged that Donald was not who attacked Spriggs.
"I wanted to make this statement public. And to extend an apology to Aaron for what he's gone through, but I clearly know this was not him."

Todd Hollis
Casey White is Donald's defense attorney, and White shared with KDKA that five witnesses and the Pittsburgh Police had told him that Donald did not assault Spriggs.
"Mr. Spriggs should send Aaron a thank you card," White said.
Donald should be in the clear from here
RELATED: Aaron Donald Has a Simple Reason Why He Chose to Wear No. 99
As of publication, DeVincent Spriggs and his legal team did not intend to pursue lawsuits against anyone involved. Additionally, the Pittsburgh police had also not filed any charges on anyone seen on video.
The video, along with the comments from Spriggs and Todd Hollis, bodes well for Aaron Donald. Had the video not been released publicly, the NFL could — and still — have opened an investigation into the incident to see if Donald was involved after all.
Without speculating too much, it appears that Donald should have nothing to fear. There is visual evidence of Donald intervening and trying to pull Spriggs away from the brawl.
What is next for Aaron Donald and the Rams?
RELATED: Matthew Stafford Spills Out His Future Plans With the LA Rams Ahead of 2021 Season
If there is no further news on the DeVincent Spriggs front, then Aaron Donald can fully focus on the 2021 NFL season.
Donald, a six-time first-team All-Pro selection, is coming off another dominant season. The seven-time Pro Bowler had 13.5 sacks, forced four fumbles, and added 14 tackles for loss in 16 starts last year.
Those numbers earned him Defensive Player of the Year honors for the third time in four seasons. Donald also added two sacks in the postseason.
Donald turns 30 in May, and he isn't slowing down anytime soon. He received good news earlier this offseason when the Rams acquired Matthew Stafford, the Detroit Lions' longtime starting quarterback, and sent Jared Goff to Michigan.
Stafford has long been among the NFL's most underrated quarterbacks, and he'll now have an opportunity to shine on a very talented Rams team. Donald will lead a Rams defense that is hoping to make a Super Bowl appearance for the second time in four years.
Like Sportscasting on Facebook. Follow us on Twitter @sportscasting19.