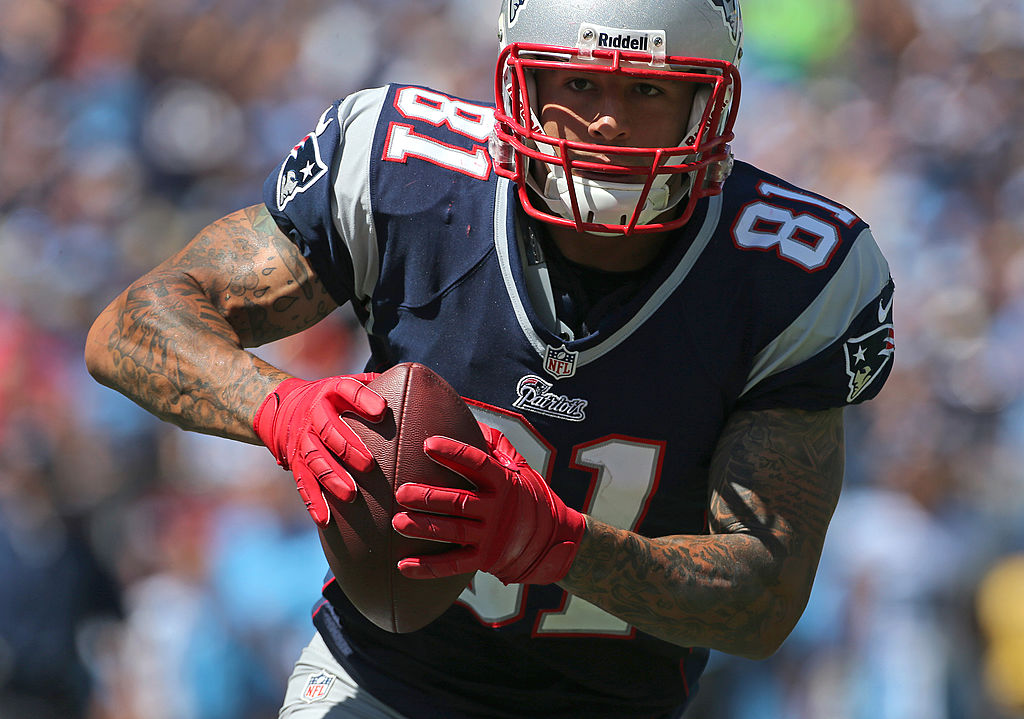 Aaron Hernandez Wasn't the First Patriots Player to Be Convicted of Murder
Every football fan knows the story of Aaron Hernandez and his crimes, but there was a Patriots player before him who also committed murder.
Aaron Hernandez is one of the most famous criminals in America from this century. His 2013 murder of Odin Lloyd and the events that followed sent the sports world into a frenzy. Hernandez was an athlete at the peak of his skill during that time, and he had already built up the reputation of one of the best tight ends in the NFL. Sadly, he threw it all away and wasted his immense talent. As famous as Hernandez became for going from New England Patriot to convicted murderer, he actually wasn't the first one to do so.
Aaron Hernandez was found guilty of murder in 2015
Aaron Hernandez had everything a young adult in his 20s could want — a healthy family, a job with the most successful franchise in recent sports history, and a multi-million dollar contract.
Despite his perfect life from the outside, Hernandez dealt with numerous inner demons during his time with the Patriots. The former tight end had unpredictable and violent tendencies in his personal life, and it cost him his career in 2013.
On June 26, 2013, Hernandez was arrested and charged with the murder of Odin Lloyd. The Patriots released the star player the same day. In 2015, Hernandez was found guilty of first-degree murder and sentenced to life in prison without parole.
Two years later, Hernandez was found dead in his prison cell. He was just 27 years old. Hernandez might be the most famous New England Patriot convicted of murder, but he actually wasn't the first one.
Eric Naposki played for the Patriots and committed murder in 1994
Before Aaron Hernandez, there was Eric Naposki. Naposki didn't have nearly the successful career with the Patriots that Hernandez had, but both men threw their lives away with senseless acts.
Naposki played just two seasons in New England, but he didn't make much of an impression in the NFL. The former linebacker appeared in just five total games in two seasons. Naposki was out of the league by 1989.
A few years after his short NFL career ended, Naposki struck up an affair with a woman named Nanette Packard, and the two conspired to murder her current boyfriend. William McLaughlin, Packard's millionaire boyfriend, was extremely wealthy, so Naposki and Packard planned to kill him and receive his $1 million life insurance policy.
Naposki broke into McLaughlin's home in 1994 and shot him multiple times, killing him on the spot. He wasn't found guilty of the crime until 15 years later.
Eric Naposki walked free for nearly 15 years after the brutal murder of his lover's boyfriend. He thought he had gotten away with the heinous act years later, but a new witness from the crime eventually came forward.
In 2009, Naposki was found guilty of first-degree murder. He's currently serving life in prison without the possibility of parole.
Hernandez might be more famous because of the bizarre circumstances surrounding his life and his crime happening in the age of social media, but Naposki was actually the first Patriot to be convicted of murder.