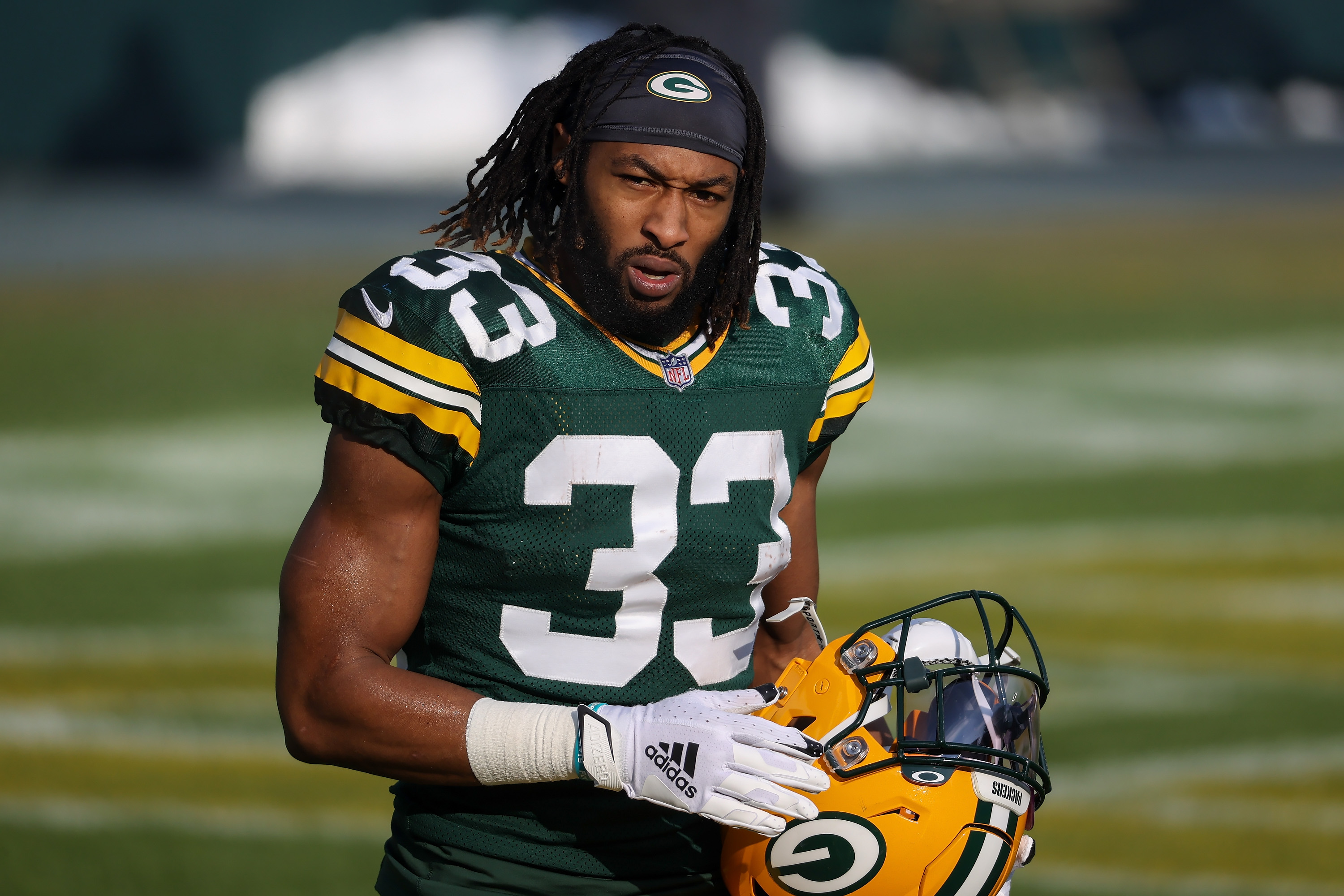 Aaron Jones Could Force the Packers Into Doing Something They Haven't Done in 11 Years
The Green Bay Packers might be forced into doing something they haven't done in 11 years if they want to retain Aaron Jones.
The Green Bay Packers have a decision to make with their Pro Bowl running back Aaron Jones. They can lock up Jones with a new deal, use the franchise tag on him, or just let him walk away. Jones led the league in rushing touchdowns in 2019 and has eclipsed the 1,000-yard mark for two straight years in an offense dominated by Aaron Rodgers. Jones just may force the Packers into doing something they've avoided doing for 11 years.
How valuable is Aaron Jones to the Packers?
Running backs don't get a whole lot of respect. Aaron Jones saw that after his best season in the NFL in 2019. A few months after Jones led the NFL with 16 rushing touchdowns and added three more through the air, the Green Bay Packers took Jones' apparent replacement in the second round of the 2020 NFL draft.
Jones finished that season with the first 1,000-yard rushing season of his career. He racked up 1,084 rushing yards while starting all 16 games in an Aaron Rodgers-dominant offense. Jones missed two games during the 2020 season and made his first Pro Bowl after rushing for a career-high 1,104 yards.
Jones has shown his versatility out of the backfield. He's been a big threat as a receiver out of the backfield, catching at least 47 passes in each of the last two years. There's not a back on the Packers right now as good as Jones, but retaining Jones will likely come down to economics.
What do the Packers do with Aaron Jones?
The Green Bay Packers would certainly love Aaron Jones to return in 2021. Jones would also love to be rewarded with a new deal. The Packers aren't in great shape salary cap-wise but could make things work with some cuts and restructuring. Signing Jones to an extension would likely end all hopes of retaining their other to free agent, center Corey Linsley.
According to The Athletic, signing Jones would likely cost them between $12 million and $16 million per year. Backup running back Jamaal Williams might also be a casualty if Jones is re-signed. Williams started the two games Jones missed last year and had better than 100 yards of total offense in both games.
If the Packers let Jones walk, the door would be open for Linsley to return. They could also go another route and target another free agent. "I do think if the right particular player is out there and we think it's the best thing for the Green Bay Packers, then we'll be able to do it," Gutekunst said, according to The Athletic. "We won't be able to do a lot, and there'll certainly be some restrictions, but if the right guy's there, I think we'd be able to do what we need to do."
The Packers could also use the franchise tag on Jones
The franchise tag is something the Green Bay Packers don't often use. It was 2011 when the Packers last franchised a player and that was on nose tackle Ryan Pickett in 2010. According to Over the Cap, the franchise tag cost for running backs with a $180.5 million salary cap this year would be $8.074 million.
If an exclusive franchise tag is used on Jones, he is locked in for 2021. If they use the non-exclusive tag, other teams could negotiate with Jones' agent and the Packers could match an offer. Should they not match the offer, they'd get two first-round picks in return. Would the Packers end an 11-year drought and use the franchise tag on Jones?
"We certainly could," Gutekunst said Tuesday, according to The Athletic. "I think it's something we're working through. Again, it's not a philosophical thing to avoid it. I do think there's usually better ways to go about it, but certainly, if I think as we get down the road here over the next week or so, if that becomes what is in the best interest of the Packers, I think we'll do that."