How the Yankees Handle Slides by Gary Sanchez and Aaron Judge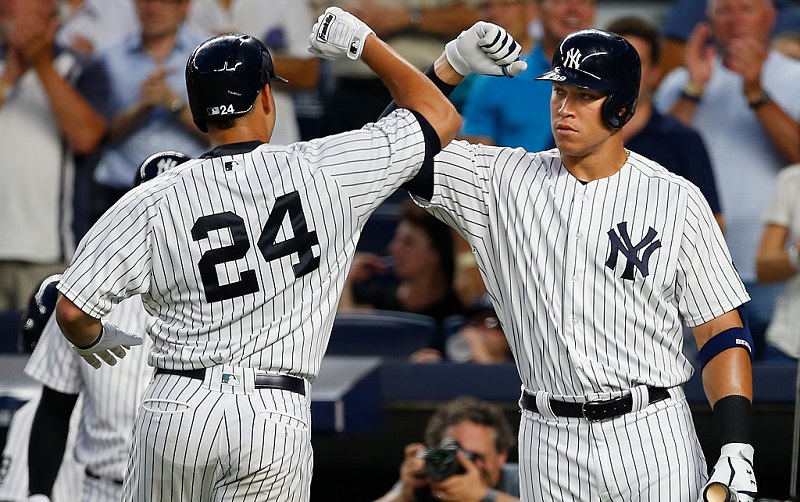 Originally published August 8, 2017
We'll get this out of the way first: The New York Yankees never had a shot at making the playoffs without the rise of Aaron Judge. Even after a prolonged slump that began in June, Judge leads MLB with a 6.0 WAR (per Fangraphs) among position players. During the first months of the season, he demolished pitchers with home runs, base hits, and walks at will. In short, he became an elite offensive player.
However, Judge ranked 124th in WAR among position players between July 9 and August 8. During that stretch, he struck out 37.6% of the time and hit .185 with 5 HR. Judge basically became the 2016 version of himself, and Yankees manager Joe Girardi began benching him with alarming regularity. As the club struggles to hold its playoff position, Judge often looks lost at the plate.
The Gary Sanchez situation looks even worse. Sanchez, New York's 2016 rookie sensation, has struggled so much as a catcher he was benched for back-to-back games in early August. (Girardi said a message about his sloppy defense came with it.) Whether it works remains to be seen, but Sanchez and Judge could actually hurt the Yankees' playoff chances if these trends continue. Here are the problems the Yankees face with their young superstars, and the club's options down the stretch.
Sanchez's passed ball problem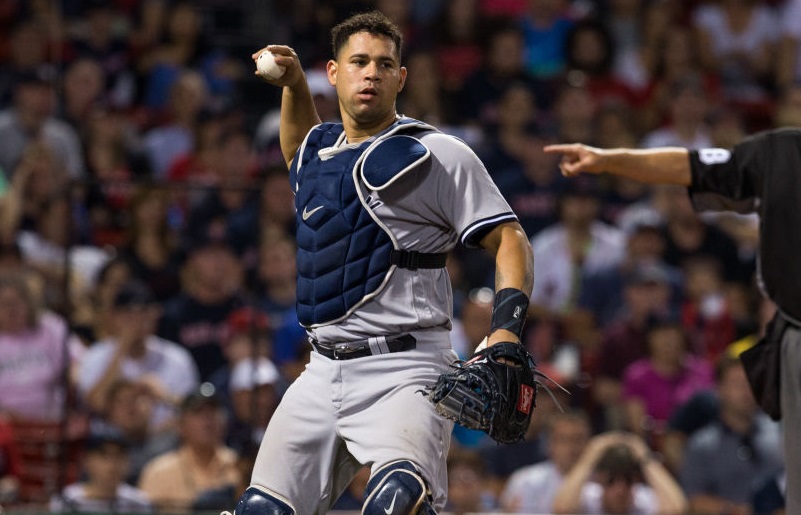 In 2017, Sanchez has shown several weaknesses on defense, but his most glaring problem has been with passed balls. Despite playing fewer games than most catchers (due to an early-season injury), Sanchez led MLB with 12 passed balls through August 7. Anyone who watches Yankees games regularly has seen how routine some of his misses have been this season. At times, the ball seems to clank off his glove without reason.
In other situations, a mental mistake (i.e., turning the glove in the wrong direction) leads to these unforced errors. Many have come in big spots with the game on the line. On June 23 versus Texas, Sanchez allowed the first run of the game in the ninth inning of a 0-0 game. Had the Yankees not walked off with a win that night, his mistake would have loomed large in the tabloids. As it stands, Girardi waited until August to sit his All-Star catcher.
Judge's strikeout rut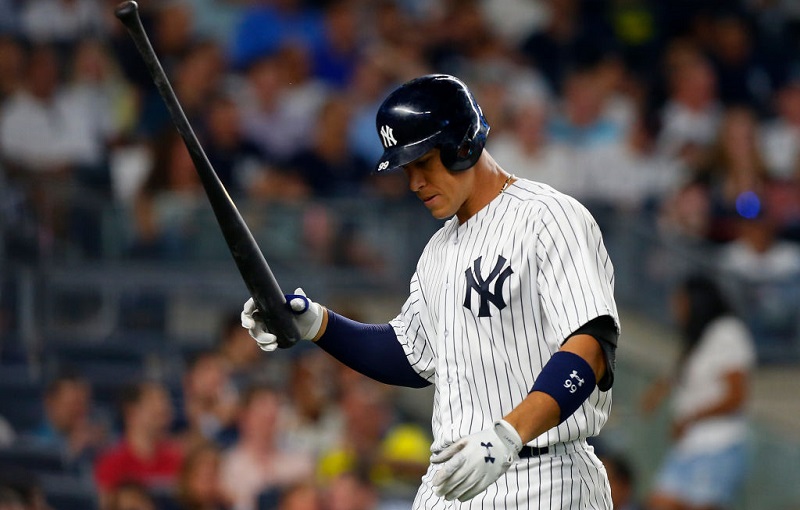 Perhaps the biggest stride Judge made early in the season came down to plate discipline. Without digging into advanced stats, you could see him laying off pitches he swung at in 2016. When pitchers threw strikes, Judge did damage or at least made contact. His bat control improved by leaps and bounds. Through the All-Star Break, he hit .329 and ranked among the top 25 in plate discipline.
Compared to 2016 (.179 with a 44% strikeout rate in 27 G), the difference was remarkable. Following the break, Judge matched that poor average and came close to the same ugly K rate. Pitchers able to throw a decent slider have completely dominated him. If he is unable to put the bat on the ball and, say, plate runners from third with one out or less, Girardi has to consider dropping him in the lineup. New York cannot continue giving away runs and games with Labor Day coming into sight.
Sanchez's errors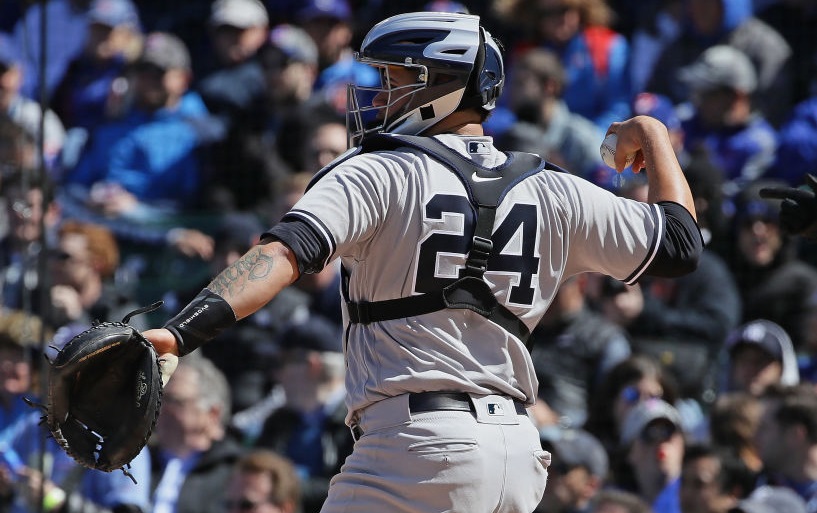 In addition to the passed ball stats, Sanchez leads the AL with 10 errors. (Willson Contreras, who's caught 29 more games, leads MLB with 13.) The majority have come on throws to second base, highlighting another drop-off in his 2017 game. Sanchez has lost a lot of the throwing accuracy he showed off in a small sample size in 2016.
Part of the problem is judgment: Sanchez often won't concede a steal and throws with little chance to nab the runner. We expect this aspect of his game will improve, but Girardi and Tony Peña (two excellent former MLB catchers) need to work with him until it happens. When the team goes through offensive slumps like they've had in August, these added runs are losing games and could cost them the postseason.
Impact on pitchers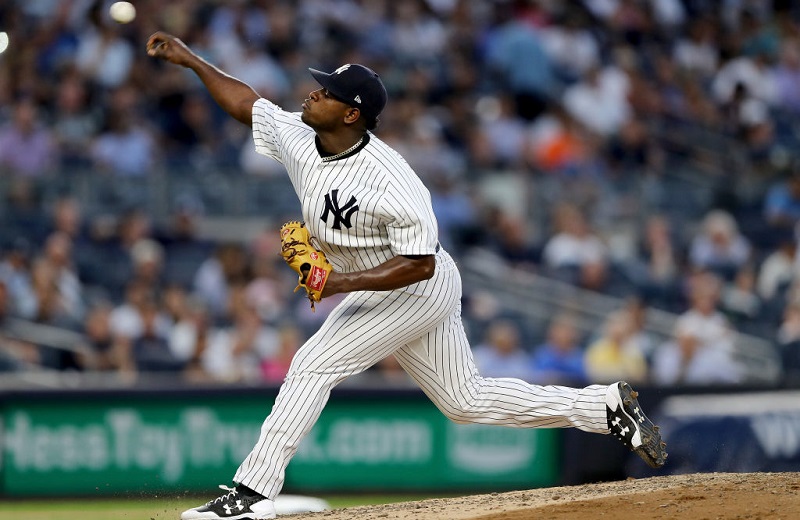 As the Yankees continue struggling on offense, the importance of run prevention gets magnified. This factor led to Girardi starting Austin Romine in Sanchez's place for consecutive games. But it also has effects on the pitching staff. A passed ball puts a runner in scoring position, creating added pressure on the pitcher. When it comes on a third strike, a passed ball extends an inning and forces a pitcher to throw more pitches after getting a strikeout.
Finally, it can affect a pitcher's sequence and what he feels comfortable throwing with two strikes and a runner on third. If there is any question about whether a catcher will block a ball in the dirt, a pitcher may go with his second-best pitch when he needs a strikeout. The ripple effects are considerable.
Girardi's options in the lineup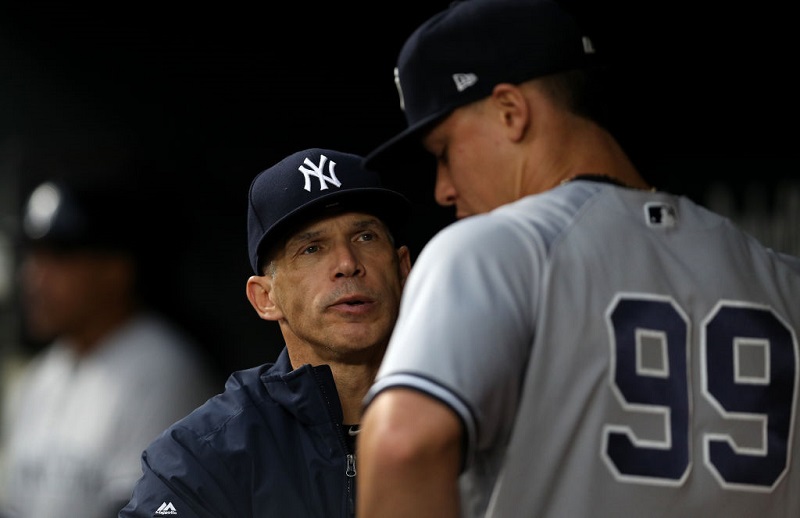 Were Girardi to catch Romine on a regular basis, New York would field a much weaker lineup unless Sanchez (17 HR, .827 OPS) took the DH slot. However, that would ultimately weaken the batting order once Matt Holliday returned. The Yankees would have to play Holliday at first (where he has little experience) to get both him and Sanchez in the lineup.
That exposes another defensive position, which does not make sense for a club in a pennant race. Likewise, it would force Girardi's hand with Chase Headley and Todd Frazier at third base. Whatever lineup you make out, the Yankees look better with Sanchez behind the plate. Romine does not have the offensive impact of any of Girardi's other options. As for Judge, his solid play in right field makes him a fixture on the field. The best option is dropping him in the batting order if his slump worsens.
New York's best-case scenario
Even superstars struggle on their way to the top, and the Yankees will show patience with their young sluggers down the stretch. In Sanchez's defense, handling a pitching staff that includes Aroldis Chapman and Luis Severino is no easy task. Likewise, expectations of Judge cruising to an MVP award seem excessive — even following his blistering start.
Neither player has a full MLB season under his belt; both have extraordinary talent. Hopefully for the Yankees, Sanchez will improve his technique on blocking balls and cut down on unearned runs while continuing his impact at the plate. As for Judge, a hot streak could carry the Bronx Bombers to the playoffs. Until they regain their form, Girardi will have to earn his money managing egos and lineup cards alike.
Statistics courtesy of Fangraphs and Baseball-Reference.