Warriors Assistant Aaron Miles is the Key to Andrew Wiggins' Success in San Francisco
Andrew Wiggins and Aaron Miles developed a relationship when Wiggins was in college.
The former No. 1 pick in the 2014 NBA Draft, Wiggins has been in the league for five and a half years.
Miles helped train Wiggins during his freshman year at Kansas. And now the two are back together on the NBA level.
Aaron Miles has the task of getting Wiggins accustomed to the style of play and help him understand his role on the team.
Aaron Miles: Player Development Coach
Miles is a player development coach for the Golden State Warriors. He's one of the few people who knew Wiggins before his NBA career began.
As a player development coach, Miles will work closely with players and continue to develop their skill set through different training and film breakdown.
He was promoted to player development coach in the summer of 2019. He served as the head coach for the Santa Cruz Warriors from 2017-2019.
The former Kansas Jayhawk guided five players from the G League to the NBA.
Miles is the right guy for Wiggins. Given their relationship at Kansas, the two will work well together.
The amount of time the two will spend together will be very key. Throughout the remainder of the season, Miles will be in Wiggins' ear a lot.
If Miles did not have that previous relationship with Wiggins, would the Warriors have pursued him?
Going back at their time at Kansas, Miles was like a mentor to Wiggins. Miles noticed how competitive Wiggins was a freshman and that he had a lot of potential.
What did Miles say to Steve Kerr about Andrew Wiggins?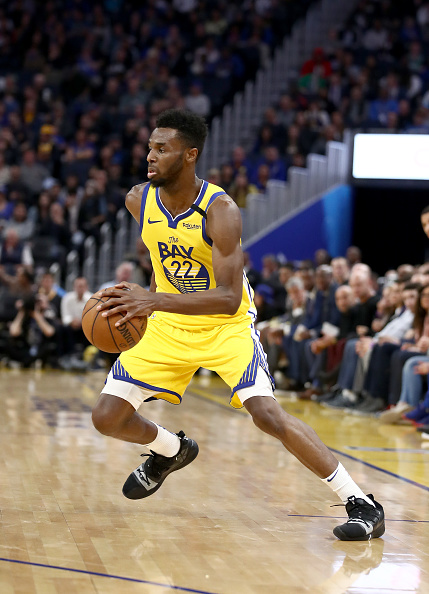 Steve Kerr had a conversation with Aaron Miles not long after the trade with the Minnesota Timberwolves.
Of course the topic of discussion was Andrew Wiggins.
After speaking with Miles, Kerr decided to put him in charge of Wiggins' player development plan.
Miles told Kerr that Wiggins is more of a laid back and reserve type of person, but will still get the work done.
Kerr has recognized the work that Miles is consistently putting in with Wiggins, and it shows.
Through six games, the 24-year-old averaged 19.2 ppg and shooting 48 percent from the field.
It will take some time for Wiggins to fully adjust to the Warriors' system, and when he does he will be a big asset to the team.
How has Miles helped Wiggins adapt so far with Golden State
It only took six games for Andrew Wiggins to show signs of promise.
Wiggins' shot selection was a big concern during his time in Minnesota and that was a question on how that would effect his time with Golden State.
Miles will form a stronger relationship with Wiggins, now that they are on the same team. Wiggins will understand more of what his role will be on the team and Miles will guide him through that process.
Once Wiggins understands his purpose on the team he could become a franchise building block.
When the Warriors are back to full health, Wiggins can fit right in with Stephen Curry, Klay Thompson and Draymond Green.